No one wants to walk down a hallway and hear the sound of their heels click-clacking away with every step. If you're frustrated by how much noise you're high heels are making well you've come to the right place.
In this post, we're going to cover everything you need to know about how to make heels quieter with our 7 simple tips. Let's get started.
1. Use High Heel Caps
One great way to reduce how much noise your heels are making when you walk is to use high-heel caps.
These small plastic or rubber pieces slip over the end of the heel cap of your shoes and will help prevent the clacking sound you get from walking on hard surfaces.
Not only will they help to reduce the amount of noise, but they'll also help to prevent you from slipping due to their anti-slip qualities and, if you're walking on grass, will stop the heel from going into the ground making them ideal for weddings.
Another added benefit of heel caps is they protect the heel of your shoe from wearing down too quickly, making them last longer and saving you from having to replace them if the end becomes damaged or uneven.
2. Use Duct Tape on them
If you're desperate to reduce how much noise your heels are making and need a quick and easy way then one simple solution is to use duct tape on them. You'll likely have some at home already.
Simply get some duct tape (or gaffer tape if you don't have any) and cut out a small piece of tape to the same size as your heel cap and the sole. Then, stick it to the heel cap and the sole (pretty much any part of the heel that makes contact with the ground.
If done properly this should be barely noticeable because you only need to cover up a small portion of the shoe. However, the most important part is that it will help drastically reduce how much noise your heels are making when walking in them and make you feel like you're sneaking around.
If it's still not quiet enough you can add multiple layers of duct tape to help add density to the heels which will help to absorb the noise of the shoe impacting the floor.
3. Use Rubber Sole Pads
If you're worked out that the heel is not the part of the shoe that's making all the noise you're hearing then it's likely to be your soles. If this is the case then one easy way to make your heels quieter is to use some rubber sole pads.
These help to dampen the impact your heels have on the floor with their anti-slip qualities and will both quiet your shoes and protect them from everyday wear and tear.
They're also a lot cheaper than replacing or repairing high heel shoes. Not only great for high heels but you can use them with just about any shoe to increase comfort levels.
4. Use Sound Booties
Now, this next tip might sound and look a little odd but if you really want to reduce how much noise your heels are making then we suggest getting yourself some sound booties.
These are essentially fabric covers that you place over your whole shoe so that you can walk around without making a sound.
They are often used on film sets where people need to keep noise to a minimum.
The downside to using these is that they do kind of look a little silly and unless you're going to a festival or something then we suggest using other methods to stop yourself from being heard because not only are they likely to be best for this purpose but they'll just make you feel awkward as well.
5. Make your own Felt Fabric Pads
Our next tip is to glue felt fabric to the bottom of your heels. You can buy felt that is used in most DIY projects and comes in a variety of different colors, but whatever color you choose will help mask the sound of the heel hitting the floor.
If you're trying to make your shoes super quiet then something like this felt fabric would work best with a thick layer over the sole so that it absorbs as much of the noise as possible and is almost unnoticeable.
It can take a little getting used to, but most people will barely notice it's there after a few minutes and once you've got used to it, you'll be able to walk around in your high heels without worrying about the sound of them hitting the floor.
6. Use Gel Cushions
If your high heels don't fit properly it can often make them noisier to walk in. One quick fix that you can use is to buy small gel cushions that you place inside the shoe to help them fit more comfortably.
These little gel inserts will help your foot fit better inside the shoe which in turn reduces the amount of noise your heels are making when you walk in them as they're less likely to slip around inside the shoe.
7. Purchase Quiet Heels
If you've tried all the above methods and you're still not happy with how much noise your heels are making then you might just have to bite the bullet and buy some quieter ones.
This should really be a last restort though as most of the time you can solve the problem with some easy solutions.
Look for reviews from previous customers that mention that they're not too loud and if you do purchase a new pair, ensure that you use heel caps to help maintain them in the best condition.
What Makes High Heels Noisy?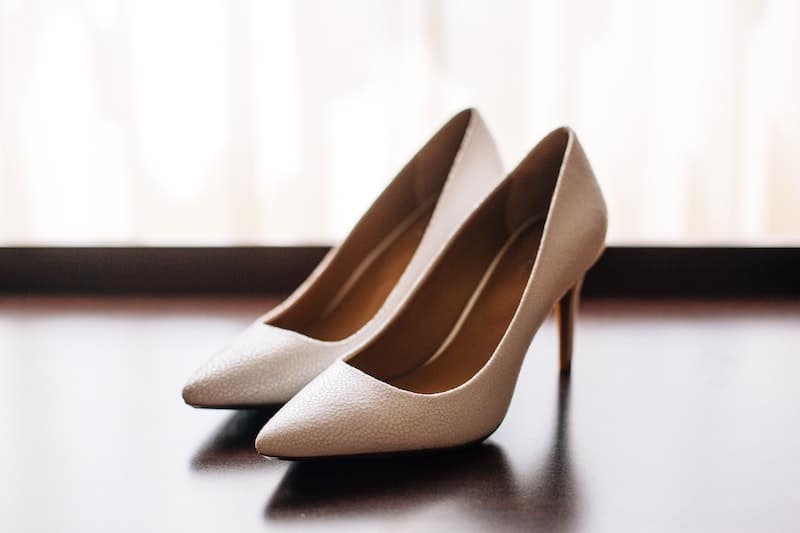 Now that we've covered our tips and our list of the best ways to make heels quieter, now let's go over what makes heels noisier and how you can fix them.
Materials 
One of the big factors that affect how noisy your heels will be is the material they're made out of.
The softer materials will typically make less noise, although this can also depend on how thick each layer in the shoe is.
For example, a pair of shoes with one thin leather sole and a second small satin fabric lining may actually end up making more noise when you walk compared to a pair that has multiple layers of the same fabric lining throughout it.
A good rule to go by if you want to reduce how much noise your high heels are making is to look for thicker soles such as those made from rubber instead of thinner ones like wood or other soft plastics. This should help greatly reduce the amount of sound that's being transferred through them into your foot
Shape
Another thing that can affect how noisy your heels are is their shape. There is a huge variety to choose from when you look at high heel shapes with some being very sharp and others much rounder.
Shoes that have sharp edges will typically produce more sound because they'll tend to be thinner in those areas allowing for more vibration as you walk rather than spreading it out evenly across the shoe material.
Another thing to look out for is toe caps, especially if they're shaped pointy rather than curved or rounded off. This can cause the front of your heels to make a lot more noise compared to those that have been made with a smaller or flatter toe cap.
Size
One of the reasons high heels make so much noise can often be that they don't quite fit properly. If they're too big it causes you to walk differently and you'll likely place more weight on the heel which will cause more of a clatter when walking.
Also, if they're too small you might not have enough room to move your foot freely leading to uncomfortable shoes that make noise when you walk in them.
So, one way to prevent this is by getting a good pair of shoes that fit you correctly and are comfortable so that they naturally mold around your feet making them ideal for standing all night in and reducing how much noise they make when walking.
How you Walk
As we touched on earlier, how you walk – which is also known as your gait- can make a huge difference in how noisy your heels will be.
As you walk, you'll typically want to keep your feet flat on the floor so that they don't make much noise when hitting it which is why high heel shoes are hard for people who aren't used to them.
So, if you're not used to wearing them then practice walking around on carpet by yourself and see what works best for reducing noise like taking smaller steps or having more of your toe touch down first before the rest does.
What Surface You're Walking on
It might sound obvious but if you're wearing high heels and walking on hard surfaces like tile or stone then that's going to make a lot of noise. So, if you want to reduce this, walk on softer materials like carpet.
As we've already mentioned before, the thicker the material is and covering more area on the sole will help spread out any sound being transferred from your heel hitting it which can greatly reduce how much noise is produced by them.
If you have a pair of thin shoes that are made from hard plastic with small layers of fabric lining throughout them then they may stand out in a large way when compared to pairs that are made from thick rubber soles with multiple layers of fabric lining instead. 
If They're Worn out
One last thing can also help reduce how noisy your heels are and that's keeping them maintained properly.
Make sure you look after them and use the rubber caps on the end of the heels to keep them from wearing down too fast as well as taking good care of the inside so that it doesn't develop any creases or dents in the padding.
Also, make sure you choose shoes that are made from higher quality materials such as leather over cheaper plastics because they're more likely to last longer withstanding a lot more wear and tear.
Walk Confidently
By now you should have a few ideas in mind about how to make your heels quieter by using some of the tips that we've given above and more.
So, remember that walking confidently can help reduce how much noise is produced too as it allows you to keep good posture which will lead to smoother walking movements and less sound at each step.
So, give these ideas a try during your next night out on the town and see what effects they may have on making your heels quieter!