Is your washing machine causing your whole house to shake when it's on? on? If so may want to consider investing in an anti-vibration pad or mat. These products can help to reduce the amount of noise and shaking caused by your washing machine, making it run more quietly and smoothly.
There are a variety of different anti-vibration pads and mats available on the market, so it's important to choose one that will work well with your particular model of washing machine.
To help you find the best product for your needs, we've compiled a list of the five best anti-vibration pads and mats for washing machines. With one of these products installed, you'll be able to enjoy the benefits of a quieter and more peaceful home.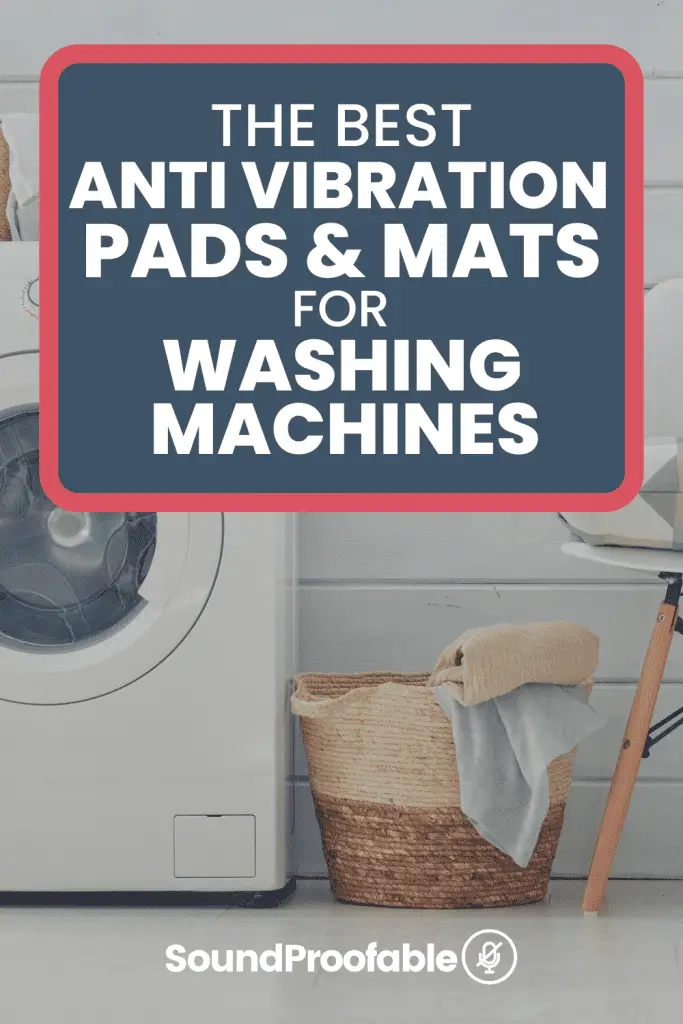 Quick Answer: The Top Anti-Vibration Pads for Washing Machines
What Are Anti-Vibration Pads?
Do you use your own a washing machine or use the ones at your local laundromat? It's safe to say washers and dryers don't make "pleasant" sounds. The metallic sounds can be annoying and even creepy.
In fact, why are there such sounds when clothes and linens are spinning inside the machines? As with other mysteries, it's worth taking a closer look to figure out what's really going on.
You obviously shouldn't expect your washing machine or dryer to be 100% quiet. That said, the noises can be a nuisance and especially if you're waiting by the machine while it does what it does.
If you do late-night washing and drying to save money on electricity bills, then the washing machine's loud sounds could actually prevent you from getting shut-eye.
Wouldn't it be easier to replace a loud washing machine or dryer with a quieter one? Yes, in theory. However, there's the big cost so if you're looking for an alternative, then anti-vibration pads and mats are a practical alternative.
The truth is all washing machines produce a certain amount of vibration. However, some produce more than others and in certain situations. They include old machines and during spin cycles.
Another cause of louder noises is front-0loading machines vs. top-loading ones. Here's what happens.  In front-loading machines, the clothes spin faster, stick to the top, then drop down again. Meanwhile, in the case of top-loading washers and dryers, the clothes just get thrown around the barrel's sides
Are anti-vibration mats and pads the only option to deal with the noises? They're not, but they're definitely one of the most practical options. Basically, you'll need to insulate the interior of the washing machine or dryer, so the noises are absorbed and dampened.
Benefits and Effects of Anti-Vibration Mats on Machines
Before adding any accessories to your washing machines or dryers, it's important to know how they'll affect your machines in terms of good and bad effects.
How about anti-vibration mats and pads? They're safe for the vast majority of washing machines on the market. One extreme option is to cover the entire unit with soundproof blankets. This might be an issue with older machines so keep that in mind.
Washing Machine-specific
On the other hand, anti-vibration mats are designed specifically for reducing sound from washing machines and dryers. This is a plus since they'll be more compatible with your appliances
No Walking Machines
One of the side-effects of a shaking washing machine is they tend to "walk" across the laundry room floor. Anti-vibration products can help to prevent that so the machine can focus on the task at hand-getting your clothes and linens clean or dry.
This situation not only can be annoying but also destructive. When your washing machine starts moving around, you'll have to push it back to its original position. This can damage the floor. Whether it's walking or being pushed the machine can scuff up your floor, which can be pricey to fix.
An X-factor is pushing a washing machine is a bit tougher than loading and unloading it. So if you have a back condition, it could be aggravated if you have to scoot the machine back to its original position.
Less Visible
Another plus is these items also tend to be somewhat visible. So your washing machine won't look like it's packed for moving or shipping.
Reviews of Anti-Vibration Mats and Pads
1. Anti-Vibration Mat for Washers and Dryers by Casa Pura
Sturdy rubber
Durable
Multi-purpose
Reduces vibration
This anti-vibration mat is made of hard rubber w/ 100% recycled rubber. The material is durable and fluid oil-resistant. It also includes an anti-mildew additive. The rubber has been compressed for more sound dampening.
These pads can help to reduce vibration and especially ruing the spin cycle. This, in turn, can help to reduce floor damage from walking skidding washers
The mat can also be used under many units like washers, dryers, air conditioners, generators, chillers, etc. It can also be used as an anti-vibration mat at gyms and workplaces
Pros
Works with 3D printers
Helps reduce noise
Good for portable washing machines
Cons
Small mat
Pad crumbles easily
Doesn't fit under some washers
2. Anti-Walk/Vibration Pads for Washing Machines and Dryers
Anti-walk Silent Feet - Anti-Vibration Pads for Washing...
ADVANCED & SUPERIOR USA MADE MATERIAL - Anti-Walk Silent Feet are the most advanced...
ABSORBS VIBRATIONS & NOISE WHILE DOING LAUNDRY- They absorb vibrations caused by...
MEETS & EXCEEDS OEM SPECS - All appliance manufactures recommend using a pad to...
Features
10-year warranty
Works with front/top loading machines
Stops by to 95% of vibratio
Limits washer "walking
No tools needed to install
These anti-vibration walk pads are designed to prevent walking movement of appliances. That includes top front-loading washing machines dryers
The pads are very effective and can stop a maximum of nearly 95% of vibration noise. This is based on factors like your machine's type, age, etc.
The pads are very easy to install. You won't need any tools adhesives so the work can be completed quickly.
The pads also include a 10-year limited warranty. It's important to read the terms & conditions, so you'll know what the warranty does and doesn't cover.
Pros
Can stop walking
Very effective/good value
Good for front-loader
Good for large washer
Reduces noise/vibration
Cons
Lower half soften
Can make vibration worse
High price
3. Anti-Vibration Walk Pads for Washing Machine and Dryer by intuitive Design
Features
A practical solution to vibration
>Made of heavy-duty rubber
Includes patent-pending design
Works with any washer or dryer
No extra adhesives anchoring discs required
These anti-vibration walk pads work with any washer or dryer including top and front-loading units. They raise the machines, so there's proper alignment drainage.
The pads are made of a heavy-duty rubber compound. They absorb strong vibrations but don't leave marks on floors like wood, tile, linoleum, or concrete. This helps to protect your investment and floor.
The design is patent-pending. It will help to prevent the unit from walking skidding. That, in turn, can help to protect your machine and floor due to walking skidding.
Heavy-duty rubber
Good results/value
Protects new floors
Good for hardwood floors
Cons
Can cause the washer to shake more
Not good for stacked units
4.  Anti-Vibration and Anti-Walk Pads by ENJ Products
Hard rubber
Heavy-duty pads
Prevents walking/skidding
These pads are made of heavy-duty materials. They help to prevent vibration, walking and skidding. This, in turn, will reduce the noise produced by the washing machine or dryer.
The pads have a perfect size. As a result, you won't have to worry about them being too big or small. This, in turn, produces optimum performance. The top of the pads includes an indentation with a universal size. This allows it to work with the majority of washing machines.
Sliding or walking is preventing by the high coefficient of friction. It helps to make the machine more stable so it will remain in its original location.
Pros
Excellent result
Stops washer sliding
Makes washroom quieter
Works with washer/dryer combos
Reduces vibrations
Cons
Not good for a top-loading washer
Only raises washer 1-inch
Can make wobbling worse
5. Foam Rubber Damper Pad (6″ x 6″) by XCEL
Sale
XCEL Anti Vibration Pads Furniture Pads Self Stick Versatile...
Customizable Fit is effortless with our foam rubber pad, Easily cut the foam pads to...
Say goodbye to annoying vibrations and disruptive noise, and protect your floors from...
Well suited for large and countertop appliances, this pad provides vibration...
Main Features
Made in the USA
Helps prevent walking/skidding
Easy to cut into shapes/sizes
Quality & comfort
Versatile rubber pads
These rubber pads can be cut into different shapes and sizes. So you can use them for various applications including washing machines and dryers. This offers more versatility when using the pads.
The rubber pads can be used for different appliances. This helps to protect the floor from scratching. The pads are thick and solid for washers and dryers, treadmills, etc.
The pads provide shock-absorption and can reduce noise levels. They're made from heavy-duty rubber so it can work with heavy appliances in the long-term.
The company uses high-quality materials and produces its products in the US. XCEL is a small or private company headquartered in the US. The company focuses on producing good products. It manufactures its products in the US to stay close to its roots.
Pros
Good for wood floors
Anti-vibration functionality
Very efficient
Good for 3D printer
Cons
Very flimsy
Low functionality
Low quality
Things to Look for When Purchasing Anti-Vibration Pads
Type
When picking anti-vibration products, you have several to pick from including:
Circular Rubber Pads: These are small pads that fit onto the metal feet of your washing machine or dryer. They can help to prevent your machine from walking across the floor when it's washing or drying.
Rubber Flooring Materials: This is a good option for stabilizing the entire washing machine. This covers the washing machine's whole surface. It pulls double duty since the items also help to keep your appliances dust-free.
Foam Rubber Pads This can protect wooden floors from various pressure damage like barbells and dumbbells. These are usually too thin to lift your appliance high enough off the ground so the effects on vibration will be limited.
Rubber Stands: you can place them on the bottom of your washing machine if it's totally flat. These items are tall enough to keep your washing machine from rocking more than a rocking chair.
Price
You won't have to take out a second mortgage to buy anti-vibration pads or mats. In fact, you can find some products in the under-$20 categories. Just remember this is an investment in your appliances, floor, and sometimes–sanity.
Material/Thickness
Rubber is a good option for shock-absorption since that's basically what we're talking about here. These items also help to keep your washing machine and dryer from "walking" across the floor. They'll usually have a rubbery smell, but it wears off over time
Look for thicker materials since they'll offer better anti-vibration skid protection. The prices are higher, but they're arguably worth the extra money you'll have to plunk down.
Effectiveness
The best solution is a thick material that covers the whole bottom of the washing machine or dryer. This doesn't mean that rubber feet can't help to reduce vibration and sound. They're cheaper and can be somewhat effective.
That said, if you're willing to make a bigger investment, you should go with thick padding under the washing machine's bottom and the side surface. If you want extra production, then consider options like sound-proofing blankets.
Final Thoughts
If your washing machine is extra loud, it might be due to the type, age, or location. In those cases, the best anti-vibration mats and pads for washing machines might help.
>Make sure to research the different products on the market like the above-mentioned ones and consider the most critical features for your appliance.
These pads and mats are available in different shapes, sizes, and materials. If you shop around you can find the right unit for the right washer
You should also consider soundproof blankets as well. This provides better production since it covers the sides of the washing machine as well for more sound and vibration-absorption.
If these solutions don't work, then it might need repairs or (literally and figuratively) on its last leg.