In a world where we are constantly bombarded with noise, it is important to have a few ways to reduce the amount of sound that enters our homes. One way to do this is with soundproof blinds.
Soundproof blinds are specially designed to reduce the amount of noise that comes through your windows. There are a variety of different types of soundproof blinds on the market, and each has its own set of benefits.
To help you choose, in this post we're going to take a look at some of the best soundproof blinds currently on the market and the important features to look for when choosing. Let's get started.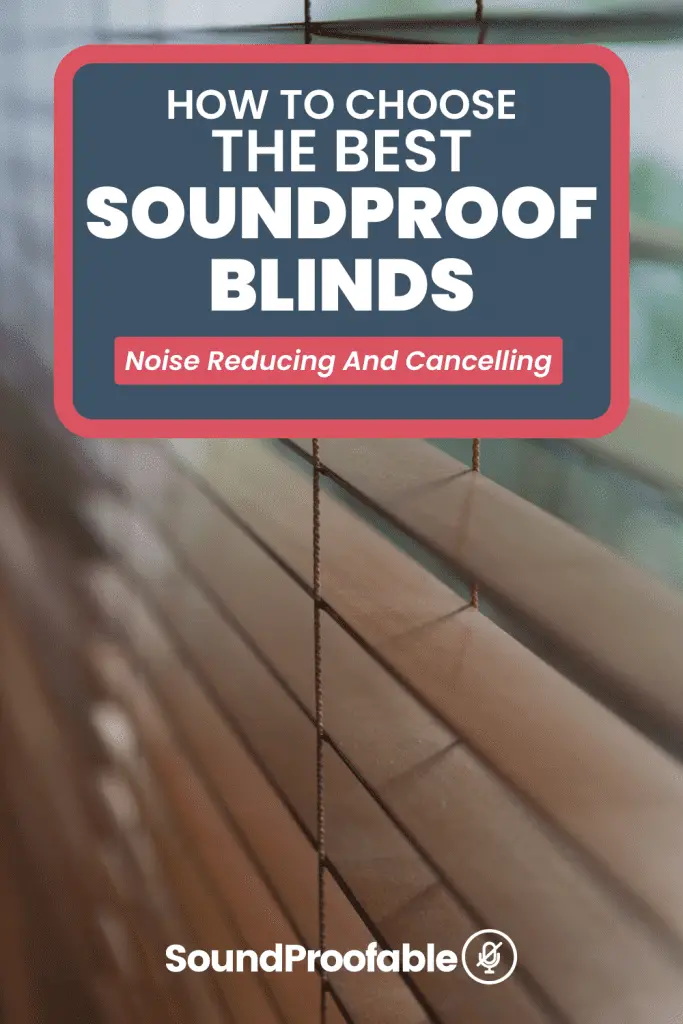 Quick Answer: The Top Soundproof Blinds
Things You Should Consider When Buying Soundproof Shades
Density
When looking for a good soundproofing material the denser, the better. Buying thick shades minimizes the possibility of gaps blocking out as much noise as possible. Thicker shades make them most suitable for thermal insulation during all-weather conditions.
Material
The material used for forming the sound reducing blinds also matter. Wooden, plastic and even polyester materials are most preferred when mounted on the inside.
Softer materials are best when it comes to soundproofing. A hard surface makes sound bounce off and reflect on the surface while a soft material would absorb the echo from inside reducing the noise.
Size
When choosing a blind for soundproofing, you should be keen on the size. You should ensure you get the perfect fit for your window.
When they are too large, the installation will become a nightmare while when they too small they will not fit properly on your window and would leave gaps that would make it easy for the noise to penetrate.
Thickness
A very thick blind will best protect you from the sound from your environment. You should consider getting the thickest that you can find. Fortunately, you will not have much trouble since most shades are very thick.
Price
Good sound absorbing blinds should not be overly expensive nor too cheap. You should get an inexpensive shade that suits all your needs without breaking your bank.
Here are the 5 Top Soundproof Window Blinds
#1. Windows and garden Custom Cordless Single Cell Shades
Custom Cordless Single Cell Shades, 24W x 24H-48H, Ivory...
PLEASE FOLLOW steps below when ordering. STEP 1: Select your color. STEP 2: Click on...
STEP 3: Hit the "customize now" button on the right side to fill out your custom...
For an INSIDE THE WINDOW FRAME MOUNT, fill out the customization form with the exact...
These noise-reducing blinds are made of polyester material that is useful for reducing the noise. They are also installed from the outside or inside depending on your preference.
You can also buy both mounts for additional sound insulation. They allow you to choose from nine colors with a variety of sizes.
There are available in 5 different sizes available. Again, you get to choose the size depending on your window size. The available sizes include 21 to 72 inches top and 24 to 72 inches down.
Apart from noise reducing, they will also block out the lights and give you the privacy that you need at your home. They will also provide you insulation from the heat especially when it is summer and contain heat during winter.
They also feature PVC headrail and bottom rail. In case you do not find the right size for your window, you can send them back to the manufacturer to be custom made up to 72wx72l.
Pros:
 Provide Heat Insulation
Can be Custom Made
 Available in Various Colors
Cons:
Do not block out all the noise
#2. Achim Home Furnishings Vinyl Blinds
The Achim home furnishing blinds are made with vinyl slats and matching 2 in one valance. It is a sound absorbing material. For noise reducing materials the thicker, the better.
Achim blinds are very thick making a significant contribution to the noise reducing factor. The thickness will also help to block out the lights from the outside completely.
They are vibrant with luxurious wood grain appearance. They are made of cords that allow you to adjust it to allow more light to penetrate. However, doing this will reduce their sound reducing ability.
These blinds have crevices that are visible even when they are fully closed. If you install the blinds inside the room, the crevices will help in reducing the echo.
The slats are very durable because they are waterproof are non-chip and do not dent or chip easily. For additional privacy, you should get the broader slats. The cords and wands are adjustable giving you control and convenience.
You can raise, tilt or lower them to your preferred privacy or light to These blinds can be used in your kitchen, basement, and bathroom, bedroom or living area.
They also come in different sizes, and you are likely to find the one that t fits your window easily. You can also shorten the length of the blind that by following the instructions provided in a manual available upon purchase. Can be put either on the inside or outside.
#3. Luxr Blinds Custom-Made Real Wood Horizontal Window Blinds
These are the best noise-canceling blinds .they are made of pure and genuine basswood. Wood is an excellent noise-reducing material.
It will also act as a thermal insulator blocking heat during summer and retaining it during winter. There are also different sizes and colors to choose from.
They are also very durable considering they are made from basswood .well-polished wooden blinds can last long, and they are easy to clean, you will only need to wipe them quickly with a rug.
It is easy to install these blinds on your space since they come with an installation manual and an inside mount. They also have customer support ready to help when you get stuck during installation.
To make sure you get the right fit for your windows you should read the measurement requirements and guide to avoid the trouble of making returns due to wrong sizes.
To control the lighting and add to your privacy, they are adjustable to your desired brightness. They should be mounted on the inside and can be used anywhere in the house
#4. Bravada Select, Superior Custom Real Wood Blinds
The Bravada select custom real wood blinds are made of real Faux wood. Wood is a good sound insulation material making these blinds perfect for your noisy neighborhood.
They are easy to clean and durable due to the wood. These blinds are recommended on the kitchens, bathrooms or laundry rooms because they are moisture-resistant where others are not recommended because they do not filter out the humidity in those delicate areas.
You can use them in the bedroom or living room. They come in different colors allowing you to choose the one that best fits your interior design preferences.
They also come with different sizes that will enable you to find the perfect fit for your windows. It features an advanced tilting mechanism that makes them easy to tilt.
They are also, lead and fire-resistant adding to the durability level. When the blind is raised the reengineered bottom rail enhances structural integrity eliminating bowing and making them convenient.
Pros:
They are moisture resistant making them perfect for bathrooms, kitchen and laundry room
Made of durable faux wood
Have advanced tilting mechanism making it easy
Cons:
The hex head screws provided are very tight
#5. Delta Blinds Supply Rustic Collection
Rustic Collection: Custom-Made, 2 inch Real Wood Horizontal...
CURRENT SIZE SELECTED: 18"W x 24"L, Inside Mount. Exact blind width is 17 1/2". Fits...
EASY MEASURING INSTRUCTIONS: To ensure you receive the correct size blinds please...
QUALITY: Beautiful country rustic, farmhouse décor for covering windows in your...
These blinds have six different colors that you can choose from to match your interior décor. They also come with a 50 different dimension to enable you to select the right size for your windows.
Choosing the right size is important because the wrong size as recommended by Luxr blinds make the metal installation brackets from the side are visible which is not attractive to look at.
They prevent noise from outside from entering the house and can only be used on the inside. For safety purposes, Green guard air control and Green guard schools and children certification has termed them as safe and can be used by children.
They also ensure that it's fit for indoor use that is free from the chemical emissions that may be harmful. They are made of 100% kiln dried thick basswood that makes it durable since it is warp resistant.
They also block out most of the noise thanks to the thick basswood material. They will also block out lights entirely out of your room giving you privacy and light blackout.
The installation is fast and easy and is included in the instructions after purchasing. There are measuring instructions accessible to the clients that allow you to gauge their windows and measure them and compare with the sizes provided.
This ensures that the clients get the right size of their curtain as they order. The adjustable slats make the clients have the opportunity to adjust the amount of light they wish both have.
Pros:
Meets all the safety guidelines of Green guard Air Control and Green Guard Schools & Children
Made of kiln-dried basswood which is Durable
Have a variety of sizes
Cons:
Metal installation brackets are visible on the side when using the lighter model
Final Thoughts on Noise Reducing Blinds
There are not many blinds made for noise insulation in the market. However blinds made of materials that are known to be sound absorbing will perform the same factors as those made specifically for soundproofing.
Good soundproofing blind should be durable, inexpensive, and easy to install and above all be able to absorb the annoying noise from your neighborhood.