Looking for a white noise machine for your dog? Not sure models are the best, what type you need or if they even work? Well, you've come to the right place.
Dogs have incredible hearing and can easily get distracted or made very anxious by the smallest of sounds. One solution to help calm and focus them is to use white noise machines to drown out the unwanted noise.
In this post, we're going to cover everything you need to know about choosing a white noise machine for your dog and review 6 of our favorite models currently available on the market.
Quick Answer: The Top White Noise Machines for Dogs
How to Choose a White Noise Machine for Your Dog: A Buyer's Guide
The world we live in today is really quite noisy. Traffic zips by all day long on the major roads; neighbors decide to have their television blaring at 3 o'clock in the morning; a passing garbage truck unloads its contents loudly as it makes its rounds each week…
Dogs are highly sensitive to noises and while they may not be able to tell time or discern what show you are watching on TV, they can certainly hear things that we cannot. As such, there is no doubt that living in this day and age causes our beloved dogs stress and anxiety.
Unfortunately for dogs, there is not much we can do about the noise that originates from outside our homes – but what we can do is take a proactive approach in dealing with the noises that occur inside our houses. That's where white noise machines come into play.
Why Your Dog Needs a White Noise Machine
One of the most fascinating things about dogs is their hearing ability, just like humans dogs can distinguish between bad noise and good noise.
In fact, research shows that dogs' hearing ability is so good and sensitive which makes it far superior to humans.
With that said, it is obvious that white noise for dogs comes with many benefits, and can make an immediate positive impact on your beloved pet.
Some of the reasons why you should get a white noise machine for your dog include:
Reduces anxiety and improves your Dog's sleep
Since white noise is relaxing, your Dog can relax when listening to soothing white sounds
Improves the health of your Dog
How Does White Noise Help?
The concept behind using white noise to alleviate stress and anxiety in dogs is very simple: if all other sounds are blocked out by covering them with static-like hissing and buzzing noises, it will be easier for your dog to relax and fall asleep.
From a psychological standpoint, white noise machines can have a truly amazing effect on dogs because they eliminate all distracting noises like other dogs barking etc.
Dogs are acutely aware of their surrounding environment which makes them feel anxious at times. White noise helps subdue these fears by providing a nice soothing sound while aiding in relaxation. 
Size of the White Noise Machine
When choosing a white noise machine, size is a major factor. However, most white noise machines are small and portable.
This is convenient since you do not want to have a machine that is too big for your dog to handle. Also, your pet is not likely to be very big.
A small device will be suitable for helping small dogs or puppies to relax which will reduce anxiety and barking.
Purpose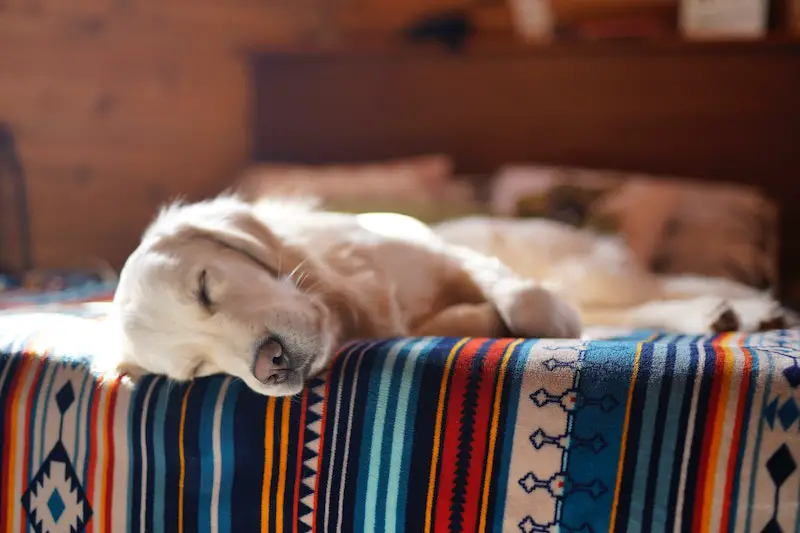 You should look into the different ways you will be using your white noise machine. The white noise machine for pets will include other pets such as cats.
You should also be in a position to establish what bothers your dog the most be it Noise, climate, and wind or music noises.
With this in mind, you will be in a position to choose a white noise machine that suits your particular purpose. Most dogs get anxiety from external loud sounds and they start to bark, that is why choosing the right sound machine is critical.
Environment
Some white noise machines are suitable for loud noises while others are not. Put into consideration the amount of noise that a white noise machine is expected to filter will help you in choosing a device powerful enough to mask the amount of noise in your specific environment.
Choosing a white noise machine that will not mask enough noise from outside will be wastage of time and resources.
Weight
A good white noise machine will be light, This will enhance its portability. This will allow you to pack it for your dog even when traveling, It can be put in a bag easily.
This will enable your dog to be relaxed everywhere and every time. A heavy device will not be very portable.
Durability
There will be no point in buying a white noise machine that will serve you for a long period of time. You should carefully consider the device for durability information, look at the material and decide whether it is durable or not.
The Best Rated White Noise Machines for Dogs Reviews
Now that you hopefully have a better idea of what to look for in your white noise machine for your dog, it's time to look at some specific models and brands that are popular.
#1. Lectrofan by Adaptive Sound Technologies
Sale
LectroFan High Fidelity White Noise Machine with 20 Unique...
[After Sale Service] Buy our products with confidence as they are designed in the USA...
[Masks Noise] Helps block out disruptive environmental noises. It can help improve...
[20 Non-Looping Sounds] A total of 20 unique non-looping sounds. 10 fan sounds & 10...
The Lectrofan is one of the best white noise machines for cats and dogs. It produces three different types of noise namely pink, brown and white noise, ten fan sounds and ten ambient noise variations.
If you live in a noisy neighborhood as I do, this is the best option for you because it helps your dog to coexist peacefully with your environment because it conceals the disruptive noise.
A unique and continuous sound that does not repeat itself is powered by AC/USB. It has a safe and solid design without any moving part.
It allows you to set the best volume levels for your particular environment using the precise volume controls. It is also ideal for both day and night uses making your life easier and enjoyable with your dog.
#2. Marpac Dohm Classic White Noise Sound Machine
Sale
Yogasleep Dohm Classic (White) The Original White Noise...
THE ORIGINAL WHITE NOISE SOUND MACHINE: Beloved by millions since 1962, the Dohm...
CUSTOMIZED SOUND EXPERIENCE: With two speed options for adjustable tone and volume,...
UNBEATABLE QUALITY & GUARANTEE: For over 60 years, YOGASLEEP has been the gold...
This white noise maker for dogs will keep you and your dog relaxed all day and night. } It gives you control due to the presence of two speeds.
This gives you the power to adjust the volume to match your environment. You can then adjust and find a tone that makes your dog relax best.
It acts the part of a real fan and provides cool air with fewer irritations. It comes with a one year warranty and comes in white, black and tan.
It also has a compact design that makes it easy to use and fit almost anywhere hence very portable.
With this kind of control, this white noise machine is good for your adorable dog.
#3. Properhome White Noise Machine for Pets
If you are looking for a portable white noise machine for dogs, the ProPerhome White Noise machine is here for you.
It is mobile because it has a battery. It has a 20000Ah battery that charges for 5 hours and runs for up to 8 hours.
It has a red indicator that monitors charging. Your dog will enjoy 5 different soothing tunes making them attentive, relax and even more adorable
. These sounds are white noise, lullaby, rain, clock and ocean sound. This machine has a timer with intervals of 30, 60 and 90-minute intervals helping you to conserve energy.
The package has an addition of a charger cable and a manual. It has a compact design that makes it light and able to fit in a backpack or suitcase so that you and your dogs can bring it with you wherever you go.
#4. H.Guard Sound Machine
The H.Guard Sound machine for dogs has an automatic shut-off timer of 15,30and 60 minutes allowing you to conserve time.
The speakers and adjustable volume control allows you to select the amount of volume for your environment and to your pets comfort levels.
Your pets remain peaceful even with a noisy neighborhood or even construction sites This sound machine has six different types of sounds form snow stream, lullaby, Rain forest, Equilibrium, white noise and ocean wave.
These soothing sounds will keep your pet relaxed and contented. It comes with a micro USB cable with a wall DC adapter that lets you plug it to your pet's bed, in your computer or even your car.
The 30-day warranty allows you to return it and get your money back in case of genuine malfunction. It is compact hence fits in your bags easily.
#5. Sleep Easy White Sound Machine
White Noise Sound Machine - Real Fan Sleep Aid, Noise...
Real Fan White Noise - Our sound machine is designed to produce white noise from a...
Natural Sound Works Best - Your brain can tell the difference, an there's nothing...
Travel-Friendly and Versatile: Sleep Easy is designed to be portable and lightweight,...
Sleep easy is a white sound machine that is best for low sound relaxation environment.
It has a sound conditioner meant to soothe your restless sleepers. It has the calming sound of moving air that gives a comforting environment to your pets.
The volume and tone buttons are very adjustable giving you an opportunity to adjust as required. It has a compact design that allows it to sit comfortably on the floor, countertops or nightstands.
It is also light enough encouraging mobility even in bags and suitcases. Its motor may e unstable and when this happens you should open the bottom and tighten the fan blade.
#6. Big Red Rooster Sound Machine
Sale
White Noise Rain Sound Machine for Sleeping, Baby Soother -...
6 SOOTHING SLEEP SOUNDS - The six white noise machine sounds include rain, brook,...
MASK BACKGROUND NOISES - The white noise sound machine masks noise for improved...
OPTIONAL AUTO-OFF TIMER - Leave this soothing noise maker on all night or set a timer...
This white sound machine can be loud when you turn it to the maximum. The adjustable volume knob, therefore, comes very important at this point.
It has 3 AA batteries with an AC adapter making it very mobile and portable. The timer allows you to set intervals of 15,30and 60 minutes It has rain, brook, thunder, white noise, summer night and ocean natural sounds.
It has a 30days warranty and is light enhancing mobility. It is easy to use and will make your pet a very peaceful friend.
Final Thoughts on the Sound Machine for Dogs
Pets just like human beings are sensitive to an uncomfortable environment especially puppies, the use of white noise machines to provide a suitable environment for them is one of the common methods which can also be a great way to reduce barking and anxiety.
However, getting the best white noise machine should depend on its durability, weight, purpose, environment, and size.
These factors will enable you to choose the best device for your pet. You should put in mind that even pets have preferences, what works for one may not work for the other. Always monitor and establish what works for your pet and you will have a friend to keep.
Sale
LectroFan High Fidelity White Noise Machine with 20 Unique...
[After Sale Service] Buy our products with confidence as they are designed in the USA...
[Masks Noise] Helps block out disruptive environmental noises. It can help improve...
[20 Non-Looping Sounds] A total of 20 unique non-looping sounds. 10 fan sounds & 10...