Dogs are wonderful pets and best friends any person could ever wish for; they are fun, loyal and just joyful to have in life, However, sometimes they can cause undesirable barking and whining noise which usually neighbors often complain about.
In this article, you will learn exactly steps to take to soundproof a dog crate and tips to help reduce the sounds dogs make.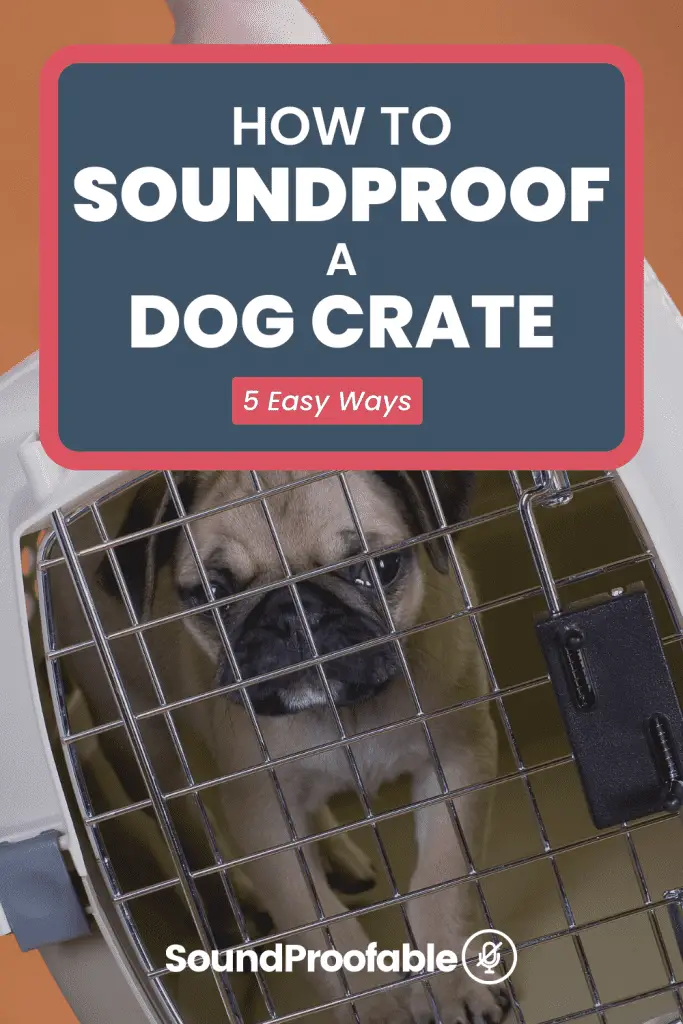 What are Soundproof Crates?
Without getting any technical and confusing you with all the jargon, are tiny crates (big enough to fit any pet) that are designed mainly with an objective to lower internal and external noise on the box.
These crates are made from sound-absorbing and soundproofing materials which ensures a better external and internal noise reduction.
What I like about these Soundproof crates, is that not only they reduce dog barking and whining sound, but they also protect it from unpleasant sounds that usually terrify pets like thunderstorms and fireworks.
Why Sound Dampen a Dog Crate?
There are many reasons why you would want to soundproof your pet's crate/kennel including
Reduce Dog Barking and Whining Noise
Protects against terrifying sounds
Your Pet will feel much safer
A peaceful space is created
lower undesirable noise for You and your Neighbor
Most DIY soundproofing projects are entertaining, and the learning curve is very low( That's why became passionate about this) However soundproofing any pet's crate can be a real challenge, and it's not beginner-friendly Here is why:
When attempting to block out internal and external sounds from the crate, It is essential to cover every small gap that can be exploited by noises and by doing that you will be closing off all the ventilation your dog needs. So an alternative is required which I am about to share with you.
There are many things you can do today to soundproof your dog's crate but some of the most effective things include:
1. Get Dog Crate Covers
Sale
Precision Pet Indoor Outdoor Crate Cover for Size 5000...
INDOOR/OUTDOOR CRATE COVER: Create a den-like space for your pet with this kennel...
TAILORED FIT: A tailored fit for this crate cover is for easy on/off access. Pet...
KENNELS & HOUSES: Crate & kennel training is vital for dog safety & comfort. We...
Dog crate covers are covers that are designed to intercept noise and sounds that enters or leaves the crate house. The material used is dense to absorb sounds, and it's not hot for your puppy or pet to get uncomfortable.
What I like about Crate covers is that they are affordable and in my opinion the best alternative to manually block out unwanted noise from your pet's crate.
If you on a tight budget, It's completely okay because you can try to use any heave blanket you have, But I wouldn't personally recommend this because blankets will cause the temperature to increase and as a result, your dog won't be comfortable.
2. Using Moving Blanket for Dog Crate
Sure-Max 12 Moving & Packing Blankets - Pro Economy - 80" x...
Professional-grade: Oversized, 80" x 72" premium quality moving pads that provide...
Superior cushioning: Constructed with thick, padded virgin cotton batting with...
Durable: Weighing approximately 2-3/4 pounds apiece, these heavy-duty furniture...
Covering the crate with moving blankets is another option that is cheaper and yet effective. Moving blankets are way different from the ordinary blankets we use because of the ability to absorb sounds.
Moving blankets are designed in a rather interesting way, they contain a blend of soft and hard material created to absorb noise and for insulation purposes.
What I like about moving blankets is they can easily be cleaned, so if you will using this method to cover a crate it will make things easier to keep the blankets clean at all times.
To fully make moving blankets effective, Use two or three blankets.
Start by covering the outside area of the crate, then you can move inside but make sure you leave enough space for your pet to breathe.
3. Acoustic Foam Panels
Another great soundproof method you can try is using foam panels. To use the follow the following easy steps:
Carefully Measure The whole Crate ( length, width, and total area)
Get Acoustic Panels ( There are different places where you can them but I usually purchase mine on Amazon)
To attach the foam panels to the dog crate, I recommend you use clips because they make everything easier.
An easier way is to work from the bottom up of the crate and attach the foam panels
4. Soundproofing the wall, floor or Ceiling
If your neighbors are giving you a hard time regarding your lovely barking dog, I would recommend you to try noise-blocking your walls if you are living in a shared wall home.
It will not only give you peace of mind from your neighbors but will also absorb internal noise. Also, you can Soundproof your ceiling or floor depending if you have any neighbors below or above you.
5. Get White noise Machine for Dog anxiety
Did you know that you can play white sounds to reduce the anxiety pet especially dogs experience? well, you can! so the next time you go shopping consider looking for the sound machine to help sooth dog anxiety and reduce barking.
Options of Soundproof Dog Crates
I decided to add these sections for people who are looking for ready-made specialized crates; I would like to add that this isn't a necessity if you don't have the budget but quite frankly they are pretty inexpensive, and a good alternative to manually soundproofing your dog crate.
1. Pets fit Portable and Foldable Crate
Petsfit 36inch Soft Sided Dog Crate with Thicken Plush...
PETSFIT soft sided dog crate allows you to easily create a warm home in any place for...
If you carefully look at the details of our soft sided dog crate, you will find that...
Our whole-pipe-support design will be more sturdy and safe, which will not collapse...
Petsfit crates are designed with a minimal and yet stylish look. The material used this dog crate is crafted to sound absorb and deflect sounds.
The cage is relatively small which only puppies and small dogs can fit(downside) Other than that, the material used is incredible and helps keep the temperature regulated which will make your dog comfortable.
2. Zencrate Smart Anxiety Relief Crate.
Zencrate started as a crowdfunding project which was backed successfully due to the demand for dog crates that protect dogs from the external sounds that cause anxiety including fireworks and thunderstorms.
The design is simple and yet elegant, and it does what it is intended to do. What I don't like about zencrate is the price, But people always say, "You get what you pay for" Zencrate is slightly expensive but worth every penny if you get one.
3. AmazonBasics Folding Soft Dog Crate
Sale
Amazon Basics 2-Door Collapsible Soft-Sided Folding Soft Dog...
Soft-sided dog crate for keeping a furry 4-legged friend safe and comfortable when...
Includes a Small dog crate made of tan polyester fabric and a lightweight yet sturdy...
Sets up in seconds with no tools needed; folds flat for easy portability and compact...
One of the best pet crates, It is created by Amazonbasics which is a trustable brand and produces nothing but fantastic quality, what I like about AmazoBasics is the size flexibility, It comes in different sizes which suitable for bigger dogs.
This dog crate is designed to absorb sounds and keep dogs comfortable, Honestly, I couldn't find something significant that I hate with this product. No wonder the reviews are so positive.
Tips to Stop a dog from barking and whining in a crate.
Make the dog feel safe by reassuring it.
The number one common reason that causes the dog to bark is anxiety when a dog feels frightened they often start barking. So it is vital that you reassure your pet so that it knows that it is safe.
Avoid Leaving the dog in the bathroom.
It is a common thing that most dog owners lock their pets in the bathroom when going somewhere. The problem is not where you leave the pets but how soundproofed in the room, more often bathrooms are loud and contain an echo.
Limit Emotional Goodbyes.
We all love to hug and kiss our dogs before we leave right? Well as loving and caring as it sounds, having emotional goodbyes causes your dog to miss your presence and this makes your dog feel sad and increases the chances of barking.
If possible take the dog for a walk.
By taking the dog for a walk will do two things, 1. the dog will feel much happier and confident and 2. the dog will feel more tired and won't have the energy to cause disturbance sounds.
Ask a family member or friends to look after it.
If you didn't find someone, it would be better if you hire a dog sitter when there is someone around the house while you are gone the dog will feel safer and happier because there is someone to play with.
Purchase a pet comfort toy
This one of the best things you can ever do for your pet, a comfort toy will undoubtedly make your dog feel safer, and that will reduce the dog's anxiety. Also, chewable comfort toys will distract your dog from missing you.
I know that sounds a little bit harsh, but remember dogs are more like small babies, they need to be taught, fed and cared for, merely disciplining your dog doesn't necessarily make you a bad person but you are helping both you and the dog.
Dog Kennel.
Soundproofing a dog kennel is slightly different from a crate. I will cover that in the next post if you like, just let me know.
Frequently Asked Questions
Should I cover my dog's crate?
The simple and straight-forward answer is yes if the reason you want to cover your dog's crate is to protect the crate from external sound waves but always make sure when you cover the crate that you leave enough room for the dog to breath because in truth not all dogs will appreciate a soundproofing cover, however it is sometimes necessary to keep the environment quiet.
Is Crating a dog Cruel?
Although most people avoid crating their pets, sometimes it is necessary to keep your dog safe, in most cases crating your dog is not a cruel thing given that you walk your dog regularly and it would be wise to also add a soft blanket to keep the dog comfortable.
Conclusion:
There are many great ways to help reduce the sound levels of your pet's house. and By taking action and using these soundproofing methods you will drastically reduce all the barking and your pet will feel more comfortable at all times.
I hope this article was helpful and let me know if any of these tips have helped you.