Soundproofing a room is a tricky business. It can be expensive, and it's difficult to know how to do it on the cheap. But it doesn't have to cost a lot and there are lots of ways to save money and have a well-soundproofed room with.
This blog post is going to walk you through how to soundproof a room cheaply and on a budget! That's why we compiled this blog post that contains tips for soundproofing a room inexpensively!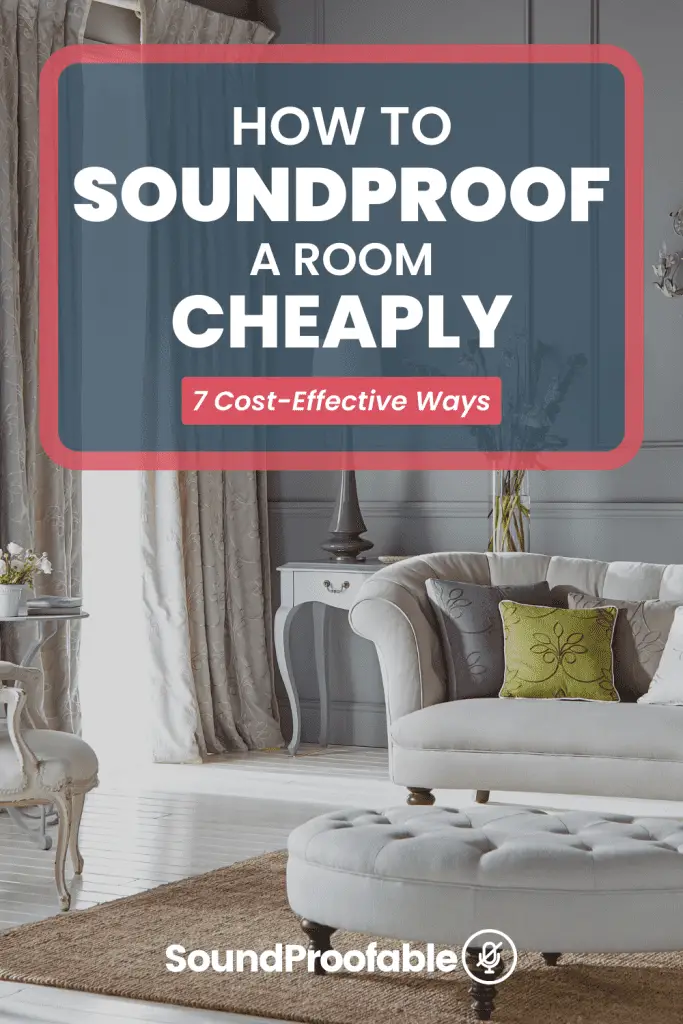 Does Soundproofing a Room Really Work?
Unwanted noise from neighbors, traffic, and other external factors can seem impossible to try and dampen it. Unfortunately, many people spend years and years without solving the problem thinking and hoping things will change.
Sadly, more often than not things remain the same. I am glad you took action and even if your room might be badly sound insulated, these tips will drastically change the environment and hopefully your life as well.
Yes, all the methods and tips in this full guide will not only help you get rid of the unwanted noise but also save you some cash along the way.
Identifying Noise Source
Since we are on a budget and would like to save as much money as we can. Identifying where the noise is coming from will greatly lower the costs. There are two ways to identify this and to make it simple, we will just call it internal and external noise.
Now, identify where the sounds entering your room come from. It could be from next-door neighbors or internal ( TV room).
by doing this you will identify areas that you should put more emphasis on when sound dampening. However, I do recommend you soundproof the entire room for better results which is not so expensive too.
7 Steps on How to Soundproof a Room
Step 1. Soundproofing the window
in most cases, if the noises and sounds are coming through the window into your room are from coming from external sources like traffic, barking dogs or next-door neighbors.
There are many ways to go about soundproofing your windows including:
Using Weatherstripping soundproof tape
Adhesive tapes are quite useful to create a barrier between the room environment and outside chaos. Generally, there is always a gap between the window and wall, and the sound can pass through this without any obstacles.
That is why it is very important to close and seal every gap that is exposed. I recommend you use magzo noise-proofing weatherstrip.
Sale
MAGZO Weather Stripping Door Seal 1/2 Inch W X 1/2 Inch T,...
SIZE OF THIS FOAM TAPE - 1/2 inch W x 1/2 inch T x 6.5 ft L x 2 rolls. You can cut...
STRONG ADHESIVE - The door weather stripping adopts a stronger adhesive backing which...
GREEN MATERIAL - The high-density self-adhesive weather stripping is made from...
This product contains high-density PVC foam, having low compression which not only will reduce the background noise in your room but also make your room dustproof, waterproof heat-insulated as well.
Sound Blocking Curtains
Another great inexpensive method is to use soundproof curtains These are curtains that are made from thick sound-absorbing materials aimed to get rid of sounds and echoes.
Not only will they block out sounds but they generally look great and contain insulating properties to keep the rooms warmer during cold freezing winters. They are also a good insulator of heat, which will save you energy.
There are many sound dampening curtains on the market, but the ones I personally recommend Yakamok 2 Thick Soundproof Curtains.
Yakamok 100% Blackout Lined Pair Curtains, Window Treatment...
PACKAGE MADE:2 panels per package. Each Lined Curtain measures 52" wide x 84" long. 8...
100% BLACKOUT:These magic blackout lined curtain panels are constructed with 2 layers...
NOISE REDUCING:This fabric curtain constructed with two layers will help reduce...
Since it can be really expensive to soundproof a window in a room, This is one of the cheapest ways to do it. One thing to keep in mind when sound dampening a room is to try and look for every possible cheap solution that not only will be will make your room quieter but you will be saving some money since you are doing it cheaply.
Diy Window Plug
This is certainly one of the cheapest options too, in short, soundproof window plugs are simple plugs that are designed with an intention to absorb and deflect sounds.
They are very easy to do and are effective as well, however, they will block the light coming through your window, depending on where you want to use them you can make them permanent or removable.
creating window plugs is really simple and cost-effective all you will need is a slim wooden board, thick sound absorbing mat, acoustic caulk.
Purchase an Acoustic Treated windows(expensive option)
These are windows that are designed to block out noises from both inside and outside the house. They are a bit costly and if you are considering purchasing them, make sure you have the right budget. Since these acoustic windows are created specifically to block out noise this makes them more efficient and effective.
Covering the window with blankets.
Did you know that you can cut the noise levels by a huge margin by simply placing a thick blanket with that it is certainly not the best-looking approach, but If you really don't have any money and desperate to cut down the noise then you can go with this option.
Also, you can use this method if the room you are trying to sound dampen a spare extra room that you don't really care about how it looks or you can use this as a temporary method until you have saved up some cash.
Step 2: Soundproofing the wall
Most walls are badly sound insulated and thin and as a result sounds and vibrations take advantage of them. There are 2 basic ways you can use to achieve this. One is superior to the other however, it also takes the most time and costs a bit more. I will discuss the two.
 Using Acoustic Foam
This is the cheapest option of the two options, but very effective although it may not completely soundproof your walls but will dramatically reduce the vibrations and noises.
Acoustic foam panel is highly efficient in noise-proofing because of its robust build quality and non-inflammable properties.
These sound-absorbing foams are often used in studios to help with the balancing of sounds and reduce noise coming in.
You can order them according to your room size in the form of groups that can be attached to the walls, floor, and ceiling. Users can quickly clean them by dust vacuuming ensuring prolonged life.
Modifying the wall using Drywall and Green Glue (Most Effective)
One thing you can do to combat external noises is to add an extra layer of drywall to your existing wall and using green glue as a noise-proofing sealant.
This is effective because of it's like you building a room within a room, by adding drywall and using green glue then you will be separating the old wall from the new one, and this makes it harder for external sounds to come through due to green glue stopping it.
Green glue is definitely one of the best noise-proofing sealants on the market, no wonder why people talk so great about it.
Applying Soundproof Paint
Sound dampening paint, as the name suggests it is a paint that contains noise absorbing properties. Unlike most normal paints this one can significantly cut down noises.
Now, soundproof paint will reduce the noises and sounds, but since this is just paint, you can't only rely on it. for better soundproofing, you can pair it with a soundproof wallpaper.
 Step 3: Blocking noise coming through the Door
Although most unwanted background noise comes from the outside, reducing the outside noise alone will dramatically improve the room quietness.
It is important to soundproof the door as well. A door has many gaps that sound waves enjoy and often exploit them.
Use soundproof weatherstrips to seal the gaps
This is very effective, just like the windows weatherstrips will incredibly lower the amount of noise coming to your room
Sound dampening door sweeps
Newly invented door sweeps have multi-layered, cavity designed, and some recent research has shown that they could reduce the noise level by five times.
These door sweeps are self-adhesive, high in silicon content and flexible too in nature. I strongly recommend cleaning up the surface thoroughly before use and leave it for 24 hours at least for secure adhesion.
Liquid noise-proof Sealants (Optional)
We have discussed various types of sheets, self-adhesive tapes, panels, but all of them are incapable of reaching the angled corners, thin edges and finding cracks.
These materials being latex-based have a high STS (Sound Transmission Class) value resulting in blocking of feeble sounds. When selecting the sealants.
We should keep in mind that they should be non-hazardous, odorless and resisting drying out or cracking with age.
Step 4: Soundproofing the Floor
Using thick sound-absorbing carpet
Purchasing the right room carpet plays an essential role in the absorption of internal noises. However, most of them are not that much thick so that they can absorb the right amount of acoustic energy. The solution is using a thick carpet.
Try Interlocking Puzzle
These are incredibly amazing at what they can achieve. the soundproof interlocking puzzle will absorb vibrations and sounds when walking.
Step 5: Noise-proof Air Vents
If your room has air vents, it important you soundproof them too because external sounds will just ignore the rest and go straight through the vents.
Step 6: Plant or Purchase Absorbing Plants
This a long-term strategy you can start doing right now, these plants will help significantly minimize outside noises. If you don't like the long-term approach you can simply purchase them and plant it in your backyard.
Step 7: Sound Dampen the Ceiling
Now, this may be the hardest part since the ceiling is already there, just like the other parts. Luckily, it is not as essential when trying to make your room soundproof, however, if you still want to do it, there are a few methods you can use to soundproof your ceiling, including:
Using Acoustic Foam Panels
This is one of the most obvious cheapest ways to sound dampen the ceiling, although this will certainly cut down noises and echoes in your room, it is essential to know that this may not reduce 100% of the noises and sounds.
Make use of drywall
Another thing you can do is install another piece of drywall on your ceiling and for soundproofing, you can use green glue which is proven to work, especially against low-frequency waves.
Step 8: Get a Sound Machine
This may not be the traditional way of sound dampening but it is one of the fastest and easy solutions. You can play white sounds in your home to help you relax and create a calm environment.
Soundproofing a Room Cheaply
1. Soundproof a room with household items
These are strategies you can follow to drastically reduce noise. As you know that noises love gaps it is important to pay more attention to the door and windows.
use any thick sound-absorbing materials to close off the gaps. this may not be the best look alternative but great if you are looking for free methods.
Reposition your furniture to cover some of the gaps from windows and doors, for example, you can reposition your wardrobe in from of the windows to cancel some of the noise.
you can use blankets to cover the door gaps. Also, you can use any mat to cover the floor.
2. Using Thick Blankets to cover the door.
If you can't afford to purchase a weatherstrip, then your next best option is to use thick blankets, if you have moving blankets that are even better!. You can simply close the gaps using it. The key here is that the blanket must be really thick in order to offer some great sound dampening.
3. Re-position your furniture.
what if I told you, that you can reduce some echoes and noise by just putting the right stuff at the right place, great right? well it's true that re-positioning your furniture you can cut down the echoes and sounds by up to 15%, yeah it's not a lot but, remember it's free.
4. Try to add a carpet.
If the room you are trying to soundproof has no carpet, then it's time to consider adding one, because that will not only reduce footstep noises and absorb echoes but will also insulate your room, which is great in cold winters.
5. DIY window Plug.
To reduce noise coming through the windows you can create soundproof window plugs, what I like about this, is the fact that you can use really cheap material if not free
Final Thoughts on soundproofing a room
That is how to soundproof a room on a budget. What I like about all of my recommendations is that they are really cheap and easy to use.
However, there are some precautions and measures that should be taken by yourself to create an optimum quiet and peaceful environment around you.
Another way is to prevent the formation of echo is placing temporary wooden partitions or foam panels.