Are you frustrated with how loud your processor is? Thinking about upgrading to a new quieter model? Well, you've come to the right place. While aroma arising from the kitchen is appreciated by your family and neighbors, noises are definitely not. And unfortunately, most older models of food processors end up making a loud whirr especially when you're trying to make something solid!
To help, we've put together a list of the best quiet food processors on the market and reviewed them to help you narrow down your choice when choosing which one to get. We've also put together a buying guide of common questions to help you buy with confidence. Let's get started.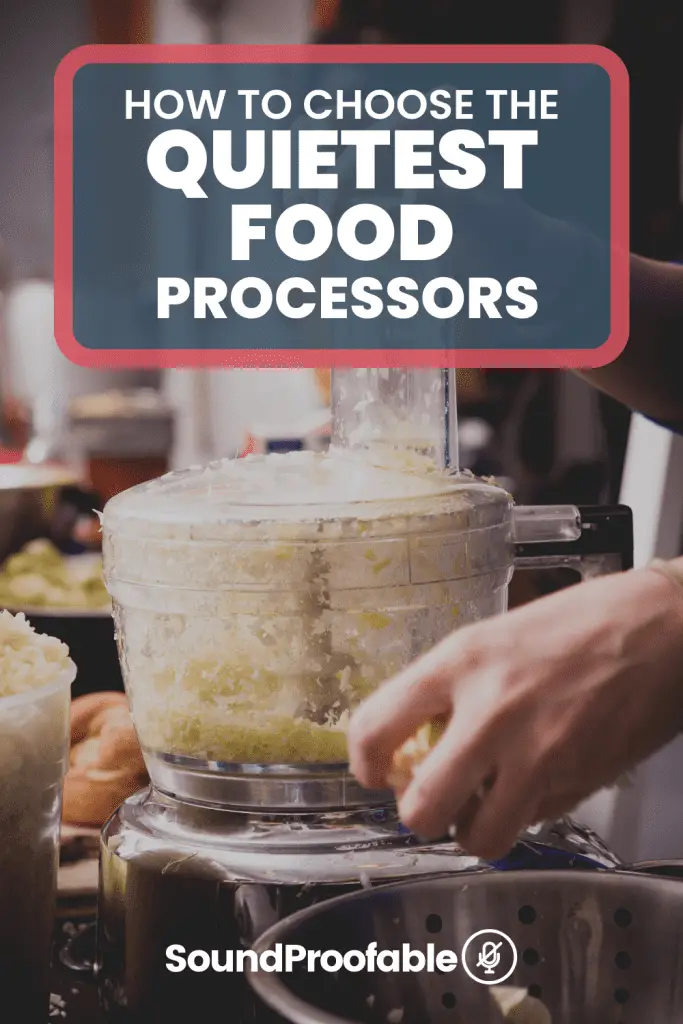 Quick Answer: The Quietest Food Processors
Things to Consider Before Purchasing a Quiet Food Processor
Size & capacity
There are many size options online from small 3-cups to 10-cup versions for commercial kitchens. Choose a size according to the number of people you cook for.
If you cook for 4 people, an 11-cup processor should work. If you often make sauces or chop herbs and nuts, choose a food processor that comes with a work bowl and blade, or invest in a separate 3-cup "prep" processor for these tasks.
Small food processors with less than a 7-cup capacity as known are mini choppers. They can handle simple prep tasks such as chopping, grinding nuts, cutting up light vegetables but without a feeding tube.
I would recommend you go for such a model if you cook only for yourself
The Blades
Food processors are only as good as their blades. Usually, a food processor comes with a set of blades that will help you use the machine to its full potential.
A classic blade can mince and chop while shortbread blades can knead dough easily. Grating discs help process food in the size you want.
Most blades are made of stainless steel as this material is rust-resistant and less likely to corrode easily.
I would recommend that you look for at least multifunctional double blades and if you require better performance, quad blades are the best option.
Power
The strength of the food processor is determined by the number of watts of the motor. A lot of wattage ends up causing the food processor to stop working when you add heavy or tough foods like cheese or raw pumpkin.
I would recommend that you choose an appliance with at least 600-watts. They can extend up to 1000 watts but they tend to be pricer.
Ease of Cleaning
Food processors have a lot of ridges and components so they are not known to be super easy to clean. So we would recommend that you find dishwasher-friendly models.
Features & Accessories
Look for a model that provides accessories including bowls, several blades, disks that offer to grate of foods at various levels, and control systems that can convert it to a juicer or a dough kneader.
If you enjoy making juices, some models come with a juicer attachment that can make it truly multipurpose. Having a wide feeder tube makes using the machine much easier.
This will provide a large space to push vegetables and large ingredients inside easily. Look for a food pusher or prod so that you won't have to get your hands dirty.
Every good food processor needs to have a "pulse" button to gives bursts of power to chop quickly and knead the dough.
Most modern food processors will have a touchpad for the controls which is much easier to work with and clean than raised buttons.
The Best Rated Quiet Food Processor Reviews
Now that you hopefully have a better idea of what to look for, it's time to look at some of our favorite models when we were judging the quietest food processors on the market.
#1. Cuisinart DFP-14BCNY 14-Cup Food Processor
Sale
Cuisinart Food Processor 14-Cup Vegetable Chopper for...
SUPERIOR FUNCTION: Cuisinart's 720-watt motor for our 14-cup large-capacity food...
MUST HAVE FEATURES: The 14 cup food processor has an "on" and "off/pulse"...
INCLUDED: Stainless steel standard slicing disc (4mm), medium shredding disc and...
This Cuisinart Food Processor features a 14-cup work bowl, a large feed tube, and stainless steel blades. The motor works on 720 watts which is enough power for everyday processing yet is quiet enough to not disrupt conversations.
This model is modern in its appearance and has a stainless steel finish. At 18 pounds, the dimensions of this Cuisinart piece is 12.6x 16.6x 9.3 inches.
The bowl is quite large at 7 inches in width and 6 inches in height, enabling you to work with a bulk quantity of food. The work bowl is BPA-free and safe for usage.
It is made of shatter-resistant plastic which is great if you have butterfingers. The feeding tube is wide enough to put larger foods like broccoli or zucchini inside the processor.
This processor offers 7 working modes- kneading, dough mixing, slicing, chopping, pureeing, shredding, and emulsifying. You can change the modes via the touch buttons.
As for the blades, slicing disc, chopping blade, plastic dough blade, and shredding disc are included with this appliance. It also comes with a spatula and recipe book which is a bonus.
I found that you can chop vegetables, make purees, make bread dough, cake batter, and cookie dough with ease. There is an additional safety feature that does not let the appliance work unless all the parts are fixed correctly.
Like almost all food processors today, there are four rubber feet on the underside of the base that keeps it from walking across your countertop when the machine is processing heavy loads. This appliance is dishwasher safe too, so cleaning is a no-brainer.
Pros
Large Capacity with enough power for processing tough foods
Comes in many colors
Dishwasher friendly
Sturdy with a stable base
Quiet in its operation
Cons
This appliance may require its components to be scrubbed and hand-washed if you're using ingredients that stain.
No adjustment of slicing and shredding
#2. Breville BFP800XL Sous Chef Food Processor
Breville Sous Chef Pro 16 Cup Food Processor, Brushed...
Comes with 5 multi function discs and 3 blades out of the box
5.5 inch super wide feed chute reduces the need to pre cut most fruits and vegetables
Includes 2 BPA free processing bowls: 16 cup (3.8 L) large bowl; 2.5 cup (600...
This Breville Sous Chef Food processor runs on a cool 1,200-watt motor which means you can chop food very finely. You might think that with its power, it should be quite noisy but it isn't.
Durability is its strong point as it features stainless steel blades, a BPA-free plastic bowl, and a die-cast metal base. Its dimensions are 11x18x8 which is not too large and can be placed on your countertop with ease.
The food chute is 5.5-inch which is wide enough for large foods. This food processor features 5 discs and 3 blades with 24 different settings that allow you to slice thinly of 0.3 mm and have a thick cut of 8.0 mm.
There are two bowl sizes- a small 2.5 cup and a large 16 cup so you can make double dough or make a small portion of dip with the same machine.
The discs included are a mini blade, a French fry cutting disc, julienne disc, a reversible disc, whisking and a shredding disc, and a dough blade. There is a small and large food pusher so you can add in small and large quantities with ease.
A bonus is that the small food pusher can also be used as a measuring cup. As far as safety is concerned- the Breville Sous leaves no stone unturned.
They use a safe feed chute system that prevents the machine from working until the parts are fixed in place. A silicone seal around the bowl prevents ingredients from leaking into your countertop.
Breville Sous has also used BPA-free materials making it safe for use. Rubber feet at the bottom keeps the appliance fixed in place bringing an additional safety element to food prep.
A fact that I appreciate is that this food processor comes in three colors: stainless steel, cranberry red, and black sesame.
So you can choose according to the decor of your kitchen. it tested it for tasks like pureeing baby food, making ground beef, and making salsa and it performed well for all of these.
But because it works at 1200 watts, it can puree things very easily so you have to be vigilant and stop it at the right time.
Pros
Quiet and Sturdy
Value for Money
Easy to Operate
Easy to wash
With two bowl sizes and 24 slicing settings, the capacity is quite large for a big family
A Warranty is offered
Cons
The accessory and replacement parts require storage space
#3. Braun FP3020 12 Cup Food Processor Ultra Quiet
Braun FP3020 12 Cup Food Processor Ultra Quiet Powerful...
It's used for chop, slice, whisk and knead, or even get a vitamin boost with the...
DualControl system with variable speed: The pre-set speed function ensures immediate...
Easy to clean: Every part (except the base with the motor) is dishwasher safe
With a 600W motor in combination with its ultra-quiet technology, this Braun model allows for easy chopping, pureeing, dicing, and more.
The capacity is yet another great thing about this food processor. It features a capacity of 12 cups of dry and 9 cups of liquid ingredients, which is more than enough for a big batch of fresh vegetables and enough drinks for a small gathering.
German engineering is involved in making this food processor ultra-quiet. Made out of 18/8 steel, the body is sturdy and durable.
This Braun food processor runs on a 600W motor which is good for home use. Despite a strong motor, the appliance does not make a loud noise and only lets out a hiss.
With a 12-cup work bowl, it can handle 9 cups of liquids and 12 cups for dry food. It has a wide chute that can fit in even a whole cucumber which is great if you don't want to spend time chopping up ingredients.
It offers three options- on, off, and pulses which are adjustable on a knob. There are 11 available speed settings. There is a preset speed that will cut evenly.
The FP3020 has seven blades, inserts, and a chopper that can help the basics of meal prep such as chopping, kneading, whisking, grating, and shredding among others.
With a citrus juicer add-on, you can also use this appliance like a juicer. There are two safety features. The appliance will not work until every entire ensemble is fixed in its correct position.
Secondly, the motor will stop working if it is overloaded with ingredients. Also, the lids are engineered to not allow leaks and spillage.
Pros
Is dishwasher-safe, making the task of cleaning easier
Low power consumption
Multi-purpose as it processes food and can be used as a juicer
Cons
If you're a beginner, you might require help assembling it
#4. Cuisinart DLC-10SYP1 Food Processor 7-Cup Food Processor
Sale
Cuisinart 7 Cup Food Processor, 600-Watt Motor, White,...
SUPERIOR FUNCTION: The Cuisinart Pro Classic 7-Cup Food Processor with a 600-watt...
EASY TO USE: Extra-large feed tube holds whole fruits and vegetables, on/off-pulse...
INCLUDED: Chopping/mixing/dough blade, stainless steel medium shredding disc, medium...
With a 600-watt motor, this 7-cup Food Processor from Cuisinart is a cost-efficient way of making your daily meals. This model comes with attachments like three slicing/shredding discs, a chopping blade, and a spatula.
A medium-sized unit, these appliances measure 7 x 11.25 x 14.50 inches and hold enough for a family. However, you will have to buy a plastic dough blade separately.
The pusher system has two parts- a small pusher that fits into a central feed tube. This tube processes food that is quite small like baby tomatoes or for adding liquids during processing.
From a safety point of view, the appliance will shut down if it is overfilled or there is some sort of burnout. This model does come with a five year limited warranty, so this gives you more security than the three previous models on my list.
The components are dishwasher-safe, so cleaning will not take more than 10 minutes. The cover on top is also easy to clean.
Pros
It has a safety interlocking system that will keep the lick locked in place.
Compact storage space that reduces the space occupied by the appliance
A stable base which is also skid-resistant
On/Off Pulse, Paddles provides simple operation
Cons
This does not come with a small wok bowl and you will not be able to buy one separately. So if you want to work with small amounts of food, you could buy a mini food processor instead.
#5. Cuisinart Elite Collection FP-14DCN
A high-performance food processor, this Cuisinart model is a 14-cup capacity food processor. Equipped with a 1,300-watt motor, this model can handle hard and soft food with efficiency.
It features three bowls which are the most provided by any other brand on this list. These bowls have a capacity of 4.5, 11, and 14 cups respectively.
Weighing 20 pounds, this appliance is among the heavier than others on this list. So it might not be easy to move the processor from your kitchen to other places.
This won't take up extra space as the two bowls can fit inside the larger one. Since they are BPA-free, they are safe for use. Plus, these bowls have measurement marks and pour spouts that make them easy to use.
This food processor comes with 6 blades that can make tasks like making purees, nut butter, dough and easier. Like many other good food processors, this Elite model has a wide mouth so you can add whole fruits and vegetables.
The lid of the processor consists of a rubber seal that prevents messy leaks and spills all over your counter. However, customers have noticed that pieces of food may get stuck between the lid and seal.
Also, the device is quite easy to use due to its button controls. There is an automatic on the speed with pulse and dough speed settings.
I found assembling the blades and bowls to be quite easy that even newbies can do easily. We like the stylish appearance of this food processor and the stainless steel and clear casing will look good on any modern kitchen countertop.
Pros
There are 3 work bowls of varied capacities
The motor is powerful at 1300 watts
Whisper Quiet in it's running It features a retractable cord that can be stored in its base
All the components are dishwasher safe.
Cons
Food can sometimes get stuck in the lid's rubber gasket. So you'll need to give it an extra scrubbing.
Conclusion: Which Quiet Food Processor Should you Buy?
While no food processor can be completely noiseless, advances in the technology of modern models mean that they have come dramatically down in volume. Most of the time just buying a new one will be dramatically quieter than your existing processor.
If you're still on the fence about which one to go for we'd recommend trying the Cuisinart DFP-14BCNY 14-Cup Food Processor. The combination of great utility, reasonable price, and quiet running make it an easy recommendation for us to make.
That being said, all the above brands are reputable and known for the quality of products, so we're sure you will have a good experience using any of them.
Happy quiet food processing!
Sale
Cuisinart Food Processor 14-Cup Vegetable Chopper for...
SUPERIOR FUNCTION: Cuisinart's 720-watt motor for our 14-cup large-capacity food...
MUST HAVE FEATURES: The 14 cup food processor has an "on" and "off/pulse"...
INCLUDED: Stainless steel standard slicing disc (4mm), medium shredding disc and...