Your bed frame is the largest piece of furniture in your room, making it the focal point in the bedroom. It has the most impact on the style and arrangement of the room.
Bed frames come in so many different designs and materials, making it hard for anyone to choose.
While the look is a very important aspect when picking out the bed frame, there are several other things you need to consider when looking for a quiet bed frame to enjoy a peaceful sleep.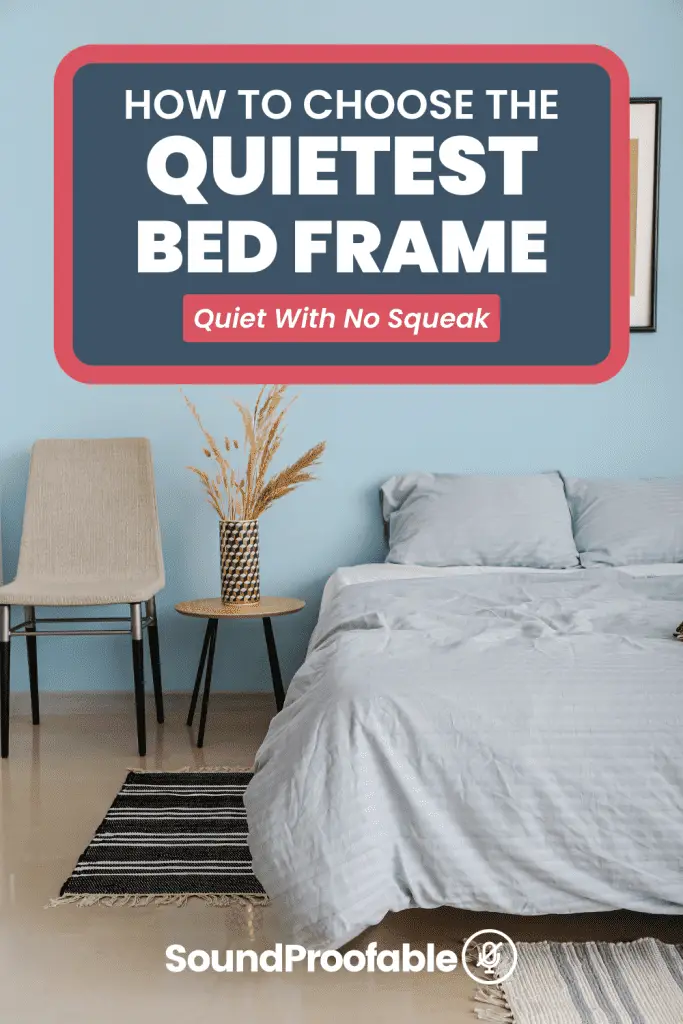 Quick Answer: The Top Quiet Bed Frames
Best Silent Bed Frame Reviews
#1. Olee sleep 18-inch Tall Bed Frame
Olee Sleep 18 Inch Tall Heavy Duty Steel Slat Anti-slip...
Superior Quality: Solid, knot free, New Zealand pine wood bed frame. Durable,...
Product dimensions – 76.1" L x 55.1" W x 18" H. Underneath clearance –...
The frame encloses the mattress to prevent slipping with ample under-bed space
The Olee sleep 18-inch bed frame may look simple but it is quite strong. This bed frame has no design flourishes and no accessories, which gives you enough space in the room to decorate.
This strong iron bed frame is made with even stronger nails. It provides 9 points of contact with the floor. The big strong points of contact make it firm, sturdy and completely quiet.
There is no shaking this bed when you are on it. This quite bed frame also has 18 inches of length under the bed. This is extra space for storage. You can easily assemble this bed frame when you are on your own
Pros:
Extremely stable.
Easy and fast assembly.
It can hold up to 1200 pounds.
Have safety lips to keep the mattress on the frame.
Cons:
#2. Amazon 9 Legs Support Bed Frame
Sale
The Amazon Basics bed frame is just like the name suggests; basic and hassle-free. The bed frame is made of durable steel construction that had a sleek and elegant black finish.
It has a total of 6 legs for support. The center bar expands from one side to the other to for extra support and to provide your mattress some stability which will prevent it from hanging or sagging.
The extra legs at the midpoint of each bar provide some extra support and enhance the strength of the frame. This quiet bed frame comes in a variety of sizes including the full, king, queen and twin.
You will be satisfied to hear that there is no extra tool needed to assemble the Amazon Basics bed. Everything you require for the assembly comes in the package with the frame.
The lock system of the Amazon Basics is simple to make the assembly stress free and fast. The support bar locks securely on to the next without the need for more tools. This bed frame can fit into any mattress set and box spring.
Pros:
It is easy to assemble.
No extra tools required.
The bed frame gas a simple design.
Cons:
It does not have a box spring restraint.
#3. The Zunis arnav modern Bed Frame
ZINUS Arnav Metal Platform Bed Frame, Wood Slat Support, No...
STRONG MATTRESS SUPPORT WITHOUT THE FUSS - With a simplistic silhouette that can...
HEADBOARD COMPATIBLE - Easily attach this frame to your own standard-sized headboard...
NO BOX SPRING NEEDED - Reliable wood slats are designed to support your latex, memory...
The Zinus metal bed frame is the perfect quiet bed frame. This low profile platform bed is 10 inches high and has a 7-inch clearance space below the frame.
It comes in a king size that is great for filling up large bedrooms. It is an elegant bed frame with a simple style that lights up your room without taking up too much attention from other things.
It has a unique design when compared to other metal bed frames. 10 wooden slats are installed through the frame. They prevent your mattress from sagging while providing your back with the much-needed support.
With the wooden slats, you won't have to worry about an aging mattress. The 4 metal legs on the Zinus are coated with plastic to prevent them from scratching and leaving marks on the floor.
The frame has a foam padded tape to make movement very easy and quiet. Nonslip tapes are placed on the wooden slats to hold the mattress in place.
This bed frame is quite easy to assemble, takes a short time and has detailed instructions on the manual. Two openings are left on one end of the frame that allows you to attach the headboard if you want to.
Pros:
Easy to assemble.
It comes with assembling tools and an easy instruction manual.
The frame is sturdy and noiseless.
Cons:
Wooden slats may seem flimsy.
#4. Zinus Michelle Compact Adjustable Bed Frame
Sale
ZINUS Compack Metal Adjustable Bed Frame / 7 Inch Support...
RELIABLE SUPPORT FOR YOUR BOX SPRING & MATTRESS - The dependable Compack bed frame...
UNDER BED CLEARANCE SPACE – You can keep extra odds and ends beneath the bed
UNIVERSAL SIZING - No need to buy a new frame when you upgrade your bed size; two...
This quiets and affordable bed frame made by Zinus is just what you need in your minimalist home. Normally, furnishing the home can be quite expensive but not when you go for this bed frame.
The simple design of the Zinus Michelle can fit in any home design. It is built with good quality sturdy steel that provides you with the best support.
The nine legs and central bar on the zinus ensure extra support. The lock-in system is very easy to handle and the recessed leg on the Zinus provides some extra support.
You can adjust the size of the bed to queen or twin depending on what you like. The material ensures optimal durability and is also very easy to assemble.
Pros:
The steel frame is adjustable.
Has a center bar for extra stability.
Easy to assemble.
Cons:
Restricted to box springs and memory sets.
You cannot attach a headboard or foot.
#5. Simple Houseware 14-Inch Bed Frame
The simple houseware is a queen size platform bed frame made of high-quality steel. It is foldable, so you can store it away for when you need more space in the room.
It has 12 points of contact with the floor, this prevents any form sagging and makes the bed very sturdy. The sturdiness of this frame allows it to handle all kinds of weight.
It has plenty of centralized support, which makes it a perfect quiet bed frame. You have plenty of space for extra storage under the simple houseware bed frame.
It is made of good quality steel but still very lightweight and easy to handle. You do not need any special tools to assemble this bed frame.
Pros:
Easy to assemble.
Lightweight.
Has generous under bed storage.
No need for a box spring.
You can fold and store it away.
Cons:
Needs bold tightening over time.
The Ultimate Buying Guide for Noiseless Bed Frames
What makes a quality quiet bed frame? Features to consider when buying a silent bed frame.
The size and dimensions:
It is obvious that the best bed frame should be a considerable size. Generally, it should be large enough to fit a mattress that is comfortable and big enough for two people; not only should it be comfortable but have enough room to spare.
This is essentially important because sleeping with a partner requires a lot of extra space. The ideal bed frame ensures there is freedom of movement for you and your partner if you are living by yourself for you alone.
If you already have your mattress, you want to go for a bed frame that is the perfect fit. Anything bigger or smaller will have you spending more money than you actually should.
The Noise level:
Having an active sex life is quite difficult when you are living with your family and friends. The bed is the biggest give away when it comes to noise.
This is why an ideal bed frame is the one that provides complete discretion. No one should be able to hear any noise from the bed no matter what you are doing.
The Frame sturdiness:
There is nothing as annoying as bed frames that keep moving away from the wall. They become a nuisance, especially when you have to move them back to the wall every day.
The sturdiness of the bed frame is quite important when you are looking for a quiet bed frame. You want it to stay still during movement o the bed, otherwise, it will move and probably be a little noisy.
For an overall sturdy bed, you should consider beds that have extra leg support. Bed frames with 6 or more leg supports are quiet and sturdy. Another element that will provide extra sturdiness on the bed frame is the slats.
A bed with slats is able to keep the mattress in place. Without the slats, the foam is constantly moving out of the bed frame, which can be quiet annoying.
Support:
The edge, horizontal and vertical support of the bed frame is important. the vertical and horizontal supports can be wooden or steel. as long as there is a tight connection throughout the bed, you won't have to worry about any noise or poor support.
The budge and pricing:
This is a basic factor for any kind of bed frame you purchase. Before you go searching for a quiet bed frame you must consider your pocket.
It is great to plan ahead so you won't go over the budget during the purchase. The price of the bed frame depends on the design and material.
You need to consider things like the design, the arrangement, and other qualifications to set up a budget for your bed frame.
Material/durability:
Durability is a great factor when you are looking to purchase a frame. Metal bed frames tend to last longer than any other materials.
Metal bed frames have less chance of damage, bedding or acquiring scratches. The bed bugs will not get to you if you have a metal bed frame.
Metal is also way cheaper when compared to wooden frames. Wooden frames, on the other hand, has style and appears in several different finishes.
They may not be as durable as the metals, but they will serve you for quite a while. They won't rust, are easy to style and keep the room soft and homey.
Style/ Headboard and footboard
Bed frames come at various styles and prices. Picking the style will depend on your personal taste. You can choose to match it with the room décor as long as it fits your budget.
There are three main popular bed frames in the market; platform bed frames, traditional frames, and plain frames (without headboards and footboards) each design will give you different desired elements.
Frequently Asked Questions
What bed Frame makes the least noise?
The above bed frames are known to be very strong, silent and sturdy even when having sex, the bed holds strong and true.
Are metal bed frames better than wood?
Depends on your prioritize, wooden bed frames are usually made for elegance and style and as a result they cost more when compared to metal bed frames, however when it comes to noise levels, wooden bed frames are often quiet. Metal bed frames are stronger and typically last longer.
What is the quietest bed frame?
Here is a list of the 5 top quietest bed frames:
Olee sleep 18-inch Tall Bed Frame
Amazon 9 Legs Support Bed Frame
The Zunis arnav modern bed frame
Zinus michelle Compack Adjustable Bed Frame
Simple Houseware 14-Inch Bed Frame
What bed makes the least noise?
With so many different types of beds, some metal bed frames do squeak, I recommend that you go for a wooden bed frame or the ones I mentioned above if you are looking for a strong sturdy soundproof bed frame.
Are metal beds strong?
The quick answer is, yes metal beds are strong when compared to other types of beds like wooden beds, they typically have a longer life span too.
Final Thoughts on the

silent bed frame
A sturdy and quiet bed frame is the perfect furniture for your bedroom. It maintains some privacy in the bedroom while keeping it quiet and peaceful around the home. Any of the frames above are guaranteed to serve your needs for comfort, style, and privacy.