If you've driven down roads or a highway but had hums, whistles and squeals blur out the music playing in the background, you may want to switch your tires.
You may have a luxury sedan or a half-ton truck, the sound of noisy tires can disturb your conversations and sleep. Changing the tire on your car can make a difference in how much noise you hear inside the vehicle.
If you're a beginner or not very knowledgeable about tires, here is a guide that will help you choose the quietest tires.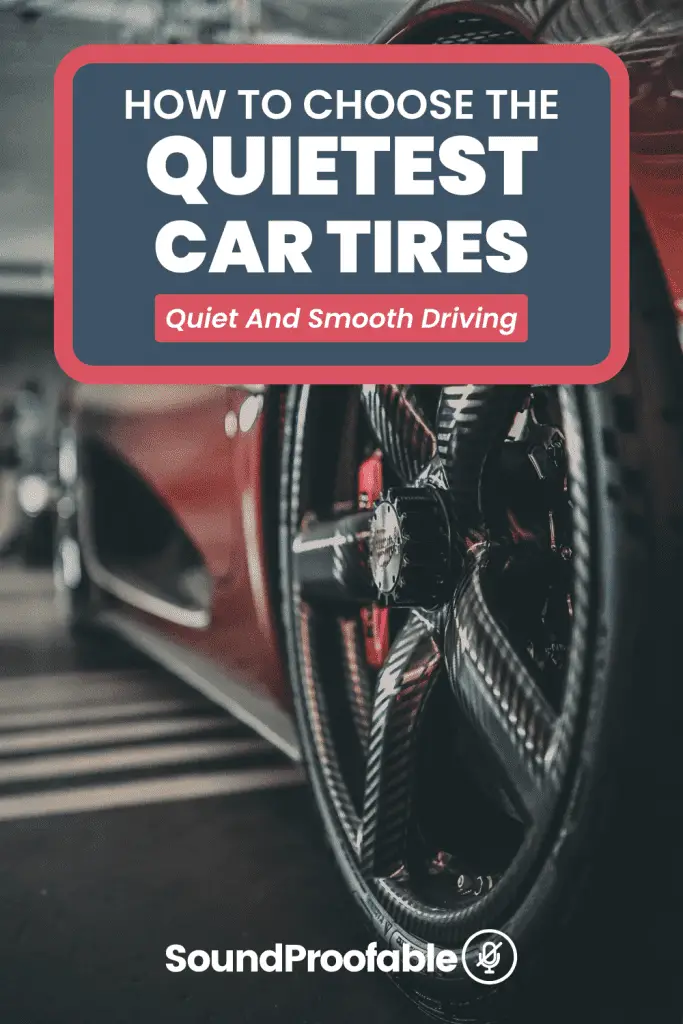 Quick Answer: Quietest Tires
Buying Guide On Choosing Quiet Tires For Your Car, SUV, and Truck
Here are some helpful hints for selecting quietest tires that can provide you with a quieter and more comfortable driving experience.
For a Passenger Vehicle
Summer Touring tires are a good option if you live in areas with hot weather but not in the cold.
All-Season Touring are second best but suffers a little in wet conditions.
Performance tires are pretty noiseless at higher speeds and offer a decent pavement ride
Winter and Studded Winter tires offer specialized treads that can handle snow and ice. These seasonal tires are usually noisier than most other passenger tires. Studdless winter tires are less noisy than studded ones.
For Lightweight Trucks and SUV s
Highway Touring are very quiet and provide a smooth ride. Now, because they are stiff and thicker than passenger vehicle tires, they will be louder.
All-Terrain tires have more space between tread blocks that causes them to be noisier than highway tires.
Studless Winter tires fall in the middle of the light truck tire noise spectrum. They are more pliable at cold temperatures, but also louder.
Mud Terrain tires also have large spaces in their tread pattern which makes them noisy on rough driving surfaces.
Studded Winter tires are quite noisy as they are made to handle heavier loads and offer good traction.
To make the decision of choosing quiet tires easier, below is my list of Top 5 picks of noiseless tires worth your hard earned cash.
Best Rated Quiet Tire Reviews
1. Bridgestone Turanza Serenity Plus
Released in mid-2012, the Serenity has made a name for itself as a touring all-season tires. Suitable for mid-level luxury, SUVs and minivans the Turanza Serenity Plus offers both traction and a noiseless ride.
Designed with a proprietary silica combined with a NanoPro-tech material, these tires offer stability over wet and snow covered roads.
The tire was designed keeping in mind the issue of lower rolling resistance thus increasing its fuel efficiency as an add on.
An interesting feature that is responsible for the quiet ride is the 'Resonance Noise Attenuated Silencer Grooves' in the tread pattern which is responsible to reduces noise output and trap the noises within the tread elements.
Furthermore, the continuous center rib decreases noise, while also improving steering response and enhanced braking. Inside the tire you can notice two steel belts reinforced with nylon that brings strength and durability.
It has known to be a durable model with Bridgestone offering an 80,000 mile tread guarantee. The Serenity Plus is available in sizes from 15-19 inches in H, V or W-speed ratings.
Pros
Good traction on dry roads and wet roads with precise steering
Comfortable and steady driving experience
Tread life was found to be good
Cons
Average performance in snow
#2. Continental PureContact
An all-season model from Continental, it is one of the quietest models in this class. The Continental PureContact offers a balance between traction and steering responsiveness to handle city streets and highways.
Designed for use in sedans, minivans and crossovers, the Pure Contact has been observed to give year-round traction with good fuel-efficiency. The PureContact offers less noise due to a computer-optimized tread pattern not only reduces road noise.
It also features an Eco Plus technology that increases tread life along with fuel efficiency. A feature we appreciate is the 'Tuned Performance Indicator' which provides D, W and S letters on the outer tread to represent Dry, Wet and Snow.
This shows you the current status of the tire. So if the S wears off, it indicates that the tire no longer has an optimum snow performance. You can also find two steel belts with jointless polyamide in the tire's construction to add durability and steadiness to the tire.
Continental offers sizes from 15-18 inches, and speed ratings of H or V. There is also a 70,000 mile tread guarantee included on this tire.
Pros
Eco Plus technology offers fuel efficiency and tread life.
Comfort Ride technology reduces impact vibrations.
Good cornering abilities at high speed.
Cons
Heavy snow performance could be better.
#3. Yokohama ENVigor All-Season Tire
This Yokohama tire manages to keep the noise levels low thanks to their 5 directional ribs and 4 circumferential grooves. This tire has six-pitch tread variations that reduces the noise even more.
By improving wet and dry traction, the sound levels are kept to a minimum. Yokohama features a silica tread compound in this tire that goes with Uni-bloc shoulders and a continuous center rib.
This combination increases grip and handling on both wet and dry surfaces. This Yokohama tire comes in sizes from 15-20 inches with either of an H or V speed rating.
You also get a 45K or 60K mile tread warranty depending on the speed rating. All in all, if you're looking for a solid and reliable all-season tire at an affordable price, the ENVigor is a good choice.
Pros
Linked shoulder tread blocks give improved tread rigidity.
Cornering grip is above average for all-season tires.
Twin belt construction for better.
control, comfort and tread wear
Cons
Some customers felt that the tread life was lesser than expected.
#4. Hankook Optimo H727 All-Season Tire
The Optimo H727 Standard Touring All Season tire works well for the average vehicle- sedans, crossovers, minivans and crossovers. This tire is manufactured from a custom all-season rubber to give good traction and tread life.
The tread design features hundreds of tapered grooves along a center rib. These grooves reduce hydroplaning and along with the tapered lateral slots drown out the noise.
These circumferential grooves are placed strategically to wick water and ice away thus achieving a good grip. The Optimo has improved handling, corners well, and has one of the best warranties.
Pros
Center rib for better stability
4 grooves to shed water and improve traction
Lateral slots decrease noise and improve comfort and stability
Enhanced rain and snow traction with high density siping
Cons
These tires may degrade faster but not as fast you think.
5. Continental Extreme Contact Dws06 All-season Radial Tire
This Continental tire is quiet while offering great performance. The DWS in the naming convention of this tire stands for dry, wet, and snow.
This tire is all-season and offers a smooth ride on all surfaces at any time of the year. These tires offer a quiet ride due to its criss-cross tread pattern, lateral grooves with three full circle grooves.
These factors combine to prevent air from being trapped. The traction is excellent due to their use of the SportPlus Technology and a tread compound made of silica and +Silane additives.
This tire offers better stability in wet and dry conditions improvement over other Continental tires because of its Traction Grooves and X-Sipe technology in the tread. This combination brings good grip and improved braking and cornering performance.
This Extreme Contact tire carries brings the popular features of Continental such as Alignment Verification System and Tuned Performance Indicators. Available in sizes from 16- to 22 inches, this tire comes with speed ratings of W and Y.
There is a 50K mile tread warranty included as well. Some customers mentioned that these tires don't do great on bad roads very well. If you live near many roads that are not well maintained or patchy, then you may wind up encountering problem.
Pros
SportPlus technology for good grip on wet surfaces
X-Sipe technology offers good maneuverability, acceleration, and braking
Asymmetrical blocks with chamfered edges maximize road contact and traction
QuickView helps identify misalignment issues for better tread life
Cons
The treadwear could be better
What Causes Excessive Tire Noise
It's true that the engine of a vehicle is the loudest, but many other moving parts such as doors, seats, suspension and wheels can also make the experience noisy. We've narrowed it down to the below causes in tires that cause the noise issue
Overall Size Of The Tire
The bigger the size of the tire the more rubber present in the tire thus higher the potential for noise. If you switch to winter tires on smaller rims and notice the sound increases, that's because the tread is a different design.
Tire Tread Air collects in the grooves between the tread patterns causing it to compress and make noises as it escapes. Tires with more space between tread blocks will be noisier than those with a narrow space. Also, a symmetrical tread pattern tends to make more sound than an asymmetrical design.
Types Of Tires
Tires are designed for different uses with different tread patterns. Winter tires have to handle snow, slush, and ice, so will be noisier than all season tires. Tires with studs are even louder.
Low profile tires will also be louder since their sidewalls are stiffer. All terrain-tires will be more ear-popping due to tread and sidewall construction than summer touring tires.
The Condition of The Road
Of course, sometimes your tires can be perfect and external conditions like the road can be the cause. Smooth and new asphalt or concrete roads will allow for a nice and quiet ride.
While grooved concrete is used to wick moisture off the surface, it will create a loud noise. Fresh asphalt is also no good as it can produce a hollow sound.
Driving Speed and Smoothness
At higher speeds the faster the tire rotation and more air traversing the tread pattern, the higher the sound. Even the air in the tire chamber can resonate like a drum.
The heavier a vehicle is loaded also impacts sound production. Quick acceleration, cornering, and heavy breaking alter the sound your tires emit as they work to grip the road.
External Conditions
Pavement temperature and the amount and type of moisture impact the sounds that your tires make. Hot pavement will be stickier than cold or wet roads which can alter the sound too. Black ice isn't a sound you wish to encounter, as it often leads to other less desirable sounds.
The Size & Materials Of The Wheel
The smaller your wheels, the less noise you will hear. As a rule of thumb, a smaller tire will have less rubber thus less material will hit the road, causing less noise. So, buying 16-in wheels make your vehicle quieter than purchasing 18-inch wheels. The visuals may not be to your liking but you have to choose between the attractiveness or reduced noise.
Speed & Weight specifications
If you plan on driving at higher speeds, you will want a tire that is created for speed. These kinds of tires need to be thick to handle the speed safely but this generally means that the tire will be noisier. On the other hand, tires designed for low speeds will give you a quieter driving experience.
The Weather
Tires that are made for harsher roads and extreme temperatures tend to be noisier than ordinary tires. So you will observe that summer tires that have fewer safety features are quieter than winter tires.
Final Thoughts on Noiseless Tires
If you find yourself making long drives or spend a lot of time commuting, you might find that switching to less noisy tires will give you great peace of mind.
Now that you know the best options, you can make the right choice. Any of the above tires can bring calm and quiet to your driving experience while offering great durability and traction.