Do you love freshly ground coffee but are worried about how noise your grinder makes in the morning. There's nothing worse than waking up the entire house at the crack of dawn. Thankfully these days there are a number of quiet coffee grinders on the market that means you won't have to worry.
In this post, we've reviewed 10 of what we think are the quietest coffee grinders to help you choose the best one.
Quick Answer: The Best Quiet Coffee Grinders
Best Rated Quiet Coffee Grinder Reviews
#1. Baratza Virtuoso Conical Burr Silent Coffee Grinder
For those early mornings when you desperately need that first cup of joe to get you going, you need a quiet coffee grinder to get the job done. The Baratza Virtuoso Conical Burr is the perfect coffee grinder for the job, quietly providing well-ground beans for your enjoyment in a matter of seconds. 
With 40 grind settings bolstered by commercial-quality conical burrs, even intense grinding sessions will be as quiet as possible. While other grinders rely on many parts and pieces to grind your coffee, the Virtuoso instead relies on simplicity and intelligent engineering. The result is perfect coffee grinds of every size for every type of coffee you can imagine. 
All the materials inside the Virtuoso come from top-quality manufacturers in Europe. You won't have to worry about parts breaking down or needing replacement anytime soon. Combined with its relatively small size and stylish presentation, you won't find a quieter or better coffee grinder on the market. 
#2. Normcore Manual Coffee Hand Grinder
Some people prefer using manual grinds to achieve that consistent blend they love every day. If that sounds like you, then check out our number two pick for the quietest coffee grinders around: the Normcore Manual Coffee Hand Grinder. 
With a body cut from a single billet of high-grade aluminum alloy, the Normcore's low-effort hand crank is designed with your comfort in mind. It features a beautiful faux-wood knob that works well with the compact yet robust body. 
Another thing that sets the Normcore Manual Coffee Hand Grinder apart is the stepless adjustment mechanism using a 0.5mm thread pitch. This feature allows for extremely precise adjustments to your grind size, ranging from coarse grinds for French press or small enough for the finest espresso. 
While not as fast as our top pick, this is the perfect coffee grinder for anyone who values consistency and taste over outright efficiency, especially for fine coffee like espresso or Turkish.
#3. Breville The Smart Grinder Pro
If you're more into the high-tech side of things, then the Breville Smart Grinder Pro might be just the ticket. There isn't a better coffee grinder around for precision batching your favorite cold brew for the long week of work ahead. 
Overheating the coffee bean during the grinding process is still an issue for many automatic grinders these days. The Smart Grinder Pro solves this problem with stainless steel conical burrs designed to protect the oils that make your beans taste so great. The materials are heat resistant, meaning you can grind as much coffee as you'd like and not worry about the taste. 
The Breville is the perfect coffee grinder for any business (or very avid coffee drinker) that makes a lot of coffee but doesn't want to make so much noise. You can use the precision electronic timer to adjust your grind in 0.2-second intervals as the machine is working. 
Make large batches of cold brew, or even just freeze some pre-ground coffee for later. With the Breville Smart Grinder Pro, the possibilities are endless. 
#4. KRUPS Ultimate Silent Blade Electric Coffee Grinder
Coming into the fourth spot on our list is the KRUPS Ultimate Silent Blade Electric Grinder. While incredibly small, portable, and easy to use, this grinder can compete with the best and most expensive machines out there. 
Hiding behind its small facade is an incredibly powerful DC motor, perfectly equipped for dealing with small or big grinds. You can raise or lower the speed as you like while remaining consistent through the changes. 
However, the sound from the motor is notably absent when you use the Silent Blade. Even though it's processing the coffee grounds at breakneck speeds, the metal alloy casing absorbs most of the noise that might typically leak out. 
A big problem with many automatic grinders is that they're hard to clean. You can easily take this one apart and chuck it in the dishwasher, unlike some other expensive and bulky coffee grinders. Cleaning a good automatic coffee grinder has never been easier!
#5. Capresso Infinity Burr Coffee Grinder
Taking fifth place in our ranking is another automatic coffee grinder from a legendary manufacturer, the Capresso Infinity Burr. This amazingly quiet coffee grinder is the result of decades of design innovation that shines through with every morning coffee. 
The Infinity Burr's gear reduction motor reduces static buildup during the grind that might burn the aromatic oils off the beans. With an 8.8-ounce bean container, the average person can grind as much coffee as they need to without harming the bean quality. 
However, this machine does require cleaning a bit more frequently than others on this list. Don't let that get you down, though, because cleaning the container and internal machinery is a breeze. Simply take the top off, and you have access to everything inside. Just don't try to put it in the dishwasher!
Overall, the Capresso Infinity Burr is an accessible option for those of you who don't want to break the bank on a quiet and decent automatic coffee grinder. 
#6. JavaPresse Quiet Manual Coffee Grinder
The second manual grinder we've included, the price of the JavaPresse Manual makes it worth checking out, even if you already have an automatic grinder you love. For smaller coffee quantities, you won't find many manual grinders that can compete with this one. 
The JavaPresse Manual has ceramic burrs instead of the stainless steel burrs that many grinders on this list have. While you might think that they're less durable, the opposite is true. In fact, the Manual generates less noise and heat with more ceramic burrs in total. 
However, this does affect the quality and consistency of the grind. While above the average manual and automatic grinder standard, the JavaPresse Manual can't compare to the best of the best. You still get 18 different grind settings, satisfying most people's coffee palates. Coffee connoisseurs might find them a bit lacking, though. 
The JavaPresse Manual is a worthwhile travel grinder or a neat gift for a friend, but we don't recommend it for selective home coffee drinkers. 
#7. OXO Brew Quiet Grinder for Coffee
One of the cheaper automatic coffee grinders on the market, the OXO Brew is an excellent option for those looking to test out grinding their coffee before investing in a more expensive model. Alternatively, this one is a good gift idea for holidays or birthdays. 
Unlike other coffee grinders, there aren't any loud digital noises coming from the timer. High-density metal and plastic make up the body and help deaden the sounds of the working gears, and you change the settings using a manual turn dial. 
Using the OXO Brew is a simple process. Add up to 110 grams to the container for up to 12 cups of coffee. The one-touch start timer remembers the last setting you used, giving you nearly instant access to freshly ground beans.
While the micro settings allow it to make a good cup of espresso, they will struggle to achieve the size necessary for something like Turkish or Vietnamese coffee. If you're only looking for a great mug of no-frills morning brown, the OXO Brew is a fantastic option for you. 
#8. Hario Ceramic Quiet Coffee Mill
Sporting the classic Skerton design, the Hario Ceramic Coffee Mill is a small manual grinder that packs a punch. With ceramic burrs, this model is the lightweight and portable version of its larger counterpart that's easier to take with you when traveling.
Because of its size, the grinder really doesn't make much noise at all. The burrs aren't metal, and the gears don't make that signature grating sound when they grind. Additionally, the rubber coating that maintains stability while holding it also helps absorb the machinery's noise. 
However, if you're looking to grind your coffee in batches, then you should consider another grinder. While very efficient for its size, you only get a small amount of coffee per grind. You can make a couple of great cups for sure, but it might not be the best option for your daily coffee at home. 
Overall, a great little grinder for camping trips or as a stocking stuffer for the coffee lover in your life. 
#9. Mueller Ultra-Grind Quiet Coffee Grinder
At number nine is the Mueller Ultra-Grind, an excellent automatic coffee grinder for households with a lot of coffee drinkers or businesses that serve coffee on a regular basis. 
What sets the Mueller Ultra-Grind apart from the rest of the pack is its huge coffee bean hopper and grounds container. You can fit up to 36 cups of coffee in there, with the capacity for more if you're making something like espresso. There is enough for everyone to go around!
While its size might be a noise concern, don't worry. This coffee grinder utilizes advanced assembly techniques and modern design methods to stay as quiet as possible. While it's not completely silent, it's much quieter than comparable grinders of this size. 
This grinder is a fantastic option for someone like an office manager who serves a lot of coffee to guests but wants to keep the volume to a minimum. 
#10. Hamilton Beach 4.5oz Quiet Electric Coffee Grinder
Taking the final spot on our ranking of the quietest coffee grinders is the Hamilton Beach Fresh Grind Electric. Whether you're making your brew in the early morning or late at night, you'll find that this coffee grinder is as quiet as any of the others on this list. 
The Hamilton Beach Fresh Grind is a chic alternative to some of its bulky competitors. It has an attractive cylindrical shape made from high-quality plastic, and the blades are made from stainless steel. However, it's just as silent as some of its ceramic counterparts, despite being so inexpensive.
Tired of long and unwieldy cords getting in the way of your morning routine? The Hamilton Beach has a nifty little cord that stows into the bottom without a hassle. Once you're finished grinding your coffee, just put the cord back in the bottom and move the grinder out of the way. 
With easy cleaning, compact storage, and quiet grinding, the Hamilton Beach Fresh Grind is the best ultra-budget coffee grinder around. 
How to Choose a Quiet Coffee Grinder: A Buying Guide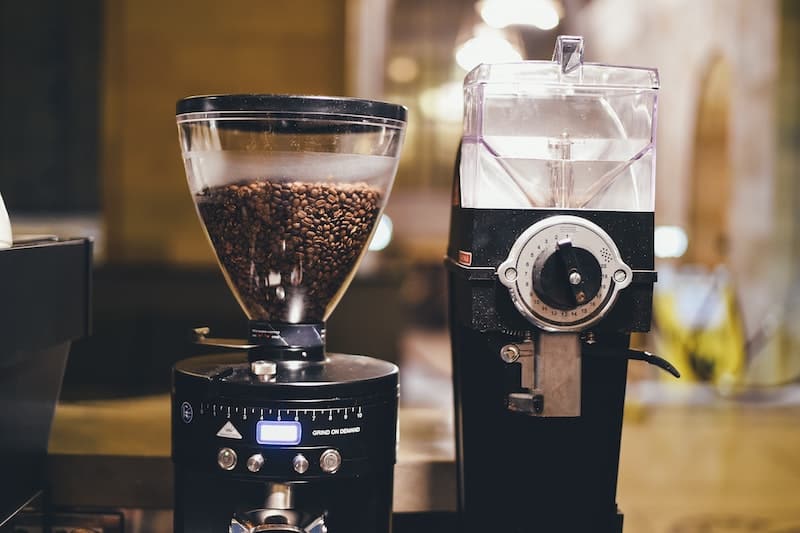 When you go to the market to purchase the coffee grinder, you should be aware of the features that make a coffee grinder perfect. Keep enough budget to get a quality coffee grinder. Don't compromise on the quality of the coffee grinder as the only quality product gives you up-to-mark performance.
The coffee grinder comes in different types. These types are manual grinders, electric burr grinders, and electric blade grinders. Manual grinders are the most economical grinder with the quietest performance. Electric burr grinder offers various settings and precisely grinds the coffee beans, therefore, these grinders are expensive as compared to the manual grinder. Electric blade grinders are loudest as it crushes the coffee beans at high rpm. Select the type of grinder according to your requirement.
Also, try to select a coffee grinder that is easy to use and easy to maintain. The grinder that is easy to use will save your time and allow you to quickly clean the grinder. Consider the bean capacity of the grinder as it will decide how many beans you can grind at a time. Most of the grinders offer speed adjustment. This speed adjustment will allow you to adjust the speed as per your requirement. Further, some of the grinders have settings, you can adjust these settings to get the expected grinding result. Plus, consider the grinding components that are of stainless steel in most of the grinders.
FAQs
Are all coffee grinders the same?
Conical and flat burr grinders aren't made the same. Though the conical and the flat burr grinder essentially do the same thing, the primary difference between them is the shape of their rings.
What is a coffee burr grinder?
It is made up of two revolving abrasive surfaces, in between which the coffee is ground, a few beans at a time. Coffee aficionados tend to choose burr grinders over blades is that the beans are ground in a uniform size, giving you more control over the grind than you do with a blade.
Are coffee grinders worth it?
A great grinder will transform your coffee experience from the inside out. Your coffee will be more flavorful and delicious. You will be able to determine your coffee's flavor and strength. You will be able to brew coffee that rivals your favorite coffee shop.
Are blade coffee grinders really that bad?
The reason a blade grinder is just about the worst option is because of how it works. The blade grinder has one or two blades that spin very fast, essentially chopping the beans. This chopping of the beans creates an uneven grind. Then during brewing, your ground will not extract properly.
What is the best inexpensive coffee grinder?
Baratza Encore Conical Burr Coffee Grinder, Baratza Virtuoso+, OXO Brew Conical Burr Grinder, Porlex Mini Stainless Steel Coffee Grinder.
Conclusion: Which One Should You Buy?
While every coffee grinder on this list is quieter than the competition, two obvious products stand out. 
For those of you who need an electric grinder, the Baratza Virtuoso Conical Burr is the best pick of the litter. However, if you'd prefer to have a manual grinder, the Normcore Manual Coffee Grinder should be your go-to model. They're both incredible machines fit for any type of coffee drinker, amateur or enthusiast. 
However, you're sure to get the best (and quietest) grind with any of these products!