Do you hate how loud your keyboard is when you type? You're not alone. Millions of people have to deal with the sound of their keys clacking away all day long.
And you don't want to be the guy typing away at the office disturbing everyone or keeping your roommate up all night. That's why you need a silent keyboard.
If you're looking for a quiet keyboard, look no further! We've compiled a list of the seven quietest keyboards currently on the market. These keyboards are perfect for silent typing and will help reduce noise levels in your home or office. Let's get started.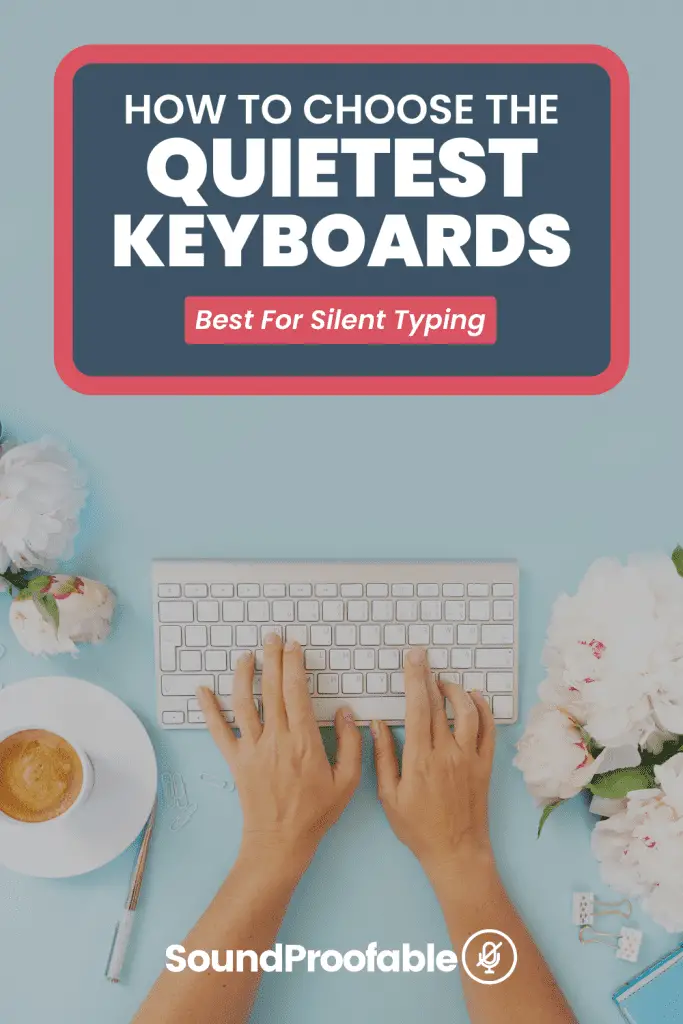 Top Quietest Keyboards Comparison Table
What to Consider When Buying a Quiet Keyboard( Buying Guide)
Why Quiet Keyboards
One of the main advantages when it comes to the mechanical keyboard is the fact that they are of higher quality than the ones you usually find on an ordinary Personal Computer.
The typing on mechanical keyboards is just pleasant to do, however, the caveat is the fact that in most cases they tend to make a lot of noise, and that can be unpleasant whether you want one for office use, gaming or home this article will go through the top quiet choices.
Why it is Important you Get a Silent Keyboard
Sometimes typing on a loud keyboard can be acceptable especially in an environment that is usually noisy like public restaurants and home but in some quiet places like the library, a noisy keyboard won't cut it and it will disrupt people around there. This is one of the main reasons why a quiet keyboard is essential in your arsenal.
Size
When buying a quiet keyboard, you need to look at its size. You get to choose from two sizes, full size, or slender size. Full-size keyboards usually have a number pad on the right side just like a standard keyboard while the number keys in slim size keyboards are located above the QWERTY keys.
So if you want a silent keyboard that you can carry everywhere with you, you might want to consider getting a slim one. Just remember that it may take you a while to get used to the placement of the keys if you've been using a standard layout keyboard.
OS Compatibility
You don't want to get a quiet keyboard that isn't compatible with your computer's operating system, so you need to be careful and look at the keyboard's specs.
They have different compatibility with different operating systems, so you need to keep in mind the operating system of the device you will be using the keyboard on. Some keyboards are only compatible with Windows or Mac OS, while some are compatible with both.
 Purpose
What are you going to use the silent keyboard for? Is it for gaming or for typing? If you are going to be typing, then a simple keyboard will do.
But if you will be using the keyboard for gaming, you will need more advanced features. There are silent keyboards that have been specifically designed for gaming, so if you are a gamer, those ones are a safe bet.
Combo or Not
If you want a quiet keyboard that comes with a mouse, then a combo keyboard is a great choice. In most cases, the combo package includes a wireless keyboard and mouse which you can connect to the computer using one USB receiver.
Wired or Wireless
Wired keyboards allow you to connect to the computer using a cord. They are usually very responsive which is great for gaming. Wireless keyboards, on the other hand, use an adapter or receiver to connect to the computer. It saves you the hassle of dealing with cords and allows you to move around.
However, wireless keyboards tend to lose responsiveness after a while.
Mechanical vs Membrane Keyboards
This is also an important factor to consider because they do differ and this video should help you distinguish between the two
Reliability & Longevity
One of the most important things to look for when buying a quiet keyboard is how reliable it is and how long do you think that particular keyboard will last
Its no secret that some keyboards last longer than others and ensuring that you get the best value out of your buck when choosing a nice silent keyboard that will last you long enough.
Quiet Keyboard Reviews
#1. Logitech K740 Quiet Keyboard
Sale
Logitech is one of the best brands when it comes to PC parts. But that is not the only thing that makes this keyboard one of the best.
The Logitech 740, is a wired keyboard with a thin, sleek design that allows you to type comfortably with your hands in a neutral position.
It has a standard layout which makes it easier to use since you know where all the keys are. This keyboard has low-profile keys that incorporate Logitech's PerfectStroke key system that distributes the force of your strokes evenly to ensure the keyboard produces the least noise possible.
This provides for a super quiet typing experience. The palm rest has a rubber coating which makes it soft to the touch and provides for a better grip. This keyboard features laser-etched keys, and large F-keys and a number pad.
You can comfortably use this silent keyboard at night, in the dark thanks to its backlit illumination. What's more, you don't have to worry about accidental spills when using this baby due to its spill-resistant design.
This combined with its solid construction means you will use this keyboard for a long time. Logitech 740 is compatible with all versions of windows.
#2. HP Elite Wireless Keyboard V2
HP Wireless Elite Keyboard v2
Brand new, and authentic HP products ship from, and are sold by Amazon.com (check...
Sleek, clean lines create the ideal, ultra-slim keyboard shape. Full-size keyboard...
Typing is smooth with quiet, low-profile keys and stand-alone design keeps the dirt...
This HP silent keyboard has a sleek and ultra-thin design, so it sits flat on your desk or table. It has low-profile standalone keys which not only allow you to type quietly but quickly as well since the keys are more responsive and the keystroke is more bouncy.
This full-size keyboard has a built-in number pad and fast access hotkeys that you can customize to suit your specific needs. The keyboard is designed in a way that prevents debris and dust from getting into your keyboard.
What we love about HP Elite Wireless Keyboard V2 is its wireless capability.
Cords can sometimes be a nuisance when typing or gaming which is why having a wireless keyboard can come in handy.
You can plug in the USB adapter into any notebook or desktop computers with any Windows version, and since it uses HP link-5 technology, you can connect it to five devices simultaneously.
The customized switching option means you can switch between your devices anytime. What's more, you can use the HP Elite keyboard even if you are 30 feet away.
This quiet keyboard features adjustable legs that allow you to adjust and position the keyboard for a comfortable typing experience. Although there are only two height positions for you to choose from, each position has been designed to adapt to several typing styles.
HP Elite Wireless Keyboard V2 is fast, responsive, and above all quiet. It is battery-powered, and all you'll need are two AAA batteries, and you are good to go. The convenient battery life indicator lets you know when it's time to change the batteries.
#3. Jelly Comb MK09 Wireless Keyboard
The Jelly Comb MK09 is a great option if you want a silent keyboard that comes with a mouse.
This combo pack features a very quiet keyboard with low-profile, whisper-quiet keys for comfortable and ultra-quiet typing.
This keyboard has been specifically designed for windows operated devices, and its keys are customized for Windows application.
The keyboard gives you easy access to media and application control and has plug and play capability. You don't need to do an elaborate set up with this keyboard. Simply take the keyboard out of the box and connect it to your Windows PC.
.If you hate dealing with cords on your table or desk then you will appreciate this keyboard's wireless capability. It has a 2.4 GHz connection which translates to a reach of up to 30 feet.
You can use the included USB receiver for both the mouse and the keyboard. You can easily adjust the height of the keyboard to a comfortable and convenient angle for the best typing experience
This keyboard uses many AAA batteries, and unfortunately, the batteries aren't included in the package, so you will have to buy separately. But this is the only drawback of this awesome combo keyboard.
#4. Corsair Strafe RGB Mechanical Keyboard
Corsair Strafe Mechanical Gaming Keyboard - Red LED Backlit...
100% Cherry MX gaming key switches - Unique gold-cross point contacts for incredible...
Cherry MX Red key switches - Extremely responsive, with a smooth, linear response and...
Multi-color dynamic backlighting - Brilliant RGB backlighting immerses you in the...
If you are an avid gamer, you know how much of a difference a quiet and programmable keyboard can make on your gaming experience.
This mechanical keyboard is designed with the gamer in mind, and its features provide for smooth and responsive gaming.
It is extremely quiet and is 30% quieter than other mechanical keyboards so you can be sure of a quiet gaming or typing experience.
The Corsair Strafe RGB keyboard has a customizable multi-colored backlight that allows you to create different color combinations to set the perfect tone so you can fully immerse yourself in the game.
The keyboard is fully programmable and gives you more control over the game. You can reassign the keys, and if you need more advanced gaming, you can easily set up any macros you may need.
This mechanical keyboard features Cherry MX switches that have an incredible linear response. It has a reliable anti-ghosting technology that allows for fast and precise gameplay.
Using the keyboard for so long means you will get tired at some point. That's why the Corsair Strafe RGB keyboard has a detachable soft wrist rest.
This comes in handy if you have been using the keyboard for an extended period of time, gaming or typing. To ensure that you aren't distracted by wires and cords, this mechanical keyboard has a USB pass-through port.
#5. Razer BlackWidow Noiseless Mechanical Keyboard
Razer BlackWidow Chroma V2: Esports Gaming Keyboard -...
Built around Razer's award-winning Mechanical Switches designed from the ground up...
Extreme Durability- Razer mechanical switches are rated up to 80 million keystrokes...
Express your individuality and get the leg-up in games with Chroma backlighting and...
This stealth keyboard is specifically designed for hardcore gamers. It is a high-tech keyboard that features Razor's award-winning mechanical switches which provide for a quiet hardcore gaming.
It has a crisp, tactile design and is highly responsive which gives you an upper hand in gaming.
If you are like most gamers, you most likely enjoy snacking while gaming. This usually poses a problem as the particles from your snacks can enter into your keyboard.
But with the BlackWidow keyboard, you don't need to worry about that and can snack all you want. This is thanks to the protective cap that covers the keys and prevents any dust and debris from getting into the keyboard and disrupting the system.
The BlackWidow keyboard has a programmable dynamic Razer Green backlight that you can customize to get the effect you want.
The keys are designed to last for over 80 million keystrokes which are another way of saying this keyboard will last for a long, long time. Apart from the overall quality gaming experience this keyboard delivers, what really impressed me is the headphone and microphone port on the keyboard.
This means that you can play all night without disturbing your roommate. The USB pass-through ensures that you don't get distracted by all the cords and wires.
#6. Amazon Basics Keyboard and Mouse
Amazon Basics USB Wired Computer Keyboard and Mouse Bundle...
Low-profile keys provide a quiet, comfortable typing experience
Hotkeys enable easy access for Media, My Computer, mute, volume down, volume Up, and...
Simple wired USB connection; works with Windows 2000, XP, Vista, 7, 8, and 10
If you are looking for a simple keyboard combo that is quiet but doesn't pack all the features the more advanced models have, then you might want to check out this Amazon Basics Keyboard and Mouse.
It has low-profile keys that provide for the quietest typing operations. It also features several built-in hotkeys that make it easy to compute. It is compatible with all computing systems and allows you to perform simple computing functions.
What we love about this keyboard is the ease of use it offers. It is one of the simplest keyboards and the easiest to use. It has shortcuts that allow you to access your PC's calculator, turn up or lower speaker volume, etc.
This keyboard also has a high-definition optical tracking that provides for precise text selection and tracking. It's a combo package and comes with a wired mouse.
It is compatible with the latest operating systems and comes with a USB wired connection.
Since Amazon Basics Keyboard uses a wired connection, it may not be a great choice if you want a keyboard that offers more flexibility and mobility. But overall, this keyboard delivers a silent typing experience.
#7. Logitech K800 Illuminated Wireless Keyboard
Logitech K800 is a wireless keyboard with a 2.4 GHz connection. This means you can still type even if you are 30 feet from your computer.
It comes with Logitech's Unifying USB receiver that allows it to connect to all Logitech devices simultaneously.
This keyboard from Logitech guarantees quiet typing, thanks to the incorporated Perfect Stroke key system which evenly distributes the force of your strokes.
The keys are laser-etched, which in combination with the PerfectStroke System, assures a comfortable typing experience. It also has a hand detection feature that automatically turns on the backlight when you place your fingers near the keyboard.
This keyboard has simple white backlighting, and only the keys are backlit, and you have the option of adjusting the brightness to suit your needs. This means you can use this keyboard anywhere, in school, at the library, at home and even at the office.
The Logitech K800 is not recommended for gamers as it is not equipped with gaming features. It is a full-size keyboard and has customizable function keys and provides easy access to your computer calculator.
You can also adjust the speaker volume using this keyboard, which is pretty convenient. It uses a rechargeable battery and comes with a micro USB cable for charging.
Final Thoughts On Quiet Keyboards
These are the best keyboards that are designed for a quieter space, of cause some of them are more silent than others but all of them are worth every penny and I hope you find this guide helpful to you and enjoy quieter typing