Nowadays, an appliance like a pressure washer is considered important for every household. Quiet pressure washers that can clean up greasy and dirty surfaces easily at your convenience are quite handy to have.
Washing with a regular hose at times is ineffective as is using different forms of detergent or cleaning solutions. A robust and powerful pressure washer machine is the best bet for all of those occasions and many more.
Gas pressure washers had been the norm in the past and they sure had a lot more power, however, the incessant drone of motors can drive anyone up the wall! Here in this blog, I want to keep things peaceful so read on for my best quiet picks: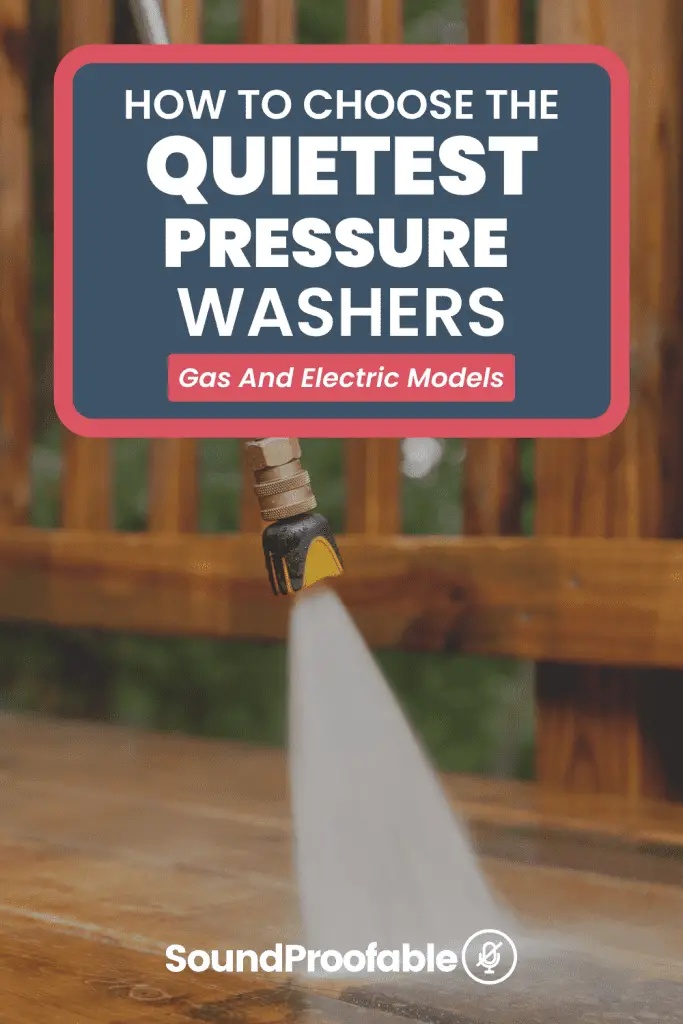 Quick Answer: The 5 Best Quiet Electric Pressure Washers
Preview
Our Favorite
Name
Briggs & Stratton 3100 MAX PSI at 2.1 GPM Gas Pressure...
CRAFTSMAN 2800 MAX PSI at 1.8 GPM Gas Pressure Washer with...
Powerhouse International 2021 Platinum Edition - Electric...
Kärcher - K5 Premium - 2000 PSI Electric Power Induction...
Sun Joe SPX3500 Brushless Induction Electric Pressure...
Our Favorite
Preview
Name
Briggs & Stratton 3100 MAX PSI at 2.1 GPM Gas Pressure...
Preview
Name
CRAFTSMAN 2800 MAX PSI at 1.8 GPM Gas Pressure Washer with...
Preview
Name
Powerhouse International 2021 Platinum Edition - Electric...
Preview
Name
Kärcher - K5 Premium - 2000 PSI Electric Power Induction...
Things to Consider when Purchasing a Quiet Pressure Washer
Now that we've discussed our top 5 quiet picks, here are the characteristics you should keep in mind before buying one:
Pressure Washer Power Source
A power source is the most important aspect that you have to figure out when it comes to selecting an apt pressure washer.
Both gas and electric pressure washers are easily available out there but not suitable for every situation or everybody. For strictly, household and domestic usage, electric pressure washers are quite better.
They are more efficient, quieter, and quicker in their functioning when compared to the gas-powered pressure washers.
Another leading feature of the electric pressure washer is their small size which makes them perfect for domestic purposes.
Cleaning Strength
Another aspect of pressure washers is its cleaning power. There are pressure washers available on a vast spectrum of cleaning power so deciding the purpose before purchase becomes prominent.
As their main job is to clean, the cleaning power is usually the most highlighted value which you can easily access and compare to pick the right pressure washer for yourself.
As a general rule, any value above 2000 PSI (Pound-force per square inch) is great for tough stains and large surfaces.
Light -duty pressure washers are handy for infrequent cleanups while medium or heavy-duty ones are durable for daily tasks.
Portability
A pressure washer that is portable and adjustable to suit different locations and situations can seriously go a long way in cleaning activities.
Recent technological advancements have allowed powerful electric washers to be made in small and portable sizes. Most of the latest pressure washers are compact and still efficient in removing stains as heavier options.
You should look for the ones that are compatible with your daily lifestyle and storage availability so as to be accessible and functioning whenever or wherever you want.
A solid pressure washer that is also portable enough to be used in different places and in different tasks is a good pick for the long-term.
Maintenance
One major USP of quality pressure washer machines is that the maintenance they require is negligible. No oil changes, no internal fixing, etc.
pressure washers of any size or power ratings do not require any efforts to fix their insides. That being said, regular caring and cleaning can keep the pressure washers functioning for long as can taking small breaks while using them continuously.
With a few models, you might need to look out for heating issues and their maintenance but that can also be bypassed by opting for a pressure washer with water cooling.
Nozzle
A nozzle is quite insignificant while looking at a pressure washer but it can make a ton of difference while washing. A variety of nozzles are present out there for different purposes and you will need to find one that is tailor-made for yours.
Or you can easily opt for a multi-purpose nozzle that can serve a plethora of activities and is also generally available in the best pressure washers.
Sound
As is evident by the title and content of this article, the sound levels of a pressure washer should be quite integral in the selection process.
Even on outdoor surfaces or wearing earplugs, huge noise created by some pressure washers can irritate those around you.
Thus, the onus should be on selecting quiet pressure washers that can make no or low levels of sound and are still as good as the contemporary ones.
Also, most of the pressure washer usually create high noise levels when on their maximum and not all the time.
Length
If you are going for an electric pressure washer, the length of its cord is an important part to consider. You will have to decide the length by your area and its size but just to be on the safer side, opt for at least feet of cord which will help you reach quite a long distance with ease.
The length of the pressure washer's hose is also important because you want to hold the washer safely. An expandable hose again is your best bet.
Quiet Pressure Washers Reviews
Now that we've covered some of the features and factors that you need to look for, here are our reviews of the the top models.
#1. Briggs & Stratton 3100 Gas Pressure Washer
The fantastic Briggs & Stratton 3100 Gas Pressure Washer takes the top spot on our ranking, and for good reason. Not only is it insanely powerful, but the gas-powered engine also runs so smoothly that you'll barely notice you've turned it on. 
The patented Idle Down Technology is what allows the Briggs & Stratton 3100 to be so quiet. It reduces outward noise levels by up to 40% over similar models, saving your neighbor's eardrums when you have to give your driveway a once-over. If you run a commercial pressure washing business, this model will save your eardrums from customer and neighbor complaints. 
Sweetening the pot, the Briggs & Stratton 3100 can switch between High Pressure and High Flow modes in a flash. While other models might ramp up the noise level, changing frequencies when you change settings, this pressure washer remains consistent no matter what. 
Overall, the Briggs & Stratton 3100 Gas Pressure Washer is the quietest pressure washer with the best fuel efficiency and output capacity. 
#2. CRAFTSMAN 2800 Gas Pressure Washer
CRAFTSMAN 2800 MAX PSI at 1.8 GPM Gas Pressure Washer with...
Made in USA with global materials: Proudly made in the USA with Global Materials in...
Easy to start, easy to maintain Engine: No prime, no choke and never change the oil...
Up to 40 percent quieter: Idle down technology reduces noise by up to 40 percent than...
The runner-up on our list is none other than the Craftsman 2800 Gas Pressure Washer, a USA manufactured and produced machine with plenty of features to make it stand out. 
You never have to change the oil on this beast due to the just check and add technology, a welcome convenience that saves you time and money. Also, this mower allows for a quick and easy startup with patented Ready Start technology. Not only is this another time-saver, but it also helps reduce noise from the gas engine firing up. 
Speaking of noise, the Craftsman 2800 Gas Pressure Washer maintains a consistent sound level throughout operation. Using Idle Down Technology, it's another model that is about 40% quieter than top-performing competitors.
Included with the Craftsman 2800 are four quick-connect nozzles that maximize the different ways you can clean various surfaces. Along with the 25-foot hose, you'll be able to complete any cleaning project you might have quickly and efficiently. 
#3. Powerhouse International 2021 Platinum Edition Pressure Washer
Taking the third spot on our list of the quietest pressure washers is the Powerhouse International 2021 Platinum Edition Pressure Washer. True to the name, this model is more powerful than many similar machines, offering exceptional stripping power that others don't. 
Under the hood, the Powerhouse International 2021 Platinum Edition sports an impressive 3000 PSI. However, while better than the standard market, many of the models on this list have a similar PSI specification. The 2.2 GPM is what makes the Powerhouse unique, allowing you to strip almost any material in seconds with the increased flow setting. 
Not only that, but the Powerhouse comes with a range of additional accessories to make your task easier. A soap foam sprayer, patio surface cleaner, M22 14mm adaptor, and more give you free rein to tackle any project you might have in mind right out of the box. 
#4. Karcher K5 Premium Electric Power Pressure Washer
Kärcher - K5 Premium - 2000 PSI Electric Power Induction...
POWERFUL PERFORMANCE: The K 5 last longer than universal motors and delivers...
PRESSURE REGULATING: Use the Vario Power spray wand for light-duty jobs, and a...
HIGH-PRESSURE HOSE: Comes equipped with a generous 25' kink-resistant high-pressure...
Coming into fourth place on the ranking is the Karcher K5 Premium Electric Power Pressure Washer, another fantastic machine capable of destroying any dirt or grime you might have on concrete, wood, metal, or plastic. 
The Karcher K5 has a wide-angle spray nozzle that cleans a larger surface area in a shorter time. You can easily adjust the spray setting straight from the nozzle, giving you access to a range of different cleaning options with a simple twist of your wrist. 
While the Karcher K5 might look like a loud beast of a pressure washer, in reality, it's much quieter than most of the market. The N-Cor pump is a durable piece of engineering and maintains a relatively quiet frequency even after years of use. 
If you're looking for a pressure washer that will last a decade rather than a couple of years, then the Karcher K5 might be your best option. 
#5. Sun Joe SPX3500 Electric Pressure Washer
Sale
Sun Joe SPX3500 Brushless Induction Electric Pressure...
[POWERFUL MOTOR]: 13-amp/2,000 W brushless induction motor blasts away the most...
[DETERGENT DIAL]: Adjustable detergent dial lets you dial in just the right amount of...
[TSS (Total Stop System)]: Automatically shuts off pump when trigger is not engaged...
A great appliance from a legendary manufacturer, the Sun Joe SPX3500 Electric Pressure Washer 
While this model isn't quite as powerful as the washers listed above, it's perfectly suited to DIY projects. Industrial strength grime might be too much for it to handle, though, so consider what type of material you need to wash before you decide. 
However, as a result of the slight drop in power, this Sun Joe model only produces 69 decibels at full power, the equivalent sound level to a normal conversation. That means your neighbors won't even be able to hear it from their property when you have it running. Plus, frequencies are generally lower as well, making any sound it does make less annoying. 
If you want to prioritize reducing the amount of sound your pressure washer produces rather than making it more powerful, then the Sun Joe SPX3500 is the model for you. 
#6. AR Blue Clean AR390SS Electric Pressure Washer
Sale
AR Blue Clean AR390SS Electric Pressure Washer-2000 PSI, 1.4...
HIGH PRESSURE PERFORMANCE: This compact pressure washer is equipped with a powerful...
INTEGRATED FEATURES: The AR390SS is built with an integrated pressure washer hose...
TWO WHEEL TROLLEY DESIGN: This portable pressure washer is built on a two wheel...
The AR Blue Clean AR390SS Electric Pressure Washer is the sixth-best product on our list, providing decent cleaning power and a super long hose for those tough-to-reach spots. 
The 30-foot long hose is a durable rubber composite that can take being twisted and tangled over the years, popping back into the correct position without much hassle. It unfurls from a convenient spool located on top of the machine's body. Additionally, the pressure washer is bottom-heavy, so it won't topple when you pull the hose. 
Since this model is electric, it makes less noise than the standard gas pressure washer. While the gas models above are still quieter, they are the exception to the rule. It only emits around 69 decibels, far less than other machines you might find in a similar price range. 
Featuring an easy out-of-the-box assembly, the AR Blue Clean AR390SS is an excellent little pressure washer that's worth checking out if you have a home cleaning project coming up soon.
#7. Greenworks Pressure Washer
Sale
The first product in our top budget picks lineup is the Greenworks Pressure Washer, an eco-friendly appliance with a great electric motor. 
The first thing you might notice if you use the Greenworks Pressure Washer is the Pro-Style spray wand. While the nozzle itself is decent but otherwise unexceptional, the grip is noticeably more comfortable than similar eco-models. You can use this washer for extended periods without your hand cramping up.
This is a corded pressure washer, meaning you need to keep it plugged in to run. While this might think this will restrict where you can use it, the power cable is long enough to reach up to 35-feet. That's plenty of length to get where you need to go. 
Since it's corded, the Greenworks Pressure Washer is another exceptionally quiet machine. No engine, electric or gas, means it emits almost no noise, making it one of the quietest models on our list. 
#8. Sun Joe SPX3000-BLK Electric Pressure Washer
The second Sun Joe model to grace our list, the SPX3000-BLK Electric Pressure Washer is a great alternative if you need slightly more flow GPI than stripping power. 
The Sun Joe SPX3000-BLK is a smaller machine than most pressure washers, making it perfect for storage in your garage or basement. However, that doesn't mean it doesn't have adequate internal storage. Two detergent tanks feed into the wand, allowing you to switch types on the fly. 
Plus, the Total Stop System shuts the washer down when your finger isn't on the wand trigger. Not only does this save energy and extend your pump life, but it also ensures the washer is as quiet as possible throughout your project. 
In sum, the Sun Joe SPX3000-BLK Electric Pressure Washer is an excellent machine for cleaning jobs where you need high flow but don't necessarily need to strip paint or other materials.
#9. Homdox Electric Pressure Washer
Last but not least, the Homdox Electric is a handy pressure washer used for smaller-scale cleaning projects like RVs, patios, driveways, and gardens. 
The Homdox Electric Pressure Washer prides itself on being an easy-to-use machine, and that isn't far from the truth. It's straightforward to put together and get started, and it stores neatly in whatever space you have available. However, the nozzles aren't the most durable, meaning hastily switching them can damage or even break them. 
Despite that, the Homdox provides a surprising amount of power for what you pay. With a max of 2500 PSI and 1.5 GPM, it has enough flow and stripping power to handle most home DIY projects. Don't plan on stripping rust, but standard dirt and grime buildup won't be a problem. 
Overall, if you're looking for the least expensive, quiet machine available, then you should definitely give the Homdox Electric Pressure Washer a try. 
Conclusion: Which One Should You Buy?
While every pressure washer on this list is well worth the money, the top-performing quietest pressure washer is without a doubt the Briggs & Stratton 3100 Gas Pressure Washer.
It's the quietest gas-powered pressure washer on the market, even more than many electric models. As a result of the no-check technology, it's more reliable over the long run as well and powerful enough to handle any project you may have. Overall, the best quietest pressure washer money can buy.