There's nothing worse than watching a movie in your home theater only to have a really loud projector running throughout the entire film. It can totally ruin the whole experience and mean you don't actually want to use it!
So, if you're looking for a quiet projector for your home cinema or for gaming then check out our list of the quietest projectors currently on the market. We'll walk you through our favorite silent projector models and help you know what to look for when picking one that will not disturb your movie-watching experience! Let's dive in. 
Quick Answer: The Best Quiet Projectors
Preview
Our Favorite
Name
BenQ HT2150ST 1080P Short Throw Projector | 2200 Lumens |...
BenQ HT2050A 1080P Home Theater Projector | 2200 Lumens |...
Epson VS250 SVGA 3,200 Lumens Color Brightness (Color Light...
Optoma HD243X 1080p Projector for Movies and Gaming, Super...
ViewSonic M1+ Portable LED Projector with Auto Keystone,...
Our Favorite
Preview
Name
BenQ HT2150ST 1080P Short Throw Projector | 2200 Lumens |...
Preview
Name
BenQ HT2050A 1080P Home Theater Projector | 2200 Lumens |...
Preview
Name
Epson VS250 SVGA 3,200 Lumens Color Brightness (Color Light...
Preview
Name
Optoma HD243X 1080p Projector for Movies and Gaming, Super...
Preview
Name
ViewSonic M1+ Portable LED Projector with Auto Keystone,...
Top Quiet Projector Reviews
Before we get to our buyer's guide where we'll walk you through all the different important features to look for when picking a quiet projector, first we're going to look at 10 of our favorite models to help you narrow down which quiet projector to buy.
#1. BenQ HT2150ST 1080P Projector
Sale
BenQ HT2150ST 1080P Short Throw Projector | 2200 Lumens |...
UNPARALLELED PICTURE QUALITY:: Native 1080p Full HD image quality with 2200 ANSI...
VIDEO GAMES ON THE BIG SCREEN: superior short throw projection enables you to project...
LOW INPUT LAG: The specialized low input lag and unique game modes ensure gamers an...
Topping off our list for the best quietest projectors is the BenQ HT2150ST 1080P, a powerful machine with plenty of special features to make it stand out from the pack. If you're looking for an incredibly quiet projector that also has the power to make it worthwhile, then you need to check out this BenQ model. 
While not quite 4K, the BenQ HT2150ST has an incredible 1080P display with a maximum screen size of 300-inches. You can reduce that further to around 100-inches when the projector is only three feet away so that you can get thoroughly lost in the experience! 
You don't have to worry about losing concentration on your movie or video game when using this projector. It's noise rated at only 29-decibels, less than the average gaming laptop fan. It also has a decent built-in sound system to further cover any small noises it might make. 
With extremely low input lag, 2200 lumens, and a vibrant color range, the BenQ HT2150ST is the best quietest projector for gaming and movies on the market. 
#2. BenQ HT2050A 1080P Projector
Sale
BenQ HT2050A 1080P Home Theater Projector | 2200 Lumens |...
SUPERIOR PICTURE QUALITY: 1080p Projector with brightness of 2,200 Lumens, high...
HIGH RESPONSIVENESS: The specialized low input lag of 16ms and unique game modes...
WOW YOUR FRIENDS: Take the action to the big screen by projecting a 100 inch screen...
The best runner-up on our list is the BenQ HT2050A 1080P, another high-quality projector that you won't even notice is running. 
The technology inside the HT2050A is the same technology they use in IMAX theaters and large conference projectors. Its color range and crisp images make it an excellent machine for connecting your video game console, mobile device, or laptop. Further, it has zero lag time, so you really feel like you've been transported to another world. 
In terms of noise levels, the HT2050A is very similar to the higher-end model. It only emits around 29-decibels in full-performance mode and 27-decibels while in economy mode. While you might hear it if it's right next to your head, you can move it around the room and not lose any image quality whatsoever. 
Overall, the BenQ Ht2050A 1080P is a fantastic gaming and movie projector that is better than almost every other model on the market in terms of noise and image quality. 
#3. Epson VS250 SVGA HDMI 3LCD Projector
Epson VS250 SVGA 3,200 Lumens Color Brightness (Color Light...
More accurate, vivid color, even in well lit rooms 3,200 lumens of equal color and...
SVGA resolution (800 x 600), ideal for projecting everyday presentations and...
F number: 1.44, focal length:16.7 millimeter, zoom ratio: digital zoom 1.0 ? 1.35,...
Taking the third spot in our ranking is the Epson VS250 SVGA HDMI 3LCD with an exceptional brightness level and silent operation. 
Whether you mount it on a standard tripod, prop it up on your desk, or even construct a dedicated shelf, this Epson model projects a crisp, clean image with minimal shake. Lower-quality models may actually move as the system vents heat, but you can avoid this annoying issue with the VS250. 
You can use the dedicated iProjection app to connect to any mobile device, like an iPhone, iPad, or even an Android as well. The machine can connect to several devices simultaneously, meaning you can share images and video files from your phone through the projector. 
While slightly louder than the top two projectors, the Epson VS250 only emits 37-decibels in full-performance mode. In economy mode, that number drops to 27-decibels. The combination of connectivity, noise proofing, and high performance make this the perfect projector for board rooms or personal entertainment spaces. 
#4. Optoma HD243X 1080p Projector
Optoma HD243X 1080p Projector for Movies and Gaming, Super...
SUPER-BRIGHT: Enjoy an incredible 3, 300 lumens of brightness in any space such as a...
STUNNING PICTURE QUALITY: High contrast (24, 000: 1), reference display mode and RGB...
LATEST DISPLAY TECHNOLOGY: The single 0. 47" DMD DLP chip by Texas Instruments...
Coming in at number four is the Optoma HD243X 1080p, another noteworthy projector with a high-res display and silent operation, along with a couple of other features that set it apart. 
This Optoma has an enhanced gaming mode specially developed to reduce lag and motion blur as much as possible. While this mode does run slightly louder than when the projector is on its standard settings, it's still relatively quiet when compared to similar models. It has lightning-fast 16ms response times and a very high lumen output of 3300. 
As you might expect, the Optoma has an exceptional noise rating of only 27-decibels on high-performance settings. 
The Optoma HD243 X is a great projector for whatever entertainment purposes you may have for it, but you're restricted to HDMI connections with no Bluetooth connectivity. If you're looking for an office projector, you can link this one up to your laptop, but you can't connect multiple devices to share files with your coworkers. 
#5. ViewSonic M1+ Projector
Sale
ViewSonic M1+ Portable LED Projector with Auto Keystone,...
PORTABLE PROJECTOR: Ultra-portable WVGA (854x480p) LED projector with shorter throw...
EASY SETUP: Get set up in seconds with auto-focus, vertical keystone correction and...
PREMIUM AUDIO: Built-in dual Harman Kardon Bluetooth speakers (audio only)
A nifty little projector with a cool stand attachment, the ViewSonic M1+ is an ultra-portable machine designed with versatility and adaptability in mind. You can set this thing up anywhere and feel like you've got your own private movie theater. 
The ViewSonic M1+ has a built-in battery that lasts for 2.5 hours on full power mode, but you can increase that up to 5 hours with the battery saver setting. The projector runs even quieter than it usually does on power-saving mode, and on full power, it is still only about as loud as your laptop. 
While you can't screen mirror any copyrighted material from your mobile device to the projector, you can download your favorite streaming apps directly onto the machine instead. It connects to wifi and maintains a stable stream depending on your internet provider. 
This is a fantastic projector to use if you're constantly on the go. Whether that be moving from the living room to your bedroom or from New York to Mexico, this projector will perform in any environment.
#6. ViewSonic High Brightness Projector
Sale
This sleek and efficient projector, the ViewSonic High Brightness, is as you might expect from the name. Astonishingly bright. It pumps out an incredible 3800 lumens, making it the ideal machine for classrooms or business meetings if a bit bright for your home theater setup.
This is also one of the longest-lasting projectors on our list. On the SuperEco mode, the Viewsonic High Brightness lamp can survive for up to 15,000 hours without needing replacement. Even if it does go out for some reason, the projector comes with excellent lamp and parts coverage, as well as exceptional customer support. 
However, this ViewSonic doesn't connect via Bluetooth or support native streaming. If you're looking for a home entertainment projector, the other Viewsonic is the better option. However, this one is perfectly suitable if you're looking for a quiet, high-performance projector for office or educational settings
#7. YABER Native 1080P Projector
YABER Y30 Native 1080P Projector 15000L Brightness Full HD...
❤[Innovative 4D Keystone Correction & Zoom Function] Our HD projector is the first...
❤[1080P Native Resolution (1920*1080), Support 4K Video] The projector with a real...
❤[Hifi Stereo Sound & Latest Advanced Cooling System] The Y30 LED projector has...
Coming in at number seven is the Yaber Native 1080P. It's the first projector to feature cutting-edge keystone correction technology that automatically maintains a standard rectangular image. 
To say this projector is bright would be an understatement. It emits a whopping 8500 lumens on the brightest settings, making it the brightest projector on our list by far. Further, it supports an incredible 1920p resolution.
The Yaber also features a high-quality built-in sound system, so you don't need separate speakers to get your movie-going. While it doesn't have built-in Bluetooth compatibility, you can easily attach an adaptor to the speaker USB and connect it to all of your devices. 
It's worthwhile to note that this Yaber does run a bit louder than most others on our list. It's still quieter than most comparable projectors, especially in this price range. We believe the image quality, built-in sound system, connectivity, and price tag make up for the slight increase in noise. 
#8. GooDee HD Projector
Sale
Projector, GooDee 2023 Dolby Native 1080P Video Projector,...
🎄Upgraded Brightness: As GooDee best seller projector, we improved the brightness,...
🎁Native 1080p Supported & Latest Cooling System: Supporting 1080P Full HD native...
🎄230" Max Screen & Internal Hi-Fi Stereo: Giant 230 inches display size with an...
Next up is the GooDee HD, an absolute goody bag of features and intelligent design that any home entertainment aficionado will love. For a very affordable price, this projector will work well in any space. 
Another extremely bright projector, the GooDee features a 6800-lumen lamp with a 1080p full HD display and 1280x720p native resolution. It has a decent 230-inch max screen size and a 98-inch size at a 10-feet distance. 
The GooDee has a built-in fan and cooling system to reduce the amount of noise it makes. The durable materials help trap and absorb the sound coming from inside the machine, more so than some others on this list.
You can play console titles, stream PC games, watch movies, and craft stunning presentations with the high-quality display on this projector. Also, if you're not fully satisfied, the manufacturer offers a full refund for any reason within two months of purchase. Test it out before you commit!
#9. Ohderii CY4006 Projector
OHDERII TV Projector
input voltage:100 -240V
DISCREET SIZE & LIGHTWEIGHT: Whether a permanent fixture in your living room or...
MULTI RESOLUTION COMPATIBLE: Enjoy the big screen cinema experience whether you're...
Number nine on our ranking of the best quietest projectors is the Ohderii CY4006, a quite remarkable little machine with a very affordable price tag. 
This is one of the lightest machines we've included, incredibly compact for the amount of power it puts out. You can fit it almost anywhere and chuck it in your backpack when you want to bring it over to a friend's how or want to wow your audience during a presentation. 
Connect to any device you can think of, from a DSLR camera to your iPad or work computer. The options are endless. Plus, you can mount it almost anywhere! It has a super cool mechanism that allows you to even hang it upside down. 
If you're looking for a quiet and affordable projector that still has the power for crisp, clean images for videogames or movies, then the Ohderii CY4006 is the projector for you. 
#10. CiBest Projector
Sale
Last but not least is the CiBest, another budget mini-projector that outperforms some larger projectors by a long shot. 
For such a small device, it has a very wide viewing range of 30-inches all the way up to 200. It has a dedicated wall mount, but you can mount it to almost any surface without issue. Plus, you don't have to worry about storing it anywhere because it's so small!
In terms of sound, you won't even notice the CiBest is even turned on. It's completely quiet, with a built-in cooling system that silently disperses heat that can damage the hard drive.
Also, you can use a wireless HDMI dongle to connect to all of your devices. With a two-month money guarantee and a super low price tag, this is a fantastic starter projector to see if something this size is right or need one a bit bigger.
How To Choose A Quiet Projector: A Buying Guide
Buying a projector for your home can be an expensive investment, so it's important to get the right one. But where do you start?
Of course, you don't only want to consider how loud it is. Its resolution, brightness, price, and a whole lot of other features matter too.
So, to help you make a more informed decision, this buying guide will cover some of the key points to consider when deciding which is the best choice for you.
Resolution
When choosing a home projector, one of the most important factors to consider is resolution.
Resolution refers to the number of pixels that make up an image. The higher the resolution, the sharper and more detailed the image will be.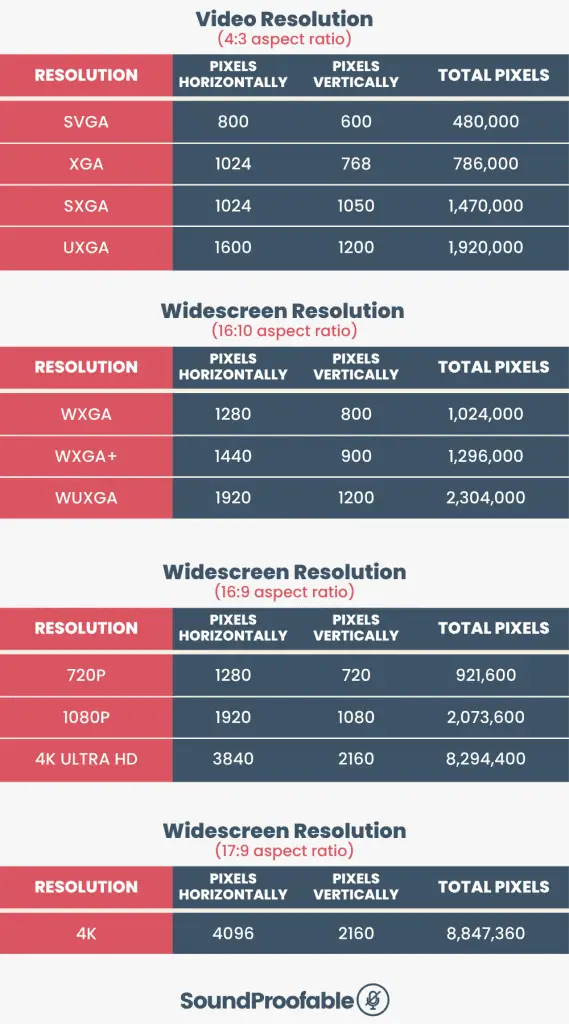 When shopping for a projector, it is important to make sure that it is compatible with the resolution of your media. For instance, if you have a Blu-ray player with 1080p content, you will need a projector with at least 1080p resolution to take full advantage of your player's capabilities.
In short, resolution is a vital consideration when choosing a home projector, and it is important to make sure that your projector is compatible with the resolution of your media.
Brightness (Lumens)
Another important factor to consider when choosing a home projector is the brightness of the device.
A projector's brightness is measured in lumens, and the higher the lumen rating, the brighter the image will be.
A projector with a high brightness rating will be able to produce clear images even in well-lit rooms. In contrast, a projector with a low brightness rating will struggle to produce visible images in anything other than dark conditions.
Therefore, if you want to be able to use your projector in a variety of different settings, it is important to choose a device with a high brightness level.
Light Source
Another thing to think about is the type of bulb that will light up your projector. The common types are LED, LCD and DLP.
But which type of projector is right for you? Well, it depends on your needs and budget.
LED projectors use light-emitting diodes, which are more energy-efficient than traditional bulbs and have a longer lifespan. However, they can be more expensive upfront.
DLP projectors, or digital light processing projectors, use chips that reflect light, and they tend to be lighter and smaller than other types of projectors.
LCD projectors use liquid crystal display panels to create an image, and they offer good color accuracy and detail.
Contrast ratio
The contrast ratio is the difference between the darkest and brightest areas of a picture. The quietest projectors that have a high contrast ratio give well-defined picture details which add a sense of depth and dimension to the pictures.
The room's lighting is capable of influencing the projector's contrast and it is therefore important to be careful when it comes to contrast ratio in home projectors.
With darkened rooms, one is able to easily notice the contrast as compared to well-lit rooms where contrast is messed up by the additional room lighting.
Projector Lens zoom
First of all, not all home projectors have this feature; therefore, be careful when you go shopping. Lens zoom comes in very handy if your quiet projector is being placed in different areas of the room where you can't control the screen size.
With the projector's lens, you can be able to adjust the size of the image. The lens zoom ensures that you don't have to keep on moving the projector to get your desired image.
The greater the zoom ratio, the easier it is to control the image size.
Conclusion: Which One Should You Buy?
In the end, all of these projectors are great machines. Each one might be better at some things than others, but you can be sure they're all quiet and efficient machines well worth a try. 
However, the BenQ HT2150ST 1080P is hands down the best quietest projector on the market today. The image quality, sound reduction, and special features make it an incredible device that makes your home movie theater into an IMAX entertainment room.
Sale
BenQ HT2150ST 1080P Short Throw Projector | 2200 Lumens |...
UNPARALLELED PICTURE QUALITY:: Native 1080p Full HD image quality with 2200 ANSI...
VIDEO GAMES ON THE BIG SCREEN: superior short throw projection enables you to project...
LOW INPUT LAG: The specialized low input lag and unique game modes ensure gamers an...