Range hoods may seem like a boring purchase but it is an essential part of a kitchen especially if you spend a lot of time in the kitchen.
They help ventilate a kitchen by removing heavy fumes and heat and can be a safety feature too. If you're in the market for a range hood, you may as well go for a quiet one.
Ordinary range hoods can be quite noisy in their operation and can make a constant ringing noise. In this buying guide, I will take you through the best quiet range hoods and the features you should consider before buying one: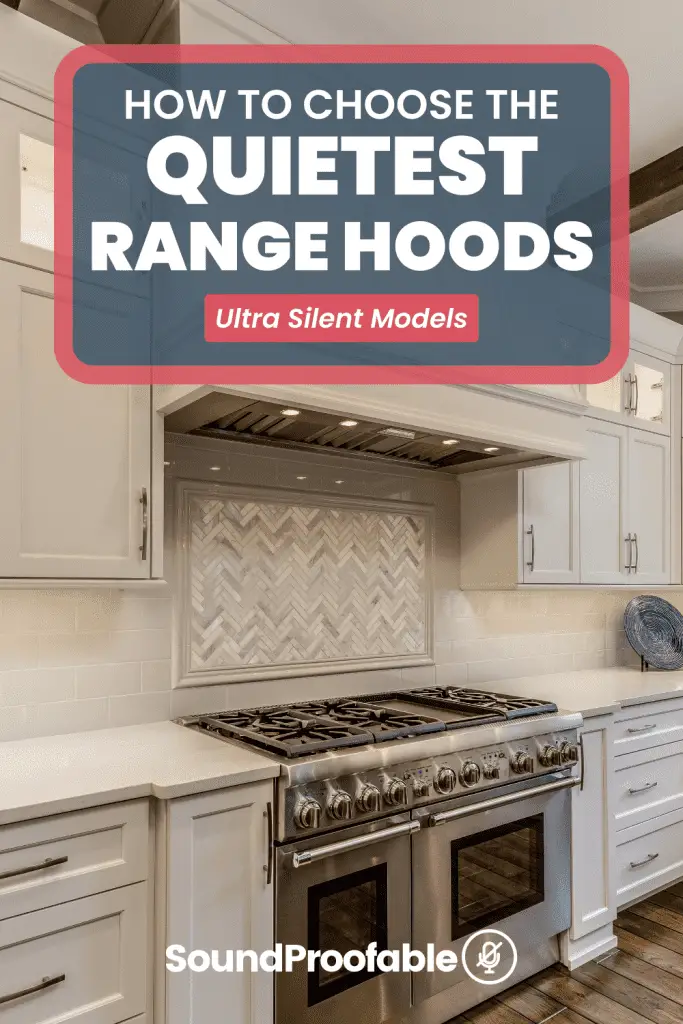 Quick Answer: The Best Quiet Range Hoods
Types of range hoods to choose from:
Under Cabinet Hoods
Under-cabinet range hoods are the most common kinds available and affordable. The hood is fitted under your cabinets and above your stove.
They span the length of the stove so it can capture all the heat and smoke as it rises and before it reaches your cabinets.
Wall-Chimney Hoods
Wall-chimney hoods are used when there are no cabinets around and can be fitted to the wall leading outside.
Island Hoods
They are mounted in the kitchen ceiling through ductwork. They are usually wider than the cooking island as they don't have walls or cabinets on the side to direct fumes.
Downdraft Hood
They work by directing fumes downwards through ducts beneath the floor. While not as effective as other methods, they are best used when you don't have a low ceiling or a space constraint.
Ductless Hoods
This kind of installation directs heat and fumes away from the stovetop, but within the kitchen. It comes with filters and can trap oil and grease present in the air.
Things to look for when Purchasing a Range Hood
Range Hood Size
The size of the range hood should depend on the surface area of your cooktop. This is to ensure that all the heat and fumes from cooking drift upward to the hood before they disperse to other parts of your kitchen or home.
Larger range hoods can get expensive, but if you're investing in a large stovetop the extra is likely worth it. If you're choosing an Under-cabinet hoods, it will need to fit under the counter, although some models are made to stick out beyond the counter.
Power (CFM)
CFM or cubic feet per minute tell us how much air is circulated through the system. A higher CFM is better but other factors like how high the hood is placed above the stove and quality of filters will determine how much heat and smoke you experience.
Extra Features
Quiet range hoods today can come with a bunch of features that are useful for the most part. Most of them come with LED lights which can make it easier when it comes time to clean and it can add more light to your cooking space.
Sensors are a great safety feature that turns off the hood when excess heat is detected or allows you to set an activation temperature. A clock is a nice-to-have feature.
Hood Noise Levels
Most vent hoods are going to be loud, at least on the highest settings. When we looked over the reviews of various models, one of the most common complaints across all of them was the noise they make.
For you to know the noise levels, you have to check the sones or decibels range which measures the noise level of the range hood.
A quiet range hood should be between 1-3 sones or 40-60 decibels, the lower the number the quieter the fan. The normal human voice is rated to be around 60 decibels.
It's also to look at the customer reviews what they are saying about the range hood noise levels. If you are buying from your local hardware store you can tell the seller to test it and listen to the hood operate in all settings to determine if it is noisy.
Ventilation Type
Range hoods can be either vented and have ducts that direct the air outside, or can be ductless and recirculate the air sucked in while removing smoke through specialized filters.
Ducted range hoods are more effective but can be difficult to install by yourself and are more expensive than ductless ones.
I would recommend ductless hoods for those who have restrictions in terms of space or building regulations. Ducted range hoods typically come with aluminum filters to trap grease that you'll need to take out and clean periodically.
The Best Rated Quiet Range Hood Reviews
#1. Broan-Nutone 424204 Range Hood Insert
Broan-NuTone 424204 42-inch Under-Cabinet Range Hood with...
PACK OF THREE 42-INCH UNDER-CABINET RANGE HOOD INSERTS: Fit neatly underneath...
IMPROVES KITCHEN AIR QUALITY: Provide a MAX 230 CFM and 6.0 Sones performance to...
INTEGRATED LIGHTING: Built-in light with protective lens accepts up to a 75W...
I will start with one of the quietest range hoods which creates only 6.0 Sones or 53dB which is much quieter than ordinary range hoods.
It is great for medium to large kitchens at 17.5 x 6 x 42 inches and can sit comfortably under the cabinet. It comes with a lamp lens that distributes light over your cook-top but if you want more light, you can install up to a 75-watt bulb.
However, you will have to purchase it yourself as it is not included. While not a very high-powered hood, it uses internal centrifugal fans that work at 190 CFM.
It features a two-speed motor- "High" and "Low and switching between them is easy with a few buttons. The Elite Hood is also high-tech.
It has an integrated heat sensor inside that activates automatically. Not only will this keep your hands free for cooking, but it offers additional safety for when you have to step out of the room.
Cleaning this range hood is not too difficult. It comes with aluminum filters that do a good job absorbing odor, grease, and tiny particles that emanate while cooking.
You can take them off easily and clean them in a dishwasher. This range hood will work with any ADA-compliant devices.
I recommend that you install this hood least 18″ above your stove for best lighting and exhaust fan capabilities.
What I Like:
Solid stainless steel
construction at a fair price
Dishwasher-safe filter
Can be fitted with up to 75-watt bulb to illuminate the cook-top
What I don't Like:
You may need extra screws to install the hood
#2. KOBE CHX9130SQB-1 Brillia 30-inch Under Cabinet Range Hood, 3-Speed
Next, I have another compact under-cabinet range hood that is both powerful and reliable. It has a modern design with seamless curves that will look good in modern kitchens.
Made from commercial-grade stainless steel, the KOBE CHX91 is strong and long-lasting. Now, this is a high-powered range hood with a maximum CFM rating of 650.
This will provide amongst the highest airflow of other hoods. So if you cook often and need something to mask the heat and smell for your large kitchen, this is a good option.
I found that the KOBE could diminish the smells of deep-frying which if you're a cook, may know is hard to get rid of. This is available in 30-inches and 36-inches with the former weighing 44 pounds.
I would recommend that you get help installing this range hood as we found it to be a 2-person job. You can choose from three fan speeds- low, high and quiet mode with the latter producing only 1 sone or 40 dB!
Other features included in this model include two extra-bright LED bulbs and two dishwasher-safe baffle filters.
The filters are designed to be as easy to clean as possible, which makes ownership and maintenance much more manageable.
Overall, this is an excellent hood if you value performance over add-ons (like a digital control panel).
What I Like:
Attractive appearance and solid construction
Easily cleanable baffle filters
Whisper quiet at 40db
Available in two sizes 30 and 36 inches
What I Don't:
It would be great to have the ability to dim the two LED's
#3. Proline Wall/Undercabinet Range Hood PLJW 185.30 600 CFM
PROLINE 185.30 PLJW 185 30"
SUPER SLIM CONTOUR SAVES YOU SPACE; The PLJW 185 is one of the slimmest under cabinet...
COOL LIGHT CASCADES FROM THESE LED BULBS: You will love the light that is cast from...
DYNAMIC DESIGN ALLOWS FOR MULTIPLE VENTING OUTLET OPTIONS: This model can be vented...
The Proline Range Hood is one of the thinnest under cabinet range hoods with a height of 5 inches only. This design does not come at the expense of its efficiency as it offers a maximum of 600 CFM.
This incredible power translates to 4 speeds but that does not mean that it is noisy. At its maximum power, it produces only 5 Sones of sound.
To put it into perspective, you can carry out a conversation while the range hood is operational. One of the best features of the range hood is the baffle Filters which can absorb heat and fumes in the kitchen.
These are better than mesh filters as they can condense grease quickly without affecting air circulating. Since they are also dishwasher safe, cleaning them will not be a difficult task.
If you do a lot of cooking, I recommend that you clean them once a month. I also liked the automatic power-down of the vent.
It features 2 energy-efficient LED bulbs that are blue-white and can illuminate a 36″ cooktop well without shadows. However, you will have to order replacements bulbs from Proline as they seem to be custom fittings. Installation is a two-person affair unless you're a pro at this.
You will need a template to mount it properly. You can remove the rear panel and vent it at the top of the back.
What I Like:
Compact at only 5 inches in height
Uses energy-efficient LED lights
Offers 4 speeds with a powerful 600 CPM motor
Stainless-steel finish
What I don't Like:
The hood requires extra screws while installing so that it remains stable
#4. Cosmo QS75 30-in Under-Cabinet Range Hood
Sale
The Cosmo QS75 is a powerhouse with its amazing 900 cubic feet per minute of suction and 3-speed motor. Made of a strong 430-grade thickness stainless steel, this range hood is all-modern with its premium satin finish.
The Cosmo range hood offers 3 fan speeds from low, medium and high which you can switch from easily. One of the unique selling points of this range hood is its technology as it comes with remote control and digital touch control panel with backlights.
The profile of the Cosmo is designed to save space which is great for those who live have restricted space in the kitchen. With a 7.5″ round top vent and permanent filters, the Cosmo can remove heat and contaminants with a good enough efficiency.
The good part is that you can remove the permanent ones with ductless filters by purchasing a carbon filter kit. It also comes with 2 1.5-Watt LED lights that will brighten your cooking surface even at night.
I always appreciate automation and if you're the same you will like the auto shut-off timer feature
What I Like:
Lots of screws provided with this range hood and you can set this range hood up in many ways
Features powerful fans that can move air fast enough to work even when cooking high-duty stuff such as hamburgers
Can be operated with a remote and a digital touch control panel
What I don't Like:
The instruction manual isn't simple so you will need the help of a pro to install this one.
#5. ZLINE KB-36 KB 36 in. Range Hood, 36 in. in, Stainless-Steel
ZLINE 36" Convertible Vent Wall Mount Range Hood in...
Convertible range hood - this unit can be externally vented or recirculated...
Easy-to-use push button controls let you easily control fan speed and lighting
4-Speed Fan Control (120/240/320/400 CFM) lets you choose the appropriate air flow...
The Z-line is a modern range hood with a 760 CFM motor that offers 4 fan speeds. The design is the USP of this machine and comes with long chimney extensions up to 12' in height which is useful if you have high ceilings.
It comes fitted with two halogen lights at the back which can be tipped to better view the surface or reflect off the backsplash, and the buttons are very simple.
The cooker hood has a 760CFM 4-speed motor which does a good job of circulating enough air to create a breezy feeling. It is also equipped with a timer that has the auto-shut-off function to shut down when the process is complete.
With a width of 36 inches, it is good for a medium to the large surface area. The Z-line is made of quality stainless steel design which is good as this will prevent rust from forming and enhancing the life of the hood.
It comes with baffle filters that collect grease from the air and condenses it into the baffle channels. You can convert the filters to a ductless type by adding charcoal filters.
Like other range hoods on this list, the baffles filters are dishwasher safe and easy to clean. Despite its power, it produces noise levels of approximately 56 dB which makes this range-hood ultra-quiet.
What I Like:
Powerful 700 CPM motor 760CFM with 4-speed options
Uses convertible baffle filters
Easy 3-minute timer
Has an LED indicator on the front
What I Don't Like:
You may need professional help installing this one because of its weight and complexity
Final Thoughts
I hope this buying guide helped you make a wise decision on choosing the quietest range hood for your home, in case you in search of other quiet appliances click here.