You never appreciate the value of a sump pump until you need one. Without a sump pump, you are putting your valuable equipment and electronics at risk especially if you live in a flooding area or you are using an older model.
We all know how older versions of the sump pump can be annoying with all that noise. A soaked or flooded basement is the least of your problems when you have water in your furniture and electronics.
The situation is worse when you have a poor drainage system and you leave your items soaking in water because you really can't do anything about it.
Installing a sump pump is the easiest way to get rid of this issue. Making sure you are using a quiet pump is an extra value you would want to consider.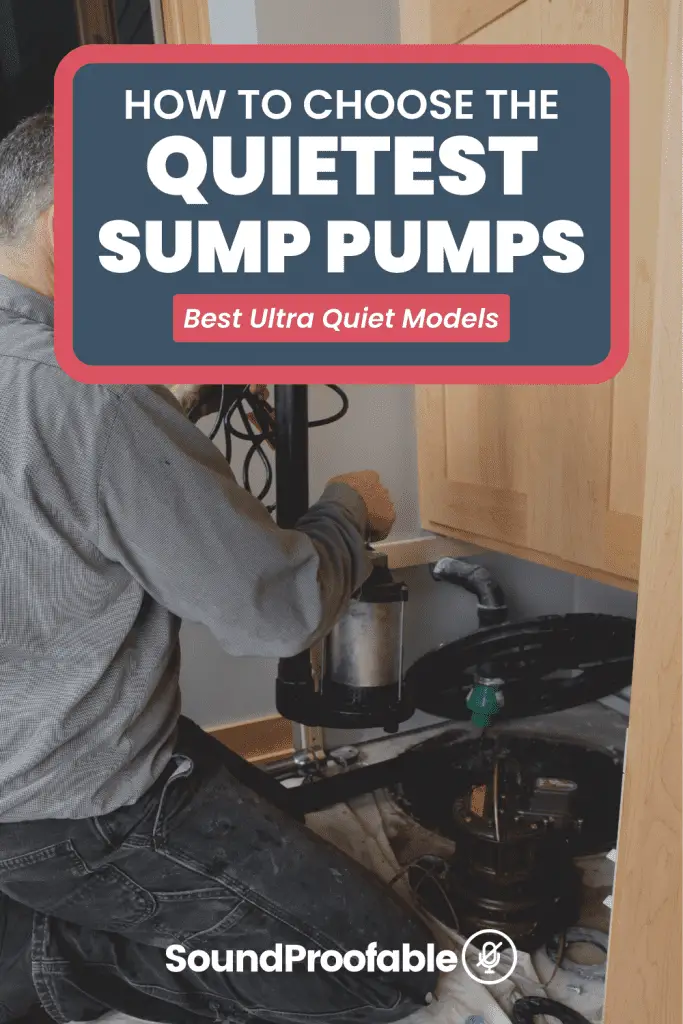 Quick Answer: Quietest Sump Pumps
Preview
Our Favorite
Name
Zoeller M63 Premium Series 5 Year Warranty Mighty-Mate...
Wayne 58321-WYN3 CDU980E 3/4 HP Submersible Cast Iron and...
Zoeller M53 Mighty-mate Submersible Sump Pump, 1/3 Hp
WAYNE VIP50 - 1/2 HP Reinforced Thermoplastic Submersible...
Little Giant VCMA-15ULS 115 Volt, 65 GPH, 1/50 HP Automatic...
Our Favorite
Preview
Name
Zoeller M63 Premium Series 5 Year Warranty Mighty-Mate...
Preview
Name
Wayne 58321-WYN3 CDU980E 3/4 HP Submersible Cast Iron and...
Preview
Name
Zoeller M53 Mighty-mate Submersible Sump Pump, 1/3 Hp
Preview
Name
WAYNE VIP50 - 1/2 HP Reinforced Thermoplastic Submersible...
Best Rated Quiet Sump Pump Reviews
Whether you're looking for an industrial-strength or casual use sump pump 
#1. Zoeller M63 Mighty-Mate Submersible Sump Pump
Taking the top spot on our list is the best-rated quiet sump pump around, the Zoeller M63 Mighty-Mate Submersible. Not only is it powerful enough to deal with near-flood conditions, but the soundproofing materials make it the quietest product on this ranking by far. 
The first thing that makes the Zoeller M63 stand out from the rest of the pack is the cast iron housing. The cast iron is much heavier than stainless steel, making the M63 much more durable than other brands and much less noisy. Sound can't escape cast iron as easily and doesn't bounce around the chamber as much either. 
Also, the Zoeller M63 has a metal impeller that helps regulate the pump flow and pressure once water fills the chamber. The heavy metal doesn't reverberate as much as a lighter material might, especially against cast iron, further reducing sound when the impeller is active. 
Overall, if you're looking for an ultra-quiet sump pump for when the rainy season hits, then check out the Zoeller M63 Mighty-Mate Submersible.
#2. WAYNE CDU980E 3/4 HP Submersible Sump Pump
Wayne 58321-WYN3 CDU980E 3/4 HP Submersible Cast Iron and...
INDOOR USE ONLY - This 3/4 HP WAYNE basement sump pump is perfect to keep your...
TOUGH AND DURABLE - Corrosion-resistant stainless steel motor housing and fasteners...
EFFICIENT DESIGN - The top suction design eliminates air lock and minimizes clogging...
The runner-up on our ranking of the quietest sump pumps is the WAYNE CDU980E 3/4 HP Submersible, an incredible feat of engineering that is as powerful as it is quiet. 
While some sump pumps might feature a bottom suction pump, the CDU980E has a top suction pump. This helps reduce the frequency of airlocks, which is when compressed air prevents water from leaving the pump. Also, the top suction pump decreases the amount of debris you might find at the bottom, further preventing the chance of a clog. 
When the WAYNE CDU980E is working normally, you won't even hear that top suction pump as it does its job. The stainless steel chamber might not block sound quite as well as cast iron, but the cast iron base helps reduce the vibration and stop most sound frequencies from escaping. 
If you want a high-quality sump pump that is slightly less heavy than our top pick, then give the WAYNE CDU980E 3/4 HP Submersible a try. 
#3. M53 Mighty Mate Sump Pump
The second Zoeller model on our list, the m53 Might Mate, is the slightly less powerful version of our top pick. If you live in an area that sometimes experiences groundwater flooding but not too often, then this might be the right option for you. 
The M53 Mighty Mate features the same signature cast iron body as the M63, with slightly smaller dimensions. As a result, the M53 Mighty Mate has the same impeccable soundproofing design as the M63. No matter how much water is coming in, if the M53 is working correctly, you shouldn't be able to hear it at all. 
The M53 Mighty Mate also weighs slightly less, making it easier to install than many other sump pumps. Getting it set up is easy and only takes a few minutes when your pit and power supply are already good to go. It is a great sump pump for anyone with a bit of water in their basement but not the entire ocean. 
#4. Wayne VIP50 Portable Electric Sump Pump
WAYNE VIP50 - 1/2 HP Reinforced Thermoplastic Submersible...
Heavy-Duty Removal - This 1/2 HP WAYNE multi-use pump is perfect to keep your area...
Tough And Durable - Corrosion-resistant and sealed thermoplastic construction is...
Efficient Design - Easy to prep and run with a minimum of 2-5/8" of water to prime....
Made entirely from iron, the Wayne VIP50 Portable Electric is a much smaller sump pump that somehow puts out almost as much power as the models above. 
The 1/2 HP engine is plenty powerful to handle most water that comes in through the ground and the walls. While it won't handle hurricane floodwaters, it can deal with most inclement weather without a problem. 
The glass-reinforced housing unit is another thing that makes the Wayne VIP50 Portable Electric sump pump stand out from the rest of the pack. While rust is always a big issue for any sump pump, the Wayne VIP50's glass reinforcement helps prevent rust buildup inside and outside the chamber. This can extend the life of your sump pump by years.
Overall, the Wayne VIP50 Portable Electric sump pump is an excellent option for those of you who don't live in a flood zone and want a machine that will last longer than most. 
#5. Little Giant GIDDS-521259 Sump Pump
Sale
Little Giant VCMA-15ULS 115 Volt, 65 GPH, 1/50 HP Automatic...
AUTOMATIC CONDENSATE PUMP: features a vertical-type switch to reduce footprint and is...
THERMALLY PROTECTED MOTOR: 1/50 HP, 1 Amp, 60 Watts, 115 Volts, 60 Hz, fan-cooled...
BUILT TO LAST:  stainless steel motor shaft, thermal overload protected motor; CSA...
The Little Giant GIDDS-521259 is the fifth-best product on this list, featuring a rectangular design that increases the total capacity of the water chamber. It's a neat product that can deal with more water than similar models but isn't the quietest on our list as a result. 
The internal machinery and parts of the Little Giant are stainless steel. While this might increase the level of noise in a lesser machine, the Little Giant's high-quality plastic exterior isn't good for creating echoes. In other words, the internal machinery might make a bit of noise, but the exterior won't make it any worse.
However, it's important to note that the Little Giant GIDDS-521259 was not designed with floodwaters in mind. Instead, this sump pump is meant to deal with condensation from a variety of home appliances, like air conditioners or dehumidifiers. If you live in a hot area and often have to clean condensation from your home appliances, you need this sump pump. 
#6. Superior Pump 91250
Coming into sixth place on our list is the Superior Pump 91250, a superior pump mechanism that comes in a range of different power capacities. For this list, however, we'll only focus on the 1/4 HP model. 
With that much power, this machine can move up to 1,800 gallons of water per hour, a feat that would be impressive for a larger sump pump but is astounding for one of this size. 
What makes the Superior Pump 91250 so quiet is its thermoplastic materials. While not as tough as cast iron or stainless steel, thermoplastic has exceptional soundproofing qualities. When the parts bang against each other, the plastic doesn't resonate like most metals. As a result, this sump pump is one of the quietest on the list. 
However, that same thermoplastic is why it's lower on our list than other models. It's not nearly as durable, and you'll probably have to replace it sooner than you'd like. It is still a fantastic machine, but just plan to buy another sump pump earlier than you would with other models. 
#7. Flotec FPPM3600D-01/09 1/3 HP Pedestal Sump Pump
Taking the final spot on our list of the quietest sump pumps is the Flotec FPPM3600D-01/09 1/3 HP Pedestal. While not quite as powerful as other sump pumps we've included, the ease of installation and adaptability makes this model deserving of inclusion. 
If you decide on this Flotec model, the first thing you'll notice is that it doesn't include a chamber or bucket to store any excess water. You'll have to purchase the containment unit on your own. 
However, once it's all set up, there aren't many quieter sump pumps around. It uses an ingenious technology that adapts to changes in water pressure instantly, adjusting as necessary. 
If you're looking for an inexpensive solution to appliance condensation or flooding problems, then definitely try the Flotec FPPM3600D-01/09 1/3 HP Pedestal sump pump. While this model isn't as durable as most others on this list, it's a great stopgap until you find a permanent solution. 
What You Should Consider When Buying a Silent Sump Pump
Choosing the perfect sump pump can be very difficult, especially when you have no experience with one and have no idea what you are doing.
A little knowledge of the type of pump you are looking for and the right features will help you get the perfect pump. Here are some important facts you should consider when choosing the right sump pump.
The Make
The first thing that should come to mind is the overall build of the pump. You should be very particular about this feature; a good build will determine the sturdiness and durability of the machine.
The material should also guard the pump from rust or decay. Sump pumps made of thermoplastic are hard, heat resistant and lightweight.
This material makes it easy to carry or set up. You definitely will not have to worry about this pump rusting and it will not cost you too much to purchase.
The stainless steel pump has a lot more weight. Although the material is prone to rust, the process is very slow.
Iron housing is the perfect balance of weight and longevity. It is heavier than the thermoplastic pump but way lighter than the stainless steel. It has a tendency to rust super fast but you can beat that by applying an epoxy coating.
The Right Type of Pump
There are endless kinds of sump pumps in the market. So how do you know which one is the best quality? One of the best sump pumps makes is the submersible because it can work underwater and are very easy to operate.
This makes works by collecting the water and forcing it down the drainage systems. The pedestal pumps are very portable and will not require much maintenance. The top part is the most important on this machine.
You can carry this from one place to the other without any issues. The backup sump pump has a backup system which makes it very valuable when there is no electricity.
Water powered pumps function like straws; they draw water from the top but they require constant maintenance.
Find One With the Ideal Switch
Not all switches have the same effect on the longevity of the pump. There are three main types the first is the tethered switch, it lasts longer than the others.
The catch is, they will require you to dig bigger sump pits. The vertical switch pumps fit in narrow pits pretty easily but their lifespan is short.
Electric switches do not have any moving parts but they will not get stick while you are on the job. The downside is that they are affected by materials in the water which means you will have to clean them regularly.
The Perfect Sump Pump Motor
For the perfect motor, you have to check the rating on the horsepower. More horsepower means it works better.
The power is needed to gather the water and send it to the drainage system. If you want a pump that flashes the water faster, you should get one with the most horsepower.
Keep in mind that the sump pump with more horsepower will consume more power too. For the perfect pump, measure the debt of water in your basement to know how deep the whole set up will be, powering options and with before you make the final decision on the purchase.
Most Importantly, Get Yourself the Quietest Sump Pump
Some sump pumps will not let you forget that you have an operational one in the home while most are very quiet from the star.
Your main goal is to go for the quietest pump. Why a quiet pump? Other than giving you a peace of mind, it will cut down on the expensed and countless time used for maintenance.
Quiet sump pumps are not that expensive but they are very effective. You will not experience any annoying noises, vibrations of any other disturbance when you are resting.
Conclusion: Which One Should You Buy?
While every sump pump on this list has a place in someone's home, we believe the top-performing and quietest sump pump available today is the Zoeller M63 Mighty-Mate Submersible. 
Between its cast iron construction, high intake capacity, durability, and overall soundproofing, there's no question that the M63 is the best choice you can make. 
However, if you're having a consistent problem with airlocks or debris clogging your intake, then the WAYNE CDU980E 3/4 HP Submersible might be the better option.