When it comes to soundproofing adhesives, most people think of Green Glue. This is for good reason – Green Glue is one of the best options on the market.
However, it can be expensive, and some people don't like its tacky feel. If you're looking for an alternative to Green Glue, here are five that work just as well.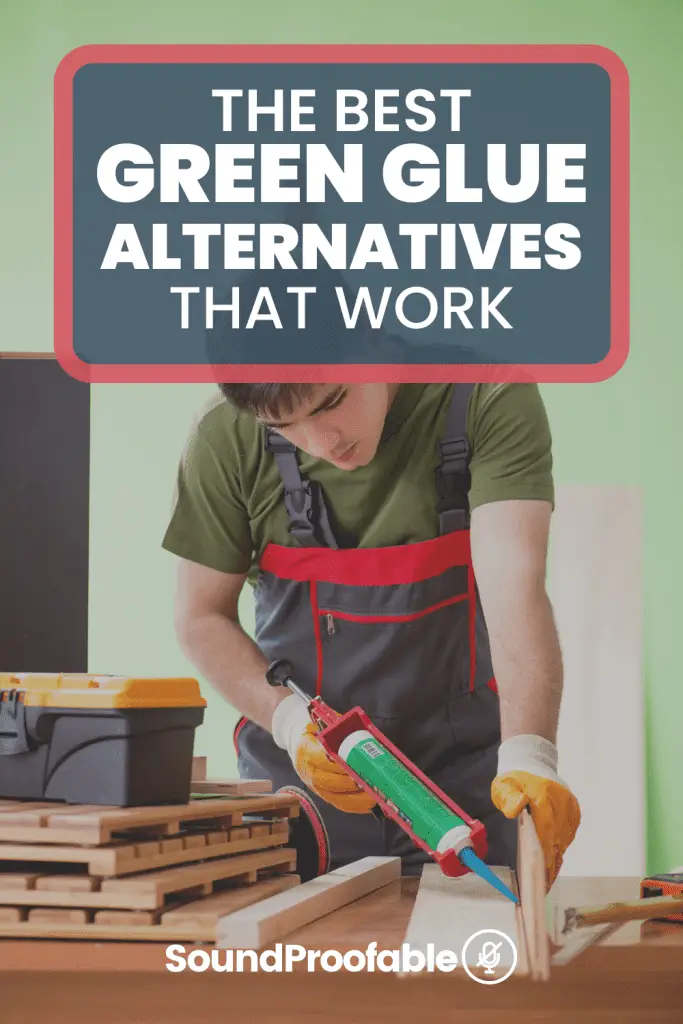 Top 5 Green Glue Alternative
There are quite a good number of alternatives to the green glue noise-proofing compound. These materials do magical work when it comes to soundproofing, and they tend to be cost-effective.
#1. Mass Loaded Vinyl
MLV is a high-level soundproofing performer available in the market. It is ideal for noise proofing your home, and it is simple to install. However, the material tends to be thin, but it carries a large quantity of mass in it.
Therefore, transportation from one to another is quite easy. If you are the kind of person who loves to stay in a quiet room or environment, then MLV is the best option for you.
The good thing about this soundproofing material is that it will never compromise with the dimension and space of your room.
The thinness feature enables it to fit in any place perfectly. The material can be used on the ceiling, wall, under the carpet and also around noisy pipes.
They also occur in multiple thicknesses to meet your expectations. Also, the soundproofing material is highly resistant to weak acids, alkalis, and oils. It is highly durable when compared to other traditional noise proofing alternatives.
Despite the varying thickness, the material can easily be bent and flexed in different shapes so that they can offer a versatile solution, especially to areas that cannot be reached easily.
#2. Polyurethane Noise-Proofing Compound
This is among the top pick soundproofing compounds that tend to work effectively and efficiently when compared to the green-glue mixture. It is considered to be the perfect match alternative for green-glue. Also, the compound is known tough due to its microscopic chain of resins molecules.
The research shows that the molecules tend to bind firmly after drying out. Hence, the final finish tends to give your walls a stunning appearance that is also resistant to abrasions, water, or any other solvent.
The presence of oil in other forms of polyurethane tends to bring out the warmth and amber tone in your wood. In case you want your wood to retain bright color, then it is recommended to use the water-based compound.
Furthermore, this compound usually comes in two forms so that users can have options that can meet their tastes and preferences. Water-based polyurethane usually has a milk color appearance, and it dries to form a crystal clear surface.
However, you need a well-ventilated place before applying the compound on the wood. The good thing about this form is that it tends to dry faster and ideal for wood though it requires more coats.
You can also use it to clean the wood with water and soap. Oil-based polyurethane is another form that also can warm-up your wood since it turns a bit amber. The film is durable though it takes a lot of time to dry up.
#3. Red Glue Sound Dampening Material
Sale
Sealant Silicone 2.7oz Red
Flexible waterproof silicone sealant
Fully cured, it can be used for extended periods at temperatures up-to 260 deg C and...
Red glue is another excellent alternative to the green-glue compound. It is a damping product that is regarded as suitable for renovation and new constriction.
The features associated with this damping product are top-notch and worth the value of your money after purchasing it. The soundproofing compound can dissipate the vibrations generated by the soundwaves that move via floors, walls, and ceilings.
The application of the compound on plasterboard or rigid walls is quite simple and easy. It will take a short period to apply for like a day.
The compound becomes effective and efficient after seven days as far as noise proofing is a concern. In case you want to experience the maximum performance of the mixture, then you will wait for thirty days.
However, you will need a high-temperature glue gun to apply the compound on the required projects. The soundproofing material is ideal for school projects.
Moreover, it is advisable never to allow the compound to dry out entirely since it won't be able to perform its function as required. Fortunately, the cost of this noise proofing compound is quite affordable when compared to the green glue mixture. They are readily available in the market and also online stores.
#4. DYNAFLEX 230 Compound
Sale
This is another excellent alternative to green glue, and it does an outstanding task as far as soundproofing is a concern.
The formulation of the compound has latex characteristics that result in a tough silicone compound after its application. The material is ideal for sealing cracks that enhance the entry of noise.
The crack-proof compound can withstand any contraction and expansion. Dynaflex 230 is durable, and it can seal up to a one-inch width gap.
It is also mildew and mold resistant. Moreover, the crack-proofing material is highly versatile since it does exceptional work on various building materials such as ceilings, house walls, composite trim board, polystyrene, PVC, and MDF.
Gunning out the compound in various places is quite easy. Also, it can easily be washed with water and soap once it is done correctly. The noise-proofing material is quite ideal for the exterior and interior design tasks. It is manufactured in a way that it tends to meet all the ASTM specification.
#5. QuietRock Soundproofing Drywall
If you are actually in need of an authentic alternative that is effective in soundproofing, then consider quiet rock material. The material usually occurs in panels that have different thicknesses.
The thickness enables the groups even to be placed on existing walls. Some of the standard widths that range from 1/2 inches to 1-3/8 inches. The most recommended panel is QuietRock 500 since it is simple and easy to install.
Also, you do not need any unique tools for its installation. The good thing about this special panel is that it is very slim and very easy to handle as compared to other panels.
The panel has an engineered design; thus, the performance is topnotch and worth the value of the dollars spent on it. Unfortunately, the panel is not ideal for ceilings but suitable for walls.
If you are looking to remodel or construct a new house, then QuietRock 500 is here for you. The installation process is quite simple and straightforward. You do not need a professional to help out in fixing them hence ideal for saving some bucks.
The soundproof material is useful even after fixing the house fixture. The chances of hearing unnecessary noise are entirely zero. The noise-proofing compound is quite cost-effective, and it is readily available in various online stores. You can get some today and experience the best result in the long run.
Final Thoughts on the Best Alternative to Green Glue
I hope this article helped you choose the highest quality noise-proofing sealant that will help you with your soundproofing project. If you have any questions feel free to ask me thanks.