Do you or a loved one want to play their drum kit at home but without the sound of their practicing bleeding through the walls and bothering others? Maybe you've had some complaints from neighbors about the noise and you need to do something about it.
Well luckily, there are a few easy ways to soundproof your room for drums! In this blog post, we'll go over 7 quick and effective steps that will help you make any space a safe haven for drummers.
The 7 Best Ways to Soundproof a Drum Room
The costs of soundproofing a room can quickly add up but it doesn't have to set you back thousands.
Below are our 7 tips for how to soundproof a drum room cheaply and quickly.
1. Soundproofing the Doors
Probably the first and best place to start soundproofing your drum room is the door.
Doors are often the main culprits of sound leakage because they're usually made out of hollow, bouncy wood.
This makes them really bad at stopping sound from coming in and going out which can lead to a lot of unnecessary noise for both you and your neighbors!
To fix this problem there are a couple of things to do.
You'll want to find all the air gaps around the door and seal them.
To do this you can use foam insulation tape like this one that is really easy to install on your door and will help keep the sound from leaving through the gaps.
Storystore Foam Insulation Tape Self Adhesive,Weather...
Foam Insulation Tape—The foam seal tape is made from environmental protection...
High Density Foam Tape—Weather proof, oil resistance, resistant to corrosion, dust...
Foam Strip Application—The adhesive foam strips are widely used in various door...
You'll also want to use some acoustic blankets on the back of the door to absorb sound as it's leaking out.
This will help to minimize how much sound is escaping from the door and keep your room a whole lot quieter!
2. Use Acoustic Foam Panels on the Walls and Ceiling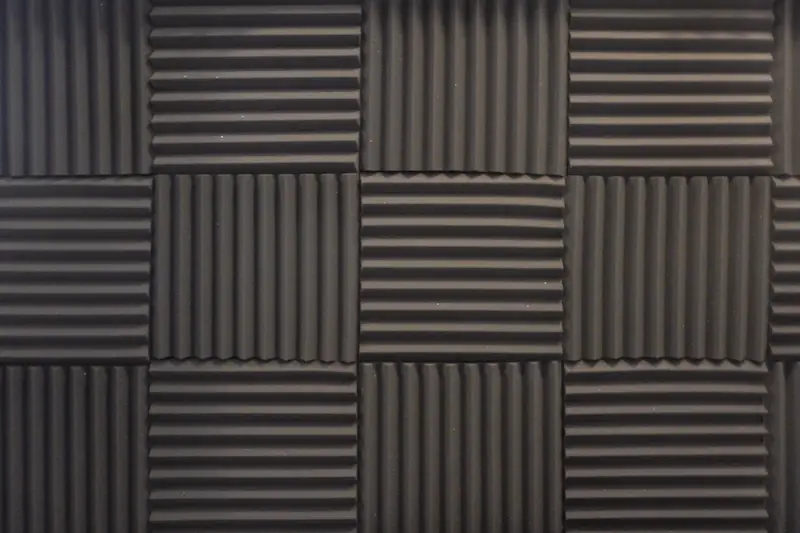 If you're serious about a soundproof drum room then you're going to tackle the walls and ceiling.
One of the most effective ways to do this is by using acoustic foam panels which are a low-cost way to prevent sound from getting out of the room.
Try to cover as much of the room as possible – the more you cover, the better!
This will help to reduce how much sound is bouncing off of your walls and into other rooms.
You can find acoustic foam panels at most hardware stores or specialty music shops or if you're looking for a recommendation these ones from JBER are affordable and good.
JBER Acoustic Foam Panels, 48 Pack 12x12x 1 Inch Upgraded...
Great for spot treating sound on walls in your studio or office - For use in...
48 Pack Covers 48 Square Feet - Each tile is 1 square foot of 1 inch thick acoustic...
Reduce Unwanted Noise And Echo - sound proof foam panels help reduce reverb, flutter...
If foam panels aren't an option for you then a great alternative is using sound absorption acoustic blankets like these that do a similar job and can be hung very easily around the walls to suck up the sound.
3. Soundproof the Windows
Next, we're going to want to look at soundproofing the windows.
Windows are notorious for letting a lot of sounds in and out so it's important to not forget about them.
An easy fix is to get some soundproof curtains to keep as much of the noise from the drums in the room as you can.
There isn't much special about noise-reducing curtains but they tend to be heavier and thick which means they are more likely to stop the sound from going out.
A good option is these sound-absorbing curtains from Nicetown which aren't very much money.
NICETOWN Thermal Insulated 100% Blackout Curtains, Noise...
Ready Made: 2 panels per package. Each Classic Lined Curtain measures 52" wide x 95"...
Blackout Effect: The real blackout curtains on the market. Sew in black liner backing...
Noise Reducing: Heavyweight Blackout Lined Curtain Panels can be a good sense of...
For more options check out our post here on the best soundproof curtains.
As well as soundproof curtains, another thing that you'll need to get if you're going to be taking your drum playing seriously is to get double or even triple-glazed windows.
This will help to ensure that you don't have any sound escaping from your room and will definitely make the room quieter.
4. Get a Sound Absorbing Drum Rug
Another essential piece of kit for any home drum room is the drum rug.
Not only will this help to prevent your drums from slipping and moving around while you're playing, but it will also help will help to absorb the sound and reduce how much noise is being reflected back into your practice space.
If you're looking for a good one check out this great rug from Meinl Cymbals.
Meinl Cymbals Drum Rug with Travel Bag, Large Size for...
Plenty of surface area for larger setups (oriental finish) — the large Meinl drum...
Made for drum set spurs and stands — we use a tightly woven fabric so your bass...
Rubber lined non-slip bottom — on the underside of this rug is a layer of thick...
A well-made rug can be expensive, but it's a necessary investment if you're serious about playing drums in peace!
5. Use Carpets or Rugs on all the Floor
As well as a drum rug, you're going to ideally have the rest of the room carpeted to help reduce how much sound is bouncing around the room.
This will also make your practice space more comfortable to walk on, which is a bonus!
If carpeting the room isn't an option then get as many rugs on the floor as you can to soften up and absorb the sound.
The thicker and more dense a rug is, the better it will be at absorbing sound so an expensive Persian rug might do better than cheaper synthetic ones!
6. Add More Furniture
An empty room makes it easier for sounds to move around freely and bounce up and down.
A key part of soundproofing a room is to put as much mass as you can in between the source of the sound and people's ears.
To do this you can add as much furniture as you can to the room which will help to bounce the sound waves around and absorb them.
Things like dense sofas and chairs are best and the more the better!
7. Get an Electronic Drum Set
The last resort when it comes to soundproofing a drum room is to ditch the acoustic kit and get an electronic drum set.
Electronic drum sets can use headphones which can completely eliminate the need to soundproof the room and are great for small apartments where the neighbors are nearby.
They're relatively inexpensive and an electronic kit like this one won't set you back much at all.
Sale
The downside to an electronic kit is that it doesn't have a natural feel but for kits and beginners, they're a great option to get started on before graduating to a real kit.
Final Thoughts on Soundproofing a Drum Room
As you can see, soundproofing a room for drums is an easy and inexpensive process that can be done by anyone with some time on their hands.
Start with the doors and windows and throw as much soft stuff up on all hard surfaces as you can and you won't go wrong.
Too many drummers are not aware of how to go about this, so now you're all set!
Good luck and happy playing.