Robot vacuums are all the rage these days. And it's not difficult to see why- vacuuming is a boring and tiring task. But it is something that needs to be done as nobody would like in a dirty and dusty home.
Robot vacuums are the perfect solution as there are no long cords to deal with, little to no effort is needed to use them and they can work on your entire home.
In fact, you can control them from a remote while sitting on your couch! But for all its benefits, it is a machine and will create noise while operating.
While the noise can be a little jarring, you may want a quieter model if you have kids in your home, need some peace at home or just for plain old comfort.
You can say goodbye to dirty mops and backaches and read our guide to help you buy a quiet robot vacuum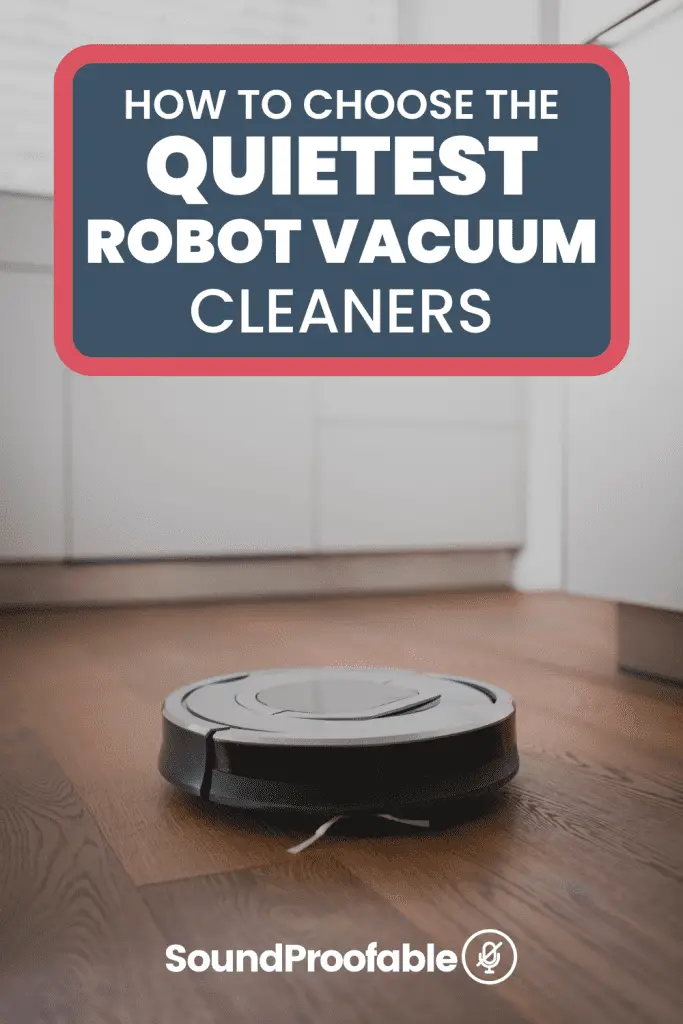 Factors to Consider When Choosing Quiet Robotic Vacuums
Apart from the noise level, there are some other considerations to keep in mind before buying a robot vacuum such as:
Auto-Scheduling
Standard models have easy auto-start buttons on their bodies. However, newer models have apps which allow you to set dates when you want the cleaning to be done and in what mode.
If you are super busy who wants to schedule and forget, this would be an ideal feature for you.
Size Of The Dust Bin
No matter how smart a robot vacuum may be, it would require humans to empty its bin. So for convenience's sake, the larger the dust-bin size, the fewer the number of times you would need to empty it.
Navigation
To be truly hassle-free, the robot needs to navigate your home's layout, without being stopped by furniture, toys, electric cords and other obstacles.
Good robot vacuums should have multiple sensors to be able to 'see' the room. I should help the robot know when it is approaching stairs and other obstacles and prevent it from tipping over.
Other sensors can help its accompanying app know how far the robot has traveled.
Boundary Blockers
Ideally, you would have cleared the floor of clutter before using a robot vacuum. But it is simply a tiresome task to do so every day.
This is why good robot vacuums have a blocking feature to simply avoid going into some areas. Some models require you to place magnetic tape over the forbidden area while others are virtual barriers, allowing you to set them on your app.
Size Of The Robot
The dimensions determine if the robot will be able to reach tight spots like beneath kitchen cabinets and under couches and sofas.
If the robot vacuum is tall it may not be able to reach the spots, which usually is very dusty. Also, the larger the robot, the bigger the dustbin would be.
Since most robot vacuums do not use expandable bags, so there will be no scope to change the capacity after you buy the vacuum.
While there is no perfect dimension, it should ideally have a diameter of 13- to 14 inches and a height of 3 to 4 inches.
Acceptable Noise Levels
Sound is measured in Decibel (dB) and the more the dB, the noisier the vacuum will be. Roomba 780, the quietest model makes 58dB which can be comparable to the sound of a normal quiet conversation.
I would recommend that you buy a model whose noise level fall under 65 dB.
Now that we have discussed the characteristics of a good vacuum, let's look at the top 5 picks for the quietest robot vacuum in the market
Here are the 5 Quiet Vacuum Cleaners in the Market
#1. Eufy BoostIQ RoboVac 11S (Slim), Robot Vacuum Cleaner
Sale
The S in 11S stands for slim and with a height of 2.85 inches, the Eufy can easily reach the dust spots under sofas, beds and other furniture.
For a small robot, the Eufy has a maximum suction power of 2 kilopascals which is effective in cleaning. The vacuum features two side-sweeping brushes to clean the edges and a combination brush in the center of the vacuum helps gather dirt and debris.
I also liked the fact that this vacuum has a rubber strap in the front to as bumper protection. The Eufy comes with a removable dust filter, two extra side brushes, a cleaning tool, and a charger.
It comes with a dustbin with a storage 0.6 liters which is respectable for its price. However, there is no sensor that alerts you when it is full.
Although if you have a pet at home you will find yourself emptying the bin often. As for the controls, the Eufy comes with a remote with an LCD display and buttons to set cleaning modes.
While it can be operated with remote control, it is not a 'smart vacuum' so it cannot be controlled with Alexa or Google Assistant.
In terms of aesthetics, we were quite happy with it as it features a glossy black puck with blue highlights with a tempered-glass top. The robot vacuum ran for an impressive two hours and took a little over four hours to charge.
It navigates itself pretty well due to its infrared and drop sensors. We found that is avoided coming between our way while walking and could navigate spots where furniture was placed.
But when the Eufy could not navigate a rug, but instead of being stuck, it left that spot and turned to another direction.
Pros
Excellent navigation
Thinner than competitors which lets it reach tough spots
High Suction power which makes it effective at cleaning
Value for Money
Extremely Powerful
Cons
#2. iLife v5 Pro
Sale
ILIFE V5s Pro Robot Vacuum and Mop Combo, Slim, Automatic...
【Robot Vacuum and Mop Combo】: Sweeping system provides a powerful suction in...
【Enhanced Motor】:Quiet, but still powerful.It can easily and efficiently collect...
【Unique Suction Inlet】: The unique suction structure ensures that pet hair and...
The ILIFE V5S has an attractive appearance and comes in a white and champagne gold color combo. This vacuum cleaner features two brushes on the side and a wiper pad on the underside of the device to help to pick up dust.
To prevent it from toppling over, the iLife features five infrared sensors to change the direction of the vacuum right before a collision.
The iLife V5 Pro has a 'clean; button on the device with an LED display to show charge status. The clean button will begin vacuuming and will cycle through the 3 modes- auto, spot, edge and wet.
The edge clean mode prioritizes cleaning the edges which can be a problem area in the majority of homes. The spot mode does a thorough cleaning of one specific spot which is useful in times of spills.
The default is the automatic mode where the robot will randomly navigate the entire space while avoiding obstacles.
With a height of 3 inches, the V5 pro can reach under furniture to clean out dirty hotspots. It uses a 2600 mAh lithium-ion battery which can power the vacuum for 150 minutes covering about 1,600 sq. ft on a single charge.
When it comes to the noise levels, it is among the quietest vacuums with a volume of 50 dB generated.
Pros
Dual vacuum and wet mopping functionality
Good at clearing statically charged dust
Good value for money
You can schedule cleanings
Elegant look & Style
Cons
The dirt bin is not too big and you will need to empty it often, especially if you have a pet.
No virtual wall to keep it off forbidden areas
#3. iRobot Roomba 780 Vacuum Cleaning Robot
An ultra-silent model, the iRobot Roomba 780 has the lowest sound emission in this list. The 780 is an improvement over the 770, the previous model, with features like touchpad buttons, HEPA filters and smarter edge cleaning. With a suction power of 2000pa, it performs well on hard floors and carpets.
As far as cleaning is concerned, it uses a patented "Dirt Detect Series 2 Technology" that traps both small and large debris with the help of acoustic and optical sensors.
It also uses a 3-Stage Cleaning system with a strong AeroVac feature that makes it effective in removing dirt, pet hair and debris.
It has a spinning side brush which helps it reach the edges of rooms with ease while the counter-rotating brushes perform the function of a broom.
The one disadvantage which is the case with most Roomba models is that it does not work on the stairs. So if you live in a multi-story house, you will need to physically carry the robot up and down.
In terms of appearance, it does not look cheap thanks to the tempered-glass upper deck.
Pros
Powerful performance and it can work on tiles, hardwood floors, concrete, and carpets.
Candock automatically after completing the cleaning
A thin profile which allows it to reach narrow spaces
Comes with a warranty for the vacuum and Battery
Uses a 3-stage cleaning system with iAdapt navigation to avoid obstacles in its path
Cons
Does not come with a mobile application
#4. Roborock S6 Vacuum
roborock S6 Robot Vacuum, Robotic Vacuum Cleaner and Mop...
Astonishingly efficient: Using adaptive routing with edge optimized cleaning, S6...
Multi-floor Mapping: Save multiple maps, along with No-go Zones for each level, all...
Convenient Selective Room Cleaning: Choose which rooms to be clean, and schedule...
The Roborock has a standard appearance for a robot vacuum cleaner- there are upper and side-mounted sensors, a bump rail, control buttons, and air venting.
With the help of 14 sensors, the Roborock can create a virtual map of your space. This is a useful feature as it can keep a track of which areas have been cleaned and can show where there are problem spots.
So if your room was blocked by some object, the map will show that the room was not cleaned.
Now, this is a truly smart robot vacuum as it can be controlled with an Android or iOS app and features an intelligent mapping system.
The app allows you to schedule cleaning sessions, suction levels and choose working modes from Quiet, Balanced, Turbo and Max. Once done with the session, the robot will go back to its standing dock.
Another reason why the Roborock stands out is because of its mopping feature. Once you attach a mopping system/water reservoir to it, it can perform the function of mopping floors as well.
The Roborock is super quiet and it created about 55-58 decibels of noise while running. I also tested it out to clean 400 square feet and I found it took about 30 mins with battery charge to spare.
The manufacturers claim that the battery can run up to 5 hours which is good enough to cover most homes. As for specifications, the Roborock features a 5200mAh lithium-ion battery and has a suction power of 2000Pa.
This amount of power makes the Roborock capable of sucking up products left on the floor, such as batteries, ball bearings socks, toys and more. So be sure to check your bin before dumping the contents out.
Pros
Strong suction power which equates to a good cleaning
Accurate mapping system
Affordable
Real-time mapping system while operating
Customizable map with the option to name rooms and zone spaces
Allows virtual barriers creation
Cons
occasional issues with timers
#5. Ecovacs Deebot Ozmo 930
ECOVACS DEEBOT 930, Smart Robotic Vacuum, Carpet, Bare, Pet...
Alexa and Google Assistant Compatible. Control your DEEBOT with the Ecovacs app. Draw...
Includes our latest Adaptive Floor Sensing Technology. When the mopping pad is off,...
OZMO mopping is a complete system with an electronically-controlled water pump,...
The Ecovacs Ozmo 930 device has combined the functions of vacuuming and mopping into one nifty device. In appearance, it looks like an oversized hockey puck with its wide diameter of 14 inches and around the black body.
Although it can cover a wider area, the sensor on top prohibits the Ecovacs from reaching narrow spots. This sensor prevents the robot from toppling off the stairs and allows it to get around.
There is one button on the body which you can use to start the robot without the app. A smart robot, the OZMO 930 can be controlled with the Ecovacs companion app.
While not a perfect app, it does help you choose between cleaning modes- Auto, Custom and Area. The area mode lets you prioritize certain areas of the room while the Custom mode lets you clean only certain areas of your house.
The app helps you map the area being cleaned as well as displays the robot's path in real-time. The Ozmo can also be used with Alexa which is a bonus.
I found the robot to be quite chatty as it kept speaking out updates such as 'cleaning paused', "I am suspended" amongst other sentences.
I found this feature to be helpful at times and didn't mind the voice but if do not like this feature, you can disable it.
The Ecovacs features two detachable circular brushes in the undercarriage which allows it to reach the edges and corners of rooms. The front has a bumper that prevents damage on the body in case it bumps into walls or furniture.
At the rear is a reservoir where you can fill water to use its mopping feature. Like other cleaning robots, the Ozmo features a dust bin which is easy to empty however it is small at 470ml.
Pros
Dual functionality as it can mop and vacuum
Can be controlled with their app Google Assistant and Alexa enabled
Accurate mapping
The long battery life of almost 100 minutes
Cons
The Android app does not run smoothly
Final Thoughts on the Silent Robot Vacuum Cleaner
To me, the clear winner is the Eufy BoostIQ RoboVac 11S (Slim), Robot Vacuum Cleaner can easily reach the dust spots under sofas, beds and other furniture with a height of 2.85 inches and a maximum suction power of 2 kilopascals
Sale