A noisy Squeaky floor can be really irritating, and create unwanted echoes amplifying the noises and sounds in the room and that can result in loud footsteps and sounds.
Unfortunately, Soundproofing the floor can be a long and tedious process that can be really costly. Luckily there are mats that you can install to help sound dampen the floor.
In this article, I will review some of the best soundproofing mats that are effective and the best bang for the buck.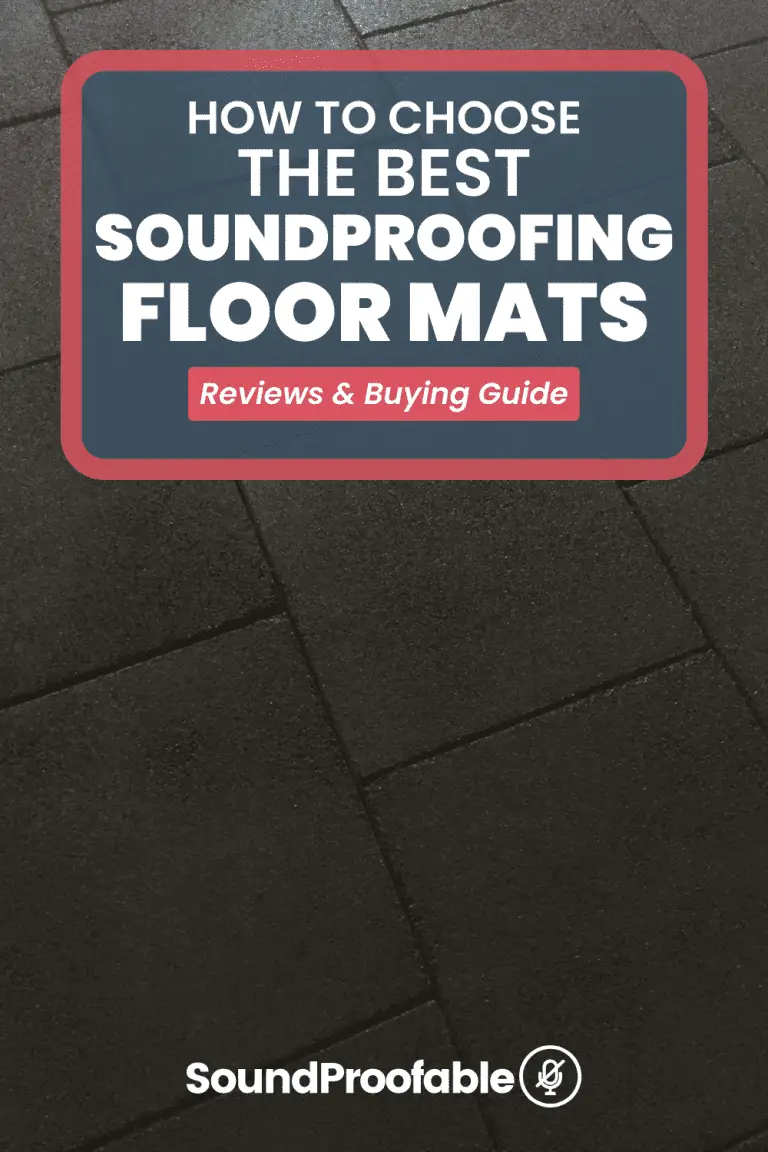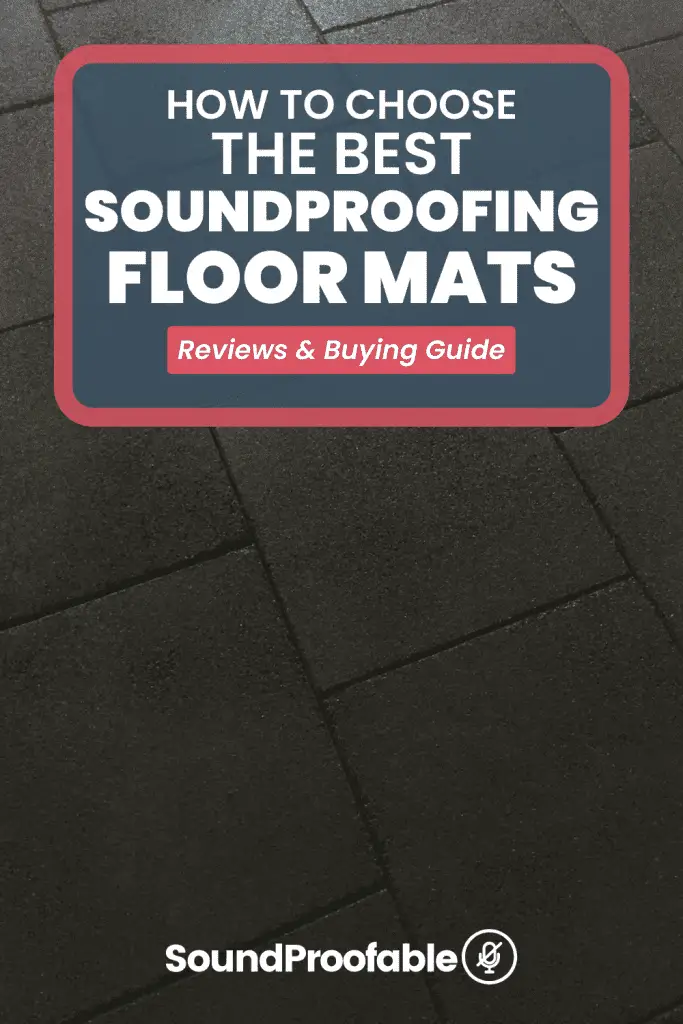 Quick Answer: The Top Soundproofing Floor Mats
How to Choose Soundproof Floor Mats
What are Soundproofing Floor Mats?
These are thick and dense mats/rugs that are created from some of the best sound-absorbing materials. These are normally thicker than the normal carpet and they are also denser which makes them good for absorbing sounds and stopping sound waves from bouncing which usually creates unwanted echoes.
Can Carpet/Mat Work for Soundproofing?
Simple answer yes, but now, this will depend on what you are trying to achieve, if you are looking for a mat that will help sound dampen the floor from moderate sound waves like footsteps and reducing echoes then it will work, however, if you are looking for a complete noise-proof solution for your floors then you might want to invest more into professional soundproofing solution.
Do Rugs Help Absorb Sound?
Yes, Rugs do help absorb sound, however, you have to be careful when purchasing one, the golden rule here is always opting for the thickest, that is why I have included a buying guide that will help you on the most important things to consider when purchasing noise absorbing rug pads.
How much Does it Cost to Soundproof a Floor?
The total cost of soundproofing a floor will vary due to the fact of there are many variables that come into play such as how big is the area, type of products you using, cost of the material and more.
However, since you will be using thick rugs/mat for sound dampening then the cost will be significantly cheaper compared to starting over and using equipment and materials for sound dampening.
The Best RatedSoundProofing Floor Mat Reviews
#1. RugPadUSA FELT PAD
RUGPADUSA - Basics - 9'x12' - 1/8" Thick - Felt + Rubber -...
FELT + RUBBER - Non-slip felt + rubber rug pad designed to be used with all rug...
NATURAL RUBBER BACKING - Our felt + rubber rug pads are made with natural rubber,...
DENSE CUSHION - Pad contains 17oz of felt and 14oz of rubber per square yard....
RugPadUSA is one of the most popular brands on the market due to the Quality and  Elegant designs that they make, with that said RugPad Felt is definitely one of the best soundproof carpets on the market, This Rug Pad is very Thick which is great for noise reduction and also gives you the choice to choose how thick you want the carpet to be.
You can use this Rug pad almost on any surface or floor, from hardwood floors to laminate floors which is great because no matter where you choose to put the carpet it will blend in effectively.
RugPadUSA is made from natural rubber whereas most carpets and rug pads are made from latex. natural rubber will ensure that the mat stays stable and the grip is stronger in case there is a lot of movement.
The mat is elegant and looks amazing and stronger and thicker than most noise-reducing mats on the market. It is made from wool which is great for sound dampening and resistant to stains which means you won't have to wash it all the time.
Pros
Extremely Thick ( Allows you to choose the thickness)
Natural Rubber (Prevents unnecessary slipping)
Stronger Grip (Doesn't move around)
Soft and Elegant
Absorb some for the Sounds and echoes
Budget Friendly
Cons
Come in one Single Color
Needs a little bit more effort to cut
#2. MoHawk Home Dual Surface
Sale
Mohawk Home 8' x 10' Non Slip Rug Pad Gripper 1/4 Thick Dual...
DURABLE COMFORT CUSHION: Choose from three felt thickness options - 1/4", 3/8", and...
EXTRA GRIP: The latex rubber backing provides additional grip under your area rugs to...
RECOMMENDED USE: Larger area rugs, over 5x8, with latex backing provide the best...
MoHawk Home Dual Surface is a thick dense mat that you can use with any rug types, It is 1/4″ Thick which is the standard size for soundproofing floor mats, it is stable and stays on its place without any movement at all when you walking passed it due to the Brown Rubber Backing.
The Thickness and Quality of this Rug will not only sound dampen the floor but will also help protect the floor from scratches/dents and reduce unwanted echoes in the room.
You can install this mat on any surface or floors including concrete, ceramic and hardwood floors. It is very soft and comfortable which is great for people with babies especially toddlers.
This mat can be cut easily using scissors in case it doesn't fit well on your floor, and it is very great looking and stylish.
Pros
Long Life Span
Easy to Vacuum
Strong and Thick
Little to no Odor
Premium look and Feel
Affordable
Cons
Without a Pad, it can move around
The packaging is not so Great
#3. Gorilla Grip Original
Gorilla Grip Felt and Natural Rubber Rug Pad, 1/4" Thick,...
THE ORIGINAL CUSHION + GRIP: unlike other brands that only have felt, our rug pads...
SLIP-RESISTANT NATURAL RUBBER BACKING: ultra durable natural rubber underside helps...
THICK AND SOFT CUSHIONING: thick cushioning adds extra comfort helping to make rugs...
The next one on my list is Gorilla Grip Extra Thick for Hardwood and Hard Floors. The Quality of mat is incredible it is very Thick, Durable and Stylish looking this mat is great for floor protection and reducing wanted sounds and echoes.
It contains a texted rubber on the surface of this item which allows for better grip and stability when installing on your floor. it has a wide variety of sizes to choose from which allows you to get a better fit for your floors. If it doesn't fit well you can easily trim it with scissors.
This Rug pad can be cleaned and vacuumed easily which means you don't have to struggle to keep the mat clean. It is very affordable and well-received by other people.
Apart from all the stylish design and thickness this mat is good for sound dampening and will reduce sounds drastically and will not leave dents or marks on your floor.
Pros
Great Grip and Stay Stable
Durable
Thick and Heavy
Sound Absorption
Protects the Floor from Marks
Easy to Cut
Cons
A bit Overpriced
After some time it can start to move around (depends on the traffic)
#4. RUGPADUSA Superior Lock
RUGPADUSA - Superior-Lock - 8'x11' - 7/16" Thick - Felt +...
PERFORMANCE: Textured checker rubber backing made with an additional 5oz for better...
CUSHION: Very dense 7/16" thick (32oz) felt truly cushions your rug as well as...
PROTECTION: Catches contaminants that fall through rug, and scratch floor as rug...
If you are looking for a Premium soundproofing floor mat or rug pads then you are looking for RugPadUSA Superior lock, RugpadUSA has produced yet another great product that is even more Superior. This product is made from the highest quality rubber and felt that it is 100% which ensures an extremely strong grip on your floors regardless of the traffic.
This mat is very thick and heavy which is great for absorbing noises and sounds also prevent the sound waves from bouncing which usually creates echoes. This Rug mat is good at protecting the floor from getting damaged should anything fall.
Odorless and very stylish looking which means it can blend in nicely with your interior design and colors. You can install it on any type of flooring.
This mat is also stain resistant which will reduce the frequency of cleaning it significantly. very easy to cut to the size you desire and you can choose how thick you want it to be.
Pros
Premium Feel and look
Durable
Strong and Stable
Absorb sounds
Easy to Cut
Very Thick
Cons
A bit pricey for some people
Harder to grip on laminate floors but does stick
#5. Shimmer Shag Ultra Thick
Now, if you are into style and design then you will love the ultra-thick mat by Well Woven, this is one of the most stylish mats with many different colors and design styles to choose from.
This mat is thick and made from 100% polyester which aids with absorbing sounds, it is very soft and comfortable. It is also stained and fades resistant which is great because, if you have children who enjoy playing on the mats you won't have to worry about it getting dirty.
This mat is also very easy to clean and vacuum and durable and due to the quality of this carpet it lasts a very long time, the lifespan is just jaw breaking.
You can choose any size from various sizes available. you can install the mat on any type of flooring with an elegant style that will match with your interior. This is fairly priced and the bank for the buck.
Pros
Affordable (Great Pricing)
Thick
Stylish
Different Colors to choose from
Washable
Cons
After a long time (The fur may start to come off)
Things to look for when purchasing sound Absorbing floor Mats (Buying Mat)
Thickness & Weight
When purchasing a sound-absorbing mat for your floor it is very important to know how thick the mat is because that will determine the level of soundproofing the mat can effectively do. The golden rule here to always keep in mind that the thicker the mat the better.
Every product comes with specifications and dimensions make sure you look at how thick the product is. Another thing to remember is that the heavier and denser the mat the more sound absorption.
Size
I am sure this may seem obvious but some people tend to overlook the size when shopping for sound absorbs rugs or mats which is also essential because you don't want to buy something that is too small to cover the floor or too big (although some allow you to cut them)
Price
How much the product cost is another thing to look at because more often than not most products especially mats are over-priced and you can find the same quality of a different brand at a cheaper price which can save you a lot of money.
Material Used
This essential because some material does not contain sound absorbing properties, ensure that you check the material used to create the mat.
Is It Washable
Although most mats don't get dirty fast at some point you will have to wash or clean it to keep it fresh and looking good, but sometimes that can ruin some carpets so make sure the mat you choose can be easily cleaned.
Final Thoughts
These mats will effectively reduce unwanted noises and sounds and I hope this article helped you choose the best one and if you have any question feel free to ask.