What goes on within the confines of the bathroom walls is very private. It can be embarrassing knowing that other people are listening to what you are doing; this is especially the case if you live in a small apartment or share a house with others.
You can decide to turn on the stereo and play it at high volume, but this will only get you into problems with your neighbors. A more effective solution is to get yourself a bathroom noise blocker.
This sound machine uses AC or USB and can be used to generate white noise in your bathroom. The best white noise machine for bathroom privacy prevents you from feeling embarrassed anytime you visit the bathroom. Enjoy a relaxing bath while listening to soothing sounds.
In this post, we're going to cover everything you need to know when choosing a white noise machine for your bathroom and review some of what we think are the best white noise machines for bathroom privacy.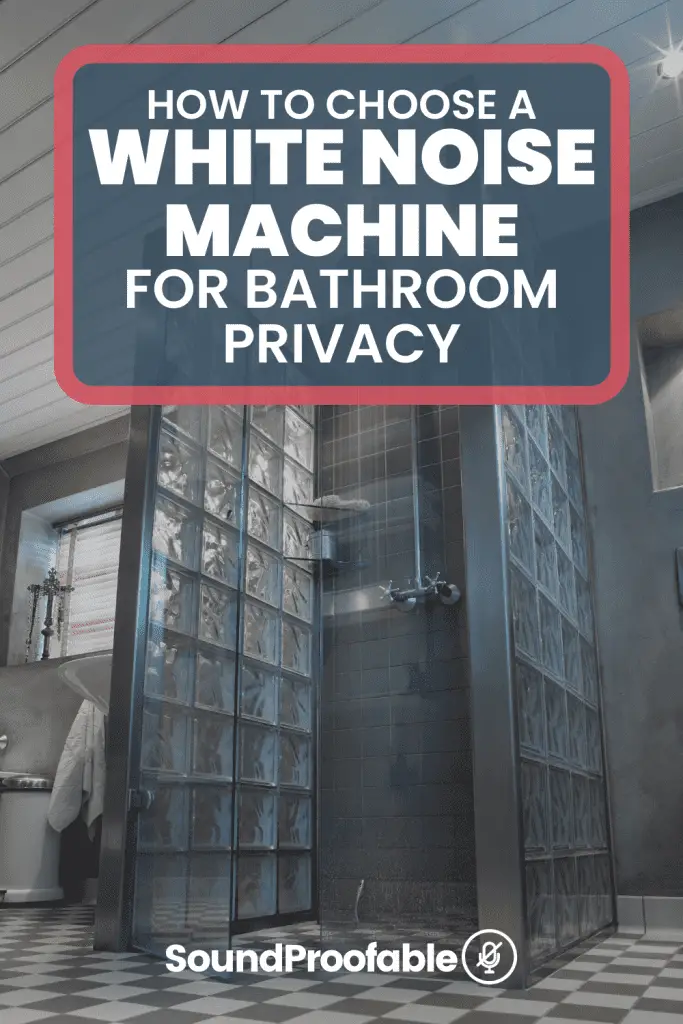 Quick Answer: The Top Bathroom White Noise Machines
How to Choose a White Noise Machine for your Bathroom: A Buyer's Guide
Before we get to our reviews of the best rated white noise machines, we thought it would be good to answer a few questions you might have about them. We'll cover everything you need to know before buying one and look at all the factors that are important.
What is a White Noise Machine?
A white noise machine is a device usually an electronic one, that is designed to produce soothing natural sounds like rain, waterfall, winds, ocean waves, etc these sounds are meant to help create a soothing, relaxing and calm environment by masking undesirable background sounds.
It is usually used to help people fall asleep by combating sounds that usually keep us awake, but in truth, you can use a white noise sound machine anywhere including your bathroom to hide embarrassing noise.
Can White Noise be Harmful?
Well, generally white noise is not harmful in fact it is healthy however, there are times that it can be considered dangerous, like when you overplay it which is highly unlikely. So you don't need to worry about any safety issues. Here are some of the best sound machines:
Types of Noises
White Noise
Brown Noise
Pink Noise
Why Invest in a bathroom noise machine?
A bathroom is a private place and it is supposed to be that way, however, sometimes the bathroom has echoes which help amplify the noises that take place there and ruin your privacy.
Some bathrooms are closer to the other rooms, so the noises can be heard outside of the bathroom, that's where a bathroom noisemaker comes very handy.
Not only you will experience some level of privacy but bathroom sound machines can help enhance the experience with sweet relaxing sounds.
Is it Water-Proof?
A bathroom noise machine should be water-proof in case you splash water on it when taking a bath. You don't want to use a non-waterproof one because that can end up costing you unnecessary money.
How Portable Is It?
You do not have adequate space in the bathroom, and therefore the sound machine should be compact enough to fit on a stand or have a hook that you can hack it with.
Various Type of Sounds Available
A noise cancellation machine for the bathroom should produce sounds that are soothing and relaxing. Your preference will determine what kind of device to get.
Stability
The device that you purchase should be able to fit in all manner of surfaces. Whether flat or rough the device should sit comfortably and not slip over.
Best Rated White Noise Machines for Privacy in a Bathroom Reviews
Now that we've hopefully answered all your questions, here are our reviews of some of our favorite models.
1. LectroFan High Fidelity White Noise Machine
Sale
LectroFan High Fidelity White Noise Machine with 20 Unique...
[After Sale Service] Buy our products with confidence as they are designed in the USA...
[Masks Noise] Helps block out disruptive environmental noises. It can help improve...
[20 Non-Looping Sounds] A total of 20 unique non-looping sounds. 10 fan sounds & 10...
The LectroFan stands out from the pack due to its compact size. You can use it for bathroom privacy, study or place it on your bed stand.
The sound machine does not have a motor and is 100 percent electrical. It is a great device for traveling because you can charge it through USB or AC. With ten variations of white noise and ten different electric fan sounds, the LectroFan is a device that meets all your sound blocking needs.
Pros
Compact size
Ten white noise sounds
Uses little power – 2.5 watts
Sleep Timer
Cons
You will need to recharge it regularly
2. Sleep + Sleep Sound Machine
Sound+Sleep High Fidelity Sleep Sound Machine with 30...
[Masks Noise] Environmental and nature tracks that can cancel out distracting sounds....
[30 Non-Looping Sounds] 10 categories to choose from, with 3 richness options per...
[Adaptive Sound Technology] Technology that listens and adapts to your environment....
Its patented adaptive sound technology is one of a kind in the bathroom noise machine segment. Instead of listening to an annoying loop the device studies your environment and comes with suitable sounds.
You have a mix of ten amazing sounds that range from oceanic waves, rolls of thunder or even the sound of seagulls. You can adjust the sounds from low to high. The sounds can be as long as 30 minutes which gives you enough time to enjoy a relaxing bath.
Pros
3.5mm connector for headphones
30 distinct rich sounds
Innovative patented adaptive sound technology
Cons
May need a different adapter if you are the outside US.
3. Marpac Rohm Portable White Noise Machine
Sale
Yogasleep Dohm Classic (White) The Original White Noise...
THE ORIGINAL WHITE NOISE SOUND MACHINE: Beloved by millions since 1962, the Dohm...
CUSTOMIZED SOUND EXPERIENCE: With two speed options for adjustable tone and volume,...
UNBEATABLE QUALITY & GUARANTEE: For over 60 years, YOGASLEEP has been the gold...
If you lack the space in your bathroom, then the Marpac comes with a hook that you can use to hang it strategically in your bathroom.
It is compact and produces three sound options – bright white Boise, deep white noise and gentle surf. This should get you in a relaxing mood as you take your scented bath. Due to its ease of use, it is a device highly recommended for those who are traveling.
Pros
Lightweight at 3.84 ounce
Hooking for hanging
Three relaxing sounds
Cons
There are only a few sounds to select from.
4. Avantek Sound Machine
AVANTEK Noise Sound Machine for Sleeping, 20 Non-Looping...
20 SOOTHING SOUNDS: Non-looping sound recordings of high quality; includes 6 types of...
EXCELLENT SOUND QUALITY: The speaker in this machine is customized and debugged by a...
PERFECT FOR BABY SLEEPING: This white noise machine with a wide volume range of 30...
This is a good-looking, compact sound machine that comes with 20 amazing sounds. You have six white sounds, six fan sounds, and eight breathtaking nature sounds including wind, rain, ocean waves, bird, steam, crickets, clock, and a campfire.
With a friendly sleep timer, you can relax in a bath tap and let the relaxing sounds soothe your mind. Been lightweight it will fit in most small spaces in your bathroom. The volume decibels are set at a maximum of 115 dB
which means you can enjoy some of the best sounds without causing any disturbance to your neighbors. A USB charger and adapter make this an excellent companion when traveling.
Pros
20 different relaxing and soothing sounds
Great design with attractive blue collar
 Compact design for travel
Cons
Only available in one color.
5. Housbay Sound Machine
Everyone has that unique sound that they so love and the Housbay comes with 31 distinct sounds to choose from. For your fan, you have 7 sounds, 7 different sounds for white noise reduction for your bathroom, and 17 amazing nature sounds including summer night, lullaby, forest, and rain.
You can use this sound machine for your bathroom noise reduction needs and for your baby. The sounds are produced through a 3 watts speaker that produces relaxing acoustic sounds.
You have a timer for those moments you just want to chill in your scented bath. The knobs are easy to reach and come in handy when you want to adjust the volume but have soppy hands.
Pros
Great acoustic sounds
Easy to control knobs
Can also use it as a baby sound machine
Cons
It needs a flat surface to place it correctly.
6. Snooze White Sound Machine
When it comes to features, the SNOOZ machine stands out. You have 10 tonnes to choose from, and you can use it for your kids or pets. The sound produced is soothing and differs from the looping sound of fans.
It has a lightweight, unique design that makes it ideal for traveling or placing in your bathroom for that added privacy.
You adjust the tone by twisting the outer shell, and you have some dials to adjust the 10 setting volume.
You can download the SNOOZ app and your phone, and this gives you the ability to switch off the sound machine and adjust the volume.
Pros
Innovative lightweight design
Cool app to control device
Energy-efficient and uses efficient brushless motor
Cons
It is a bit pricey compared to the other ones in this article.
Conclusion: Which one Should you Buy?
Thin walls have ears, and it is embarrassing having someone listen to you will use the bathroom. Bathroom noise blockers are affordable and compact enough to fit in your bathroom.
In my review, I have concluded that the Marpac Rohm Portable is the best white noise machine for bathroom privacy.
The Marpac stands out due to its compact design and the fact that you can hook it to your wall. The lightweight design and use of USB mean you can carry this device for travels.
While it lacks many noise sounds when compared with competitors it does produce some amazing, acoustic sounds that should help you relax as you take a bath or do your private stuff in the bathroom.
You should always purchase a device that produces sounds that you find soothing. The bathroom can get steamy and your device should not be affected by this.
I hope this article helped you make the right decision when it comes to choosing the right bathroom white noise machine