Is your company in the market for a white noise machine for the office? These machines are effective in creating background noise that hides close sounds in the immediate area.
These white noise generators often produce different relaxing sounds from nature including rain, wind, and waterfalls. The reason is true white noise actually sounds like an aerosol can's hissing spray to the human ear.
While a white noise machine for office privacy is designed for the workplace, these devices can also be used at home to help people sleep better by relieving symptoms like tinnitus. They can also be installed in doctor's offices and other public areas.
The main benefit of sound masking machine for office is it can create a better working environment. When workers aren't bothered by annoying sounds, they can focus better, which in turn makes them more productive.
We'll be reviewing various units. This includes reviews of some of the top models and some 
features to consider when picking a device for your workplace.
We'll also select one unit as the best of the best white noise machines for office cubicles. This is based on various factors like quality, features, and value. It will help your office workers be as productive as possible.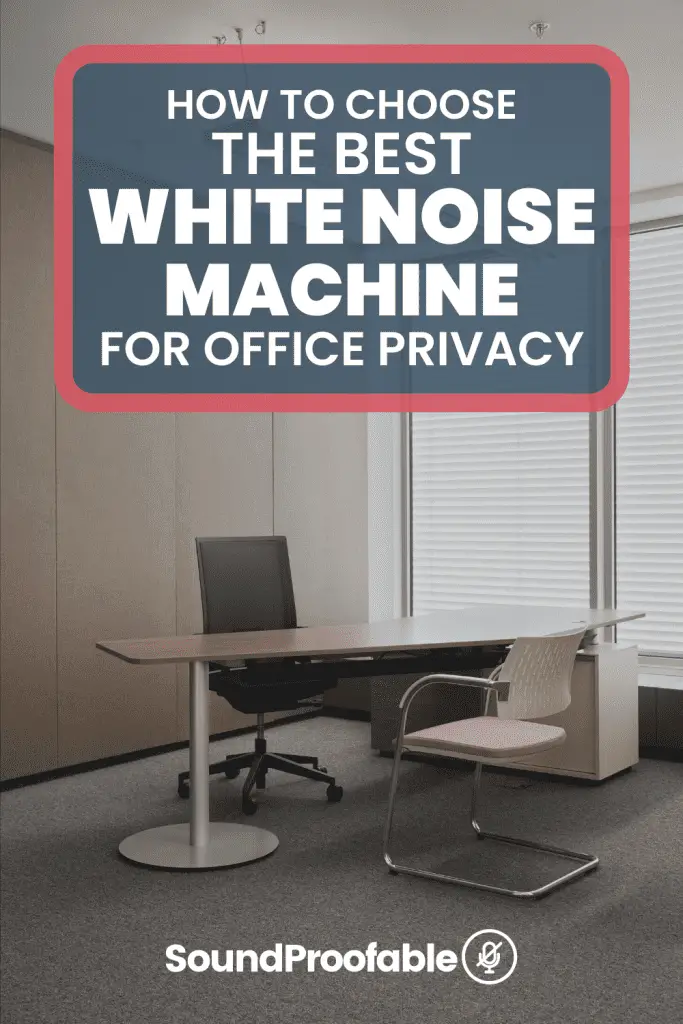 Quick Answer: The Top White Noise Machines for an Office
Benefits of White Noise Sound Machine for Office
Today's companies want to be as cost-effective as possible. So you might wonder whether or not you should even invest in one. Here are some of the top benefits of white noise:
Better Concentration
Machines that produce white noise can also boost your concentration levels. This is critical when you want to focus on the task at hand. Your productivity can sky-rocket when you don't have to deal with lots of loud office sounds around you.
Scientifically Proven
The main benefit of white noise machines is they're based on the laws of physics. Here's how they work. White noise causes people to focus on the loudest sound within a certain frequency. This causes people to ignore sounds with lower amplitudes.
This principle is critical in offices. Loud noises can originate from ringing phones, copy machines, and even people talking. It can be tough to ignore such sounds when they're constant and from multiple sources. White noise machines can help.
In fact, several studies with humans and mice have verified the benefits of white noise.
Improved Attention /Focus
This is especially important if you have conditions like attention deficit hyperactive disorder (ADHD). In that case, everyday sounds/noises in offices can prevent you from focusing on the task at hand.
White noise generators can help since it can get your attention without negatively affecting your emotional quotient (EQ) like ringing phones, for example.
When your attention is better that also boosts focus. This is critical for improving your productivity/efficiency. That's vital when you have tight deadlines.
Reviews of Best White Noise Machines for Cubicles
#1. Dohm Classic White Noise Sound Machine by Marpac
Yogasleep Dohm Classic (Tan) The Original White Noise...
THE ORIGINAL SOUND MACHINE: Beloved by generations since 1962, the Dohm Classic model...
CUSTOMIZED SOUND EXPERIENCE: With two-speed options for adjustable tone and volume,...
UNBEATABLE QUALITY & GUARANTEE: Sleeping is believing. For over 50 years, Yogasleep...
Marpac has been producing sleep aids for customers since 1962. This white noise machine produces a constant/soothing sound that helps workers relax by canceling out other noise employees must deal with.
The Dohm is compact, so you can easily use it in your office or home. It's also easy to use. It includes a user-friendly interface so you won't have to spend lots of time and effort figuring it out.
Marpac's Dohm features a dual-speed motor that provides two speeds. The acoustic housing offers the soothing sound of rushing air without the feeling of real moving air.
The Dohm includes noise-masking power that helps you focus on the tasks at hand at your workplace. The sounds are natural and non-disturbing as they fade into the background. This helps to mask sounds of people and machines around you that would otherwise bother you like a buzzing mosquito.
You can get a customized sound through volume control and adjustable tone. This provides you with a customized sound environment that includes the details you want.
This product is backed by Marpac's 1-year limited warranty. The company also offers good customer service to deal with any question or problems you might have.
Pros
Good tone/sound/noise vs other products
Helps improve work productivity/efficiency
Improves focus/concentration when driving
Effective for sleep issues/infants Excellent gift for friends/family
Cons
Sometimes start rattling
No refund/replacement available
Quality less than past versions
#2. LectroFan High-Fidelity White Noise Machine by Adaptive Sound Technologies
Sale
Adaptive Sound Technologies LectroFan High Fidelity White...
[Masks Noise] Helps block out disruptive environmental noises. It can help improve...
[20 Non-Looping Sounds] A total of 20 unique non-looping sounds. 10 fan sounds & 10...
[Safe] Safe, solid-state design is powered by AC or USB and dynamically creates...
Adaptive Sound Technologies' LectroFan offers 10 fans sounds/10 ambient noises including white noise. There's also brown and pink noise if you want to use different variations. This offers different options for different situations.
Right out of the box the white noise machine is user-friendly since it's shipped in frustrate-ion free packaging.
LectroFan includes a solid-state design that's powered by AC/USB. The unit has no moving parts and produces unique non-looping sounds. You can also tweak the volume to get the perfect level for your work/home environment.
The unit helps to mask annoying noises around you. This can help you focus on work in the office and fall asleep faster at home.
LectroFan can be used for different applications. You can experience more privacy if you're working in an office or studying for school. You can also experience more privacy when you're surrounded by sounds like noisy neighbors. The white noise generator can also be used for infants/toddlers to fall asleep faster.
The high-fidelity speaker also makes the sounds crisper so they'll be more effective in helping you concentrate or sleep. LectroFan contains no moving parts of a mechanical fan, so it produces a better overall experience.
Pros
Helps cancel out noise from coworkers
Effective for offices
Good for loud upstairs neighbors
Can help people with sleeping problems
Blocks out sound effective vs. other models
Cons
Sometimes makes loud crackling
The product can't be returned
#3. S-550-05 Sound Therapy System by Sound Oasis
Sound Oasis S-550-05 Sound Therapy System
6 professional quality authentic nature sounds: Ocean Surf, Stream, Rain, White...
Sleep better and relax easier by creating a healthy sound environment
World's only sound card technology for adding more sounds (see available optional...
The Sound Oasis S-550-05 offers 6 nature sounds with professional quality. They include:
Ocean
Surf Rain
Stream
Summer
Night White Noise
Wind
This gives you more options if you want to mask out the sound of phone conversations, office equipment, and street construction at your workplace. It will help you stay more focused and alert during the day.
The unit includes sound card tech for offering more sounds. You can even get extra sound cards if you want a wider variety of white noise.
You can also use S-550-05 to sleep better. This is by creating a sound environment that's ideal for catching Zs.
There's also an auto shut-off timer. This gives you the option to manually turn off the device or shut off automatically after 30/60/90 minutes. This is especially useful if you're listening to white noise to fall asleep at night.
The Sound Oasis S-550-05 is powered by 4 AA batteries, which can be rechargeable if you're looking for a green option. An AC adapter is also bundled so you won't have to deal with batteries at all if you want even more convenience.
This unit is loaded with features. They include sound card tech, "gradual off" volume reduction, and 360-degree reflective speaker. You can also use the unit in different positions like upright and mounted.
PROS
Helps people with tinnitus sleep
better Good customer service
Helps babies sleep better at night
Helps pets with loud outside sounds
Good white noise machine for travel/hospital stays
CONS
Noises change with the different electrical current
Battery hog when no AC outlet available
Not as good as the previous version
#4. High Fidelity Sound/Sleep Machine by Adaptive Sound Technology
Sound+Sleep High Fidelity Sleep Sound Machine with 30...
[Masks Noise] Environmental and nature tracks that can cancel out distracting sounds....
[30 Non-Looping Sounds] 10 categories to choose from, with 3 richness options per...
[Adaptive Sound Technology] Technology that listens and adapts to your environment....
This Sound/Sleep Machine is from Adaptive Sound Technology. It offers 30 rich/non-looping sounds. This can provide various benefits like sound masking and better sleep. This makes it ideal for various applications at your home or office.
This machine produces hundreds of environmental/nature sounds. They've been mastered to produce crisp/clear sounds via the high-fidelity speaker.
The white noise machine is also intuitive since it tweaks the audio volume by "listening" to your work or home environment.
This helps to make sure you're not listening at a volume that's too loud or soft. It's critical because the unit's volume is just as important as the white noise itself since it produces the best results.
You can use the 3.5mm audio jack for either speakers or headphones/earbuds. For example, you might want to use speakers at home to help you start dozing at night. Meanwhile, in an office, you can use headphones to avoid disturbing your coworkers.
A convenient feature is the front panel lighting. It dims automatically so you can experience rest that's distraction-free. So not only will the white noise help you fall asleep but also the unit's lighting.
The unit also includes a sleep timer. If you use the Sleep/Sound Machine at night, you can drift off to sleep in 30/60/90/120 minutes. This is a great feature that prevents the need to switch off the unit just before you start catching Zs.
PROS
Helps people with tinnitus to sleep better
Selection Lights can be switched off
Good variety of sounds
provided Excellent customer service
A wide range of sound options
CONS
The product isn't described as non-refundable
Doesn't have the Best high-quality speaker like claimed
#5. White Noise Sound Machine by xSense
Sound Machine, X-Sense Rechargeable White Noise Machine with...
30 SOOTHING SOUNDS: Includes 6 types of white noise, 6 fan sounds, 10 nature sounds...
SUPERIOR SOUND QUALITY: Non-looping, high-quality sound recordings; 30 volume levels...
TIMER & MEMORY FUNCTIONS: Choose either continuous play or set the auto-off timer...
This xSense White Noise Sound Machine produces white noise (6), fan sounds (6), nature sounds (10), and ambient sounds (8). You get different playback options to meet your individual needs.
You get options like continuous play and auto-off timer (1-7 hrs.).
The White Noise Sound Machine provides excellent sound quality with 30 volume levels and non-looping. This unit is effective in blocking annoying/distracting noises in the office.
This white noise device is palm-size/portable for easy travel. It also includes a long-run time of around 12 hrs. due to the lithium battery.
The white noise machine is also user-friendly. It includes basic interface and function buttons. The unit is also bundled with USB cable and power adapter.
Pros
Portable for travel commute, office, etc.
Blocks out loud noises in the home
Effective for anxious cats/dogs H
helps people with sleep disorders
Works better due to sound options
Cons
Red light keeps flashing
Lesser Life Span
Very short audio clips
Final Verdict: What's the Best One
I am ready to announce my pick for the best white noise generator:
Dohm Classic White Noise Sound Machine by Marpac. Why is this our pick?
It starts with a wide variety of sounds. There are not only 10 environmental noises that include white/pink/brown noise but also 10 fan sounds that don't include air blowing.
There's also a precise volume control that can be tweaked based on your home or work environment.
In terms of the unit's power, you also have the option of USB or AC cord.
The biggest perk of Dohm Classic is that it's 100% digital with no moving parts. This offers higher quality and better variety of sounds since it's electronic vs. mechanical. Picking Dohm Classic vs. any other noise machine for office is a breeze!
Yogasleep Dohm Classic (Tan) The Original White Noise...
THE ORIGINAL SOUND MACHINE: Beloved by generations since 1962, the Dohm Classic model...
CUSTOMIZED SOUND EXPERIENCE: With two-speed options for adjustable tone and volume,...
UNBEATABLE QUALITY & GUARANTEE: Sleeping is believing. For over 50 years, Yogasleep...