If you're a light sleeper, trying to sleep in a noisy environment can be next to impossible. But with the right soundproof ear muffs, that doesn't have to be the case. In this blog post, we'll discuss six of the best noise canceling ear muffs for sleeping in 2022.
So whether you're trying to get some shut-eye at a busy airport or on a train full of commuters, these earmuffs will help you get some peace and quiet. Read on to learn more!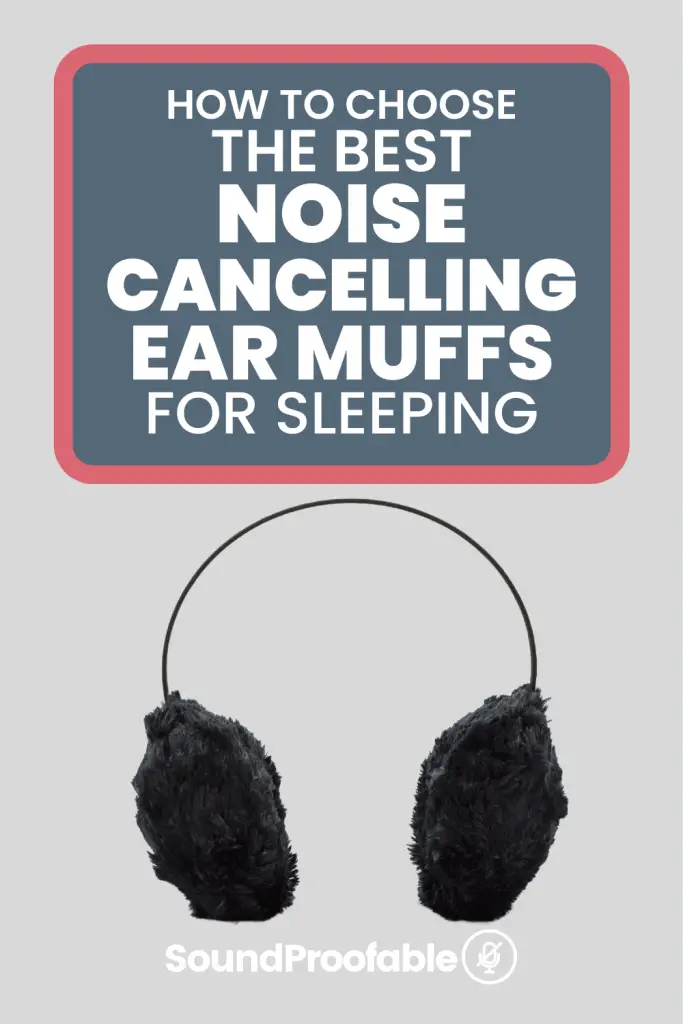 Do Earmuffs Block Sound?
One thing to keep in mind is that most ear muffs were not designed for sleeping purposes, however, some earmuffs like the ones below are made to block out some of the sounds, and they are much more comfortable for sleeping.
What is the Highest NRR rating for Ear muffs
Noise Reduction Rating for Earmuffs varies between 10-31, in other words, the highest NRR for earmuffs is 31. One thing to always keep in mind is since NRR determines the amount of noise reduction. The Higher the NRR the better the noise reduction, so when you are looking for ear muffs for sleeping opt for the ones with a higher NRR.
Ear Muffs vs Ear Plugs Which one is better
Now, this will depend entirely on what you are trying to achieve, usually, earplugs offer more noise reduction than earmuffs due to the fact that you insert them inside your ear rather than over the ear, however, they are slightly less comfortable for some people compared to ear muffs when sleeping.
Top 7 Noise Blocking Ear muffs For Sleeping Comparison Chart
#1. Hibermate Generation 6 Sleeping Ear Muffs Review
Sale
Hibermate is one of the best soundproof earmuffs for sleeping. Incredibly comfortable especially for light sleepers.
These earmuffs are paired with a mask designed to help you sleep better without any distraction at night.
Thanks to the material used(Silicon) they feel Premium and comfortable and they flexible too, they are very safe and gentle to the skin.
With a noise cancellation level of 15-20 dB, you should sleep like a baby without any noise distraction
It comes with a lot of exclusive features and benefits.
Flexibility: The new Hibermate is created with medical Silicon which helps enhance the comfortability of the mask and Improves the texture of the mask. Unlike most ear-plugs that really are unpleasant to most people due to the strain they cause to people's ears, Hibermate has taken a proactive approach to ensure a sense of comfortability is available so people can sleep freely sleep without any ear strain or undesirable feelings the next morning.
Noise Reduction: One of the best features Hibernate comes with is the built-in noise-blocking earmuffs which are specifically designed to dramatically reduce unwanted noise, for you to have a peaceful sleep that you deserve, These soundproof earmuffs can reduce 15-20 dB of unwanted noise. Enough to block out most noise helping you to get a great night's sleep.
Sleep Position Flexibility: Whether you are a side, back or front sleeper, Hibermate is great for all sleeping positions, they contain a really soft cushion on the earmuffs which allows you to always feel comfortable no matter how you sitting or sleeping, You can also use it when you are traveling which is a great bonus since most noise-blocking earmuffs are not suitable for traveling.
Temperature Control: The new Hibernate mask and earmuffs come with breathable material that makes it cooler in summer and warmer in winter, This is done to improve the user experience will resting or sleeping.
Pros vs Cons
Although Hibermate earmuffs might seem like a perfect product, It definitely has its downsides which we are going to discuss now, keep in mind that this is my personal opinion and how I see the actual product.
 Pros
Comfortable
Easy to use
Affordable
blocks out noise
can travel with
Best for light sleepers
New enriched features
Stay in place
soft and deaden sounds
Cons
fails to soundproof against really loud noise.
People with longer hair struggle to use it.
Harder for stomach sleepers.
not great for the really loud environment.
What Other People think of it
The reviews are positive because of the quality Habermate Earmuffs for sleeping, most people think like I do about it(great sleeping earmuffs for blocking out noise).
Generally, this is a good product and I recommend It If you looking for soundproof earmuffs.
I have attached a review video to help you see the Habermate review in action.
#2. Wrap-a-Nap Earmuffs
Wrap-a-Nap Travel Pillow, Sleep Mask & Ear Muff. Adjustable...
SLEEP ANYWHERE: Wrap-a-Nap's unique, patented design blocks all light, muffles...
COMPLETELY CONVERTIBLE: extended Velcro fasteners make it a cozy neck pillow or a...
PERFECTLY PORTABLE: Rolls up into a small, compact 5"x5" roll, or attaches easily...
This is by far one of the greatest and well-appreciated ear muffs for resting especially if you are a light sleeper,
What makes these special is the fact that you can use it for multiple things, including, using it as a neck pillow when traveling, and of cause a great way to block out sounds.
The only downside to these is If you are not comfortable with blocking the light, but alternatively you can just wrap it around your forehead while covering your ears.
They are really comfortable and easy on the skin due to the soft and tinder material used. they are great for traveling and reduce outside noises easily.
what I like about these noise-cancellation ear muffs, is the fact that they are super affordable and you can get a peaceful night's sleep with just a pair of these.
These also help block out the light which is great for light sleepers and side sleepers.
Pros
Comfortable
multi-purpose
Reduce noise levels ( 25-30 dB)
Lightweight
Premium Feel
Great for traveling
Affordable
Cons
Covers the eyes too (Some people are not comfortable with that)
In extreme hot weathers, they can get warmer
#3. 3M Peltor X-series earmuffs review
This is by far one of the best earmuffs I would recommend to anyone who is having difficulties getting enough rest due to outside noise.
This is a great cheaper alternative to Hibermate, the quality is decent for these bedtime earmuffs.
3M x-series ear muffs have a rating of 27 NRR (Noise Reduction Rating) which is really impressive and good enough to dramatically cut down unwanted noise.
These earmuffs are capable to reduce noise levels by 33 db.
the design is great and because of the material used to make them, they are very soft and comfortable which is really important.
They are safer to sleep with but they might not feel as comfortable as Hibermate or Wrap-a-Nap
Pros
Incredible Noise Reduction (37db)
Affordable
Flexible
Great Looking Design
Trusted Brand
Cons
May Feel uncomfortable after a long period of time
#4. TenTenTI All-Purpose Earmuffs
If you are looking for a simple design and yet effective noise-cancellation earmuffs then TenTenTi are made for you.
These are great because not only they are effective but they are pretty cost-effective too.
They have a rating of 27 NRR, great soundproofing capability which will reduce any sounds that may prevent you from sleeping.
Very comfortable although sometime you might feel tired however works 99.99% of the time.
#5. Revolutionary Sleep Master and Cover
Dreamcatcher Patented Anti-Noise Sleep-Mask Pillow -...
"Ingenious new invention known as the Dreamhelmet!" Frommers Budget Travel...
"Dreamhelmet ... worth its weight in psychotropic drugs!" - The Washington Post...
Dreamcatcher - the one simple item that has made a huge difference in my health - I...
These are not just sleeping ear muffs but they also work like a sleeping cover which helps block out not only noises but light when you resting, They are really comfortable and light which helps enhance your sleep helping you wake up fresh and ready to tackle the day in the morning.
If you are looking for not only sleep ear muffs but also something to cover your eyes, then these eyes and ear covers are for you! they are very affordable, durable and flexible enough to make it to our top ear muffs for the sleeping lists.
One downside to this sleep muffs is the fact that some people prefer only soundproof ear covers rather than something that covers the face. other than that it's a great product!
How to choose the best noise-canceling ear muffs for sleeping (Buying Guide)
Noise Level cancellation
This is an important factor since you are looking for noise blocking earmuffs to help you sleep at night, Noise levels are measured in decibels(dB), depending on the amount of noise you should choose accordingly, for example, the higher the noise the more decibels earmuffs should contain, however, let's not complicate this I would suggest you go with earmuffs that contain 20 decibels and more but less than 85 decibels for a peaceful rest.
Comfortability
Sleeping earmuffs should be comfortable at all times (that's a no-brainer) but most people overlook this and find themselves uncomfortable especially in the inner ear when they trying to rest.
Things look out for is the material used, how the earmuffs are shaped. They should be comfortable to wear.
How Safe are they?
One of the most important things you should consider when purchasing ear muffs, Some are really great but can pose a great deal of danger on your ears, that is why you should ensure you read reviews and the product carefully.
If they don't feel as comfortable, It's better to try an alternative than persisting with them. Your safety comes first.
Overall Size
You have to make sure the headband size fits you comfortably without any stress or strain on your ears. So it is important you check the size of the headband.
If the size is too big, then it is more likely that sleeping ear defenders won't be effective since there are gaps between them and your ears.
If it is too small, it can cause some strain and stress to your ears which is really painful.
Earmuff Design (style)
earmuffs come in different designs and styles make sure you pick the right ones that will complement your head shape and also the level of flexibility is important.
Some come with a blue light blocking mask that covers your eyes so you can sleep peacefully with light or sound interrupting you.
Enough Air should come through
This is essential because your skin may get irritated if it doesn't get enough air. So make sure the airflow is good before making any purchase
Overall Price and Reviews.
Compare prices and look what other people are saying about the product, so you can get a feel of how the product will be like once you purchase it, there are a lot of reviews on the internet but most of them are not really I suggest you check the ones from Amazon because those are real and authentic reviews. Click here to check them out.
Frequently Asked Questions about Ear muffs
1. Is it Okay to Sleep with Earmuffs
Sleeping with ear muffs on is a common thing that most people do due to several reasons including snoring partners, loud neighbors or when you trying to enjoy a good night's rest without any disturbance from external sources.
In Most cases sleeping with ear muffs or earplugs on is not harmful, however, there is a catch which is you have to get the right pair of ear muffs that are comfortable, flexible and lightweight.
So the answer is it is okay to sleep with earmuffs or earplugs on.
2. Are Ear muffs better than earbuds
The answer to this is very complicated since it is a subjective topic, however, Earmuffs are much better due to the material used makes them lightweight, causes less irritation on your ears and comfortable whereas earplugs can feel uncomfortable due to the fact that they go inside your ear canal rather than over the ears.
3. How long do earmuffs last
The lifespan of earmuffs varies from brand to brand, but if you are planning to only wear them when you are sleeping and provide proper maintenance then they can last 4-10 weeks with proper soundproof noise reduction.
4. How can I cover my ears when sleeping
There are a few options you can opt for when trying to cover your ears when sleeping these includes:
Soundproof Sleeping Ear Muffs
Noise Cancelling Earbuds
Comfortable Earplugs
Comfortable thick cotton
The comfort levels of these will vary since we sleep for longer hours.
5. Top Material for Ear muffs
When it comes to earmuffs it is important to go for soft material since will give you the most comfort, and I would recommend that you go for cotton.
Conclusion
I hope you have found my review of the best ear muffs for sleeping really helpful and I hope you finally get the well-deserved sleep.
another great thing you can do today, you can make use of white noise music which is very relaxing, quiet and peaceful and can lead you into a greater deeper sleep
Hibernate proved to be one of the best in the market, whether you want them for yourself or as one of the gift ideas to buy for someone. These custom-molded earplugs will dramatically reduce the white noise levels and other distractions. Also, check out my other articles about soundproofing your house.