As any musician knows, acoustics are an important part of creating a great sound in any room. But when it comes to a home studio, sound is more important than ever. That's why many musicians invest in acoustic foam panels to help control the sound in their studios.
But with so many different options on the market, it can be hard to know which ones are the best. In this post, we're going to take a look at five of the best acoustic foam panels for home studios currently on the market. Let's get started.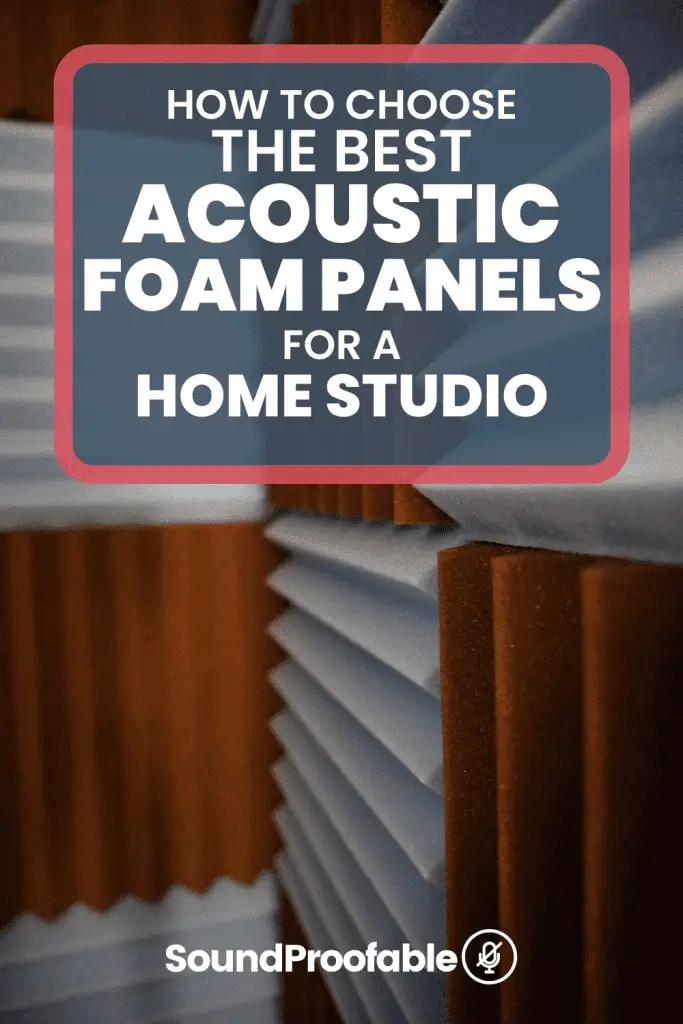 What are Acoustic Foam Panels?
They are a piece of equipment that improves the quality of sound which is important if you are recording audio or video, or even when you want to reduce background noise.
It is quite different from soundproofing which is the process of making sure no sound escapes the space.
Acoustic panels are special foamed materials which reduce the amplitude, therefore, noise by increasing the resistance of air. They are usually made of polyether, polyester, extruded melamine or fiberglass.
The most common ones are made of acoustic foam which is an open-celled foam made of polyurethane. Some panels are made of fiberglass. Fiberglass is a great material for soundproofing as well.
This is because the friction between the fibers and air results in the loss of a lot of sound energy. Because these acoustic panels are made of soundproofing materials that have a chemical composition, first-time users may notice a chemical odor.
However, there is no danger associated with the odor. It is not harmful and goes away after some time.
Things To Look Out For When Choosing Acoustic Panels for Soundproofing
So now that you have zeroed in on using acoustic foam panel for soundproofing, how would you know which ones to choose?
You will certainly find plenty of options available online that will confuse a beginner. Here are a few considerations to think about before you shop for acoustic panels for soundproofing:
The shape of the foam
Wedge Acoustic Foam
This foam features wedges sticking out. This shape does well at noise reduction once placed in the right direction. They should be placed perpendicular to the source of the sound. For example, if your speakers are placed vertically, the wedged foam should be pointing horizontally.
Pyramid Acoustic Foam
This acoustic foam has a larger surface area than wedges and allows for absorption of sound. It also does not remove all sources of noise making it a good choice for a recording room or studio.
Square Grid Acoustic Foam
They are good at absorbing middle to high frequencies. They can feature patterns making it a favorite among artists, designers, and even architects.
Quadratic Residue Acoustic Foam The most complicated structure among the other 4, they feature protrusions of varied.
This helps each panel absorb different frequencies. They also give the illusion of a bigger room making it great for interior design.
Thickness
The thicker the acoustic panel, the better its soundproofing capabilities. This is because thicker panels can absorb even low-frequency sounds that thinner panels can miss. I have found a thickness of 2 to 2.5 inches to be good for non-commercial usage and this totally depends on the space the panels will be used in.
Noise Reduction Rating (NRC)
All acoustic panels will feature an NRC rating on their label. This rating measures how much sound the panel can deaden. A higher NRC rating can perform better in comparison to lower ratings.
Choose acoustic foam panels with NRC ratings depending on how much sound you actually want to deaden.
Now that you understand the technical aspects of buying an acoustic foam, here are my top 5 best Acoustic foam picks:
#1. Mybecca Studio Foam Panels
Acoustic panels are sold in packs that are not standard and differ from brand to brand. A typical pack will, however, have 6,12 or 24 panels. Each panel is usually 1 or 2 square feet or will have dimensions of 2ft by 4ft.
It's a good idea to take measurements of the area you want to be soundproofed. This will help you figure out the exact number of panels you need to purchase.
Once you have a number, you can ask the seller before purchasing to suggest the right package for you. Made of polyurethane foam, this product has dimensions of 2"x12"x12" each and you will find 12 or 48 of them in one pack.
I found that one tile could cover 12 square feet of the wall which is great for its price. The Mybecca's Studio Foam Wedges works great when combined with bass traps.
I found it good for spot treatment for enhancing the quality of vocals and videos. Made in the United States, the Mybecca foam is a flame retardant and compliant with regulations.
You can find them in many color options and wedge count from eight or twelve peaks. Of course, the ones with 12 peaks will perform better due to additional curves.
The NRC of these panels is rated between 0.7 and 0.8. The panels are compliant with California's Technical Bulletin 117-2013.
Pros
Great for edges and corners
High NRC rating which makes it good at reducing unwanted reflections and echoes
Perfect for small to medium rooms
Can be combined with other panels
Cons
The tiles may not be perfectly cut up so you may see gaps when stacked together
#2. Auralex Acoustics SonoFlat Acoustic Absorption Foam
A green pick, the Auralex Foam is made of soy components which reduce the dependence of the manufacturer on fossil fuels.
But not to worry, as the panels are durable and will not crumble over time. You can also see beveled edges which give it a sophisticated look. They are available in many color options so if you're particular about aesthetics, you can have a variety to choose from.
The dimensions are 2 x 2 x 2 inches panels and have an NRC rating of 0.95 which means it can absorb mid to high frequencies.
This can be attributed to its open-celled foam which is highly dense. We found them easy to install and you can use a 3m spray glue to attach them to construction paper and command strips to fix them to walls
. They will not come loose easy so installation is basically a one-time process. You can use these panels at home, recording studio or a home theater or video studios.
If you require a panel to deal with low-frequency sounds, this may not be the best option. But we have found them to work well to alleviate flutter echo and slap back.
Made in the USA, the Auralex foam is a flame retardant which is a good safety feature to have.
Pros
They work well for mid/high range absorption
Environmentally-friendly
Has a professional look to it which adds to the aesthetics of a room
Thick enough to absorb high frequencies
Cons
It is a little bit Pricey
#3. ATS Acoustic Panel 24x48x2 Inches, Beveled Edge
If you're looking for a no-frills solution to unwanted noise, the ATS panels work perfectly. Constructed with Roxul ABF mineral wool with a wood frame, the panel is finished off with a jute cover which makes it minimalistic in looks.
The ATS panel hardly looks like an acoustic panel and can be confused for a large picture frame than a sound absorbing panel.
The dimensions of the panel are his panel is 24x48x2 inches and they have received an NRC 1.0 out of 1. Because it has a good absorption score, you will not have to place too many panels to achieve a good result.
These panels work by reducing reflections from hard surfaces thus keeping the sound clear. This quality makes it great for usage in recording rooms, vocal booths, and home theatres.
They come with wall-mounting hardware and instructions for installation. However, if you plan to use them for the ceiling, you will have to visit your hardware store to get ceiling mounts.
Pros
Minimal look and fee
Panels are well-constructed and easy to install
Made of durable materials
Cons
Honestly, it is hard to find cons for this product but might be the price
#4. JBER Acoustic Foam XL
JBER 4 Pack Acoustic Foam Bass Trap Studio Foam 12" X 7" X...
HIGH QUALITY: Acoustic foam bass traps designed to absorb low/mid frequency sound to...
VERSATILE AND FITS ANY ROOM: Bass trap foam panels are perfect for music studios,...
GREAT VALUE: Get the high end style and acoustics of professional studios at a...
With dimensions of 12 by 12 by 12 inches, this JBER product is shaped like a cube cut diagonally in a jagged line.
This shape allows for the foam to be placed in the corner. The flat sides need to be placed against the walls letting the jagged side facing the room. We recommend that you use 4 of them in a corner for effective use.
They work well to solve acoustic problems and the overemphasis of particular frequencies in the bass region. Available in packs of two, four, and eight, you can choose the right pack based on the severity of the noise problem. They are thick enough to work on mid and high-range frequencies also.
I have found that the JBER foam pads have worked well to clear rooms of noise while recording videos, hosting a posting or shooting any kind of media.
This product is made in the USA, is compliant with California's Technical Bulletin 117-2013 and is a flame retardant.
This product comes in sets of 2 or 4 bass traps. But it only comes in one color so if you're particular about aesthetics, you will have to look at other options.
Pros
Jagged foam bass traps
Affordable
Great at eliminating reverb and low bass frequencies
Cons
There are no color options so you will have to make do with the available color.
#5. Foamily 6 Pack Sound Absorption Foam
This egg crate panel on this Acoustic Foam is quite uniquely shaped and has a funky aesthetic look. It comes in various color options. The foam is 2.5′ inches thick which is good enough to handle even high frequencies.
If you are looking for something for your home recordings, podcasts or Youtube channel, you will find that this Foamily pane will cancel out the exterior noises. For its price, we are surprised to note the dimensions- 4 feet by 2 feet which are quite large.
You will not need a lot of pieces to soundproof your walls. Besides just canceling noise, these panels can line a gun case which you can use for protecting valuables.
The Foamily egg crate panels come in many colors so you can select one keeping in mind the aesthetics of the room.
Because of its large size and affordable price, we would recommend it if you are on a tight budget. We found them to work decently well for acoustic control, noise reduction, and flutter reduction for small to medium-sized rooms.
Some customers recommend placing them next to the speakers and behind the listener for better audio performance. Made in the USA, this foam panel complies with American regulations and is safe for usage.
Pros
Easy to put up
Unique design with many color options available
e Affordable
2.5" thick
Cons
If you are looking for high-precision sound control, this will not match your expectations
Final Thoughts
Now that you know the best options out there, here is a little help with installation. It is a myth that you need to cover the entirety of the wall for sound absorption.
Covering 80% will do the job unless you are in a super noise environment. The foam panels stick to surfaces with a special glue or spray adhesives.
Although glue can damage the wall on removal, you can try using a barrier between the wall and glue to minimize the damage. While there is no drastic difference between my best 5, consider the number of tiles you will require and your budget to make an optimal choice