This article will show you exactly how to soundproof a bathroom (even if you're not handy).
Bathroom Noise can be a problem, especially when it is located next to a place like your Tv room or living area which means you can hear everything from the bathroom and can be embarrassing when you have visitors around.
After reading this article, you will know exactly what you need to do, to reduce noise and echoes in your bathrooms.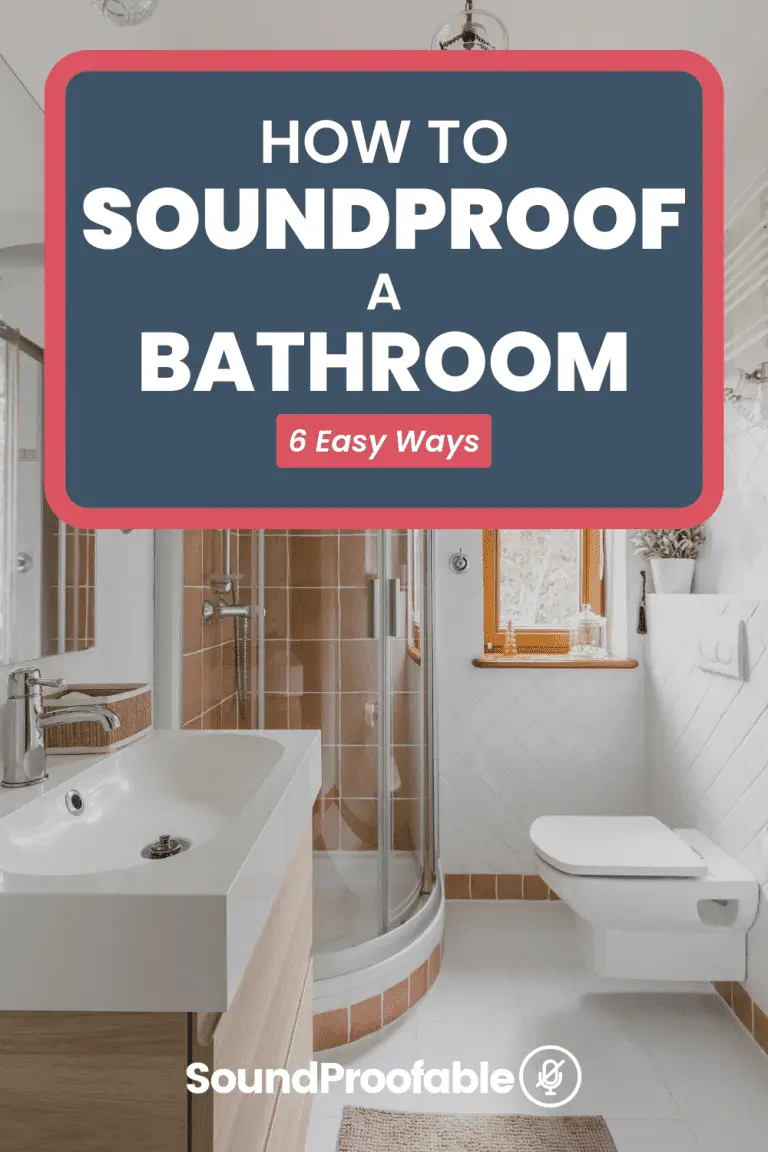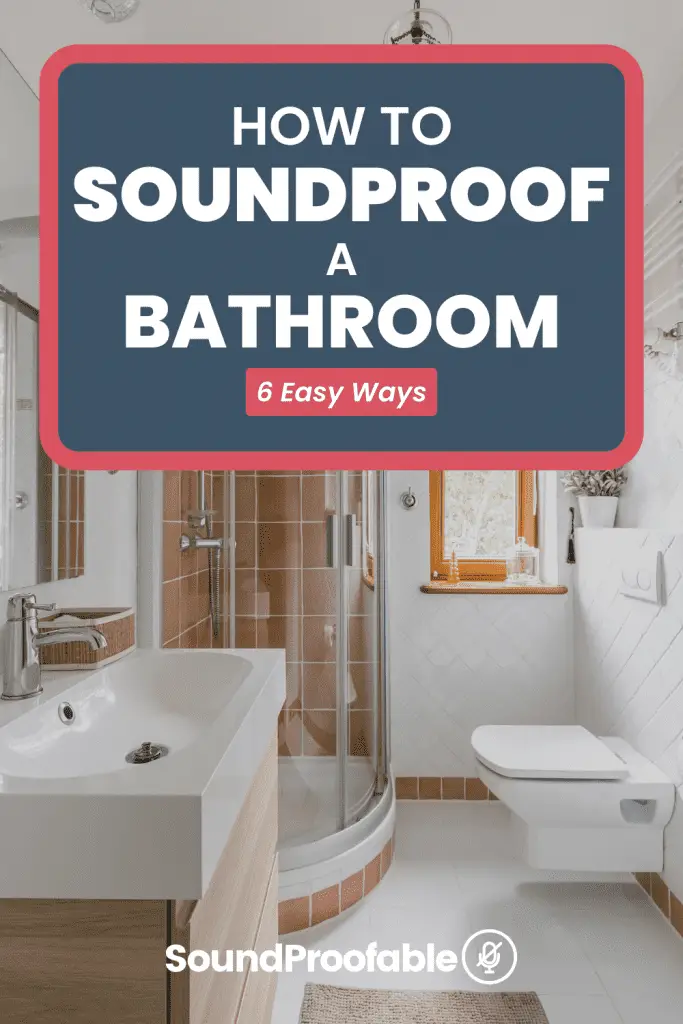 Step 1: Soundproof the Bathroom Door
Sound dampening a bathroom door is the first thing should start with, the reason being (1) It can reduce noise in the bathroom by over 55% (2) If you don't have the full budget to soundproof the whole bathroom starting with the door would be a great sound deadening hack.
There are dozens of ways you can go about soundproofing a bathroom door. Unfortunately, some may be quiet expensive; It is in my best interest to find you the best solution without killing your wallet.
1. Sound Dampening Door Seal
By far most this is the least expensive method to soundproof a door and yet effective and can easily quiet the noise from your bathroom or toilet.
I recommend Soundproof Weather Stripping Door Kit.
Soundproof Weather Stripping Door Kit – White - 39 Feet...
⭐ ALL IN ONE KIT FOR DOOR… to adhesive and seal it 360°, not just sides. The...
★ EXPEL OUTSIDE NOISE… to sleep better, focus more, & enjoy a comfortable...
★ KEEP OUT DUST & BUGS… that sneak through door cracks.A tight insulation seal...
The soundproof weatherstripping is exceptional because it seals the air gaps found in every door that is responsible for the noise.
Steps to take:
Accurately measure the Height and Width of the Bathroom door frame.
Cut the soundproof weather stripping door kit to size using a handsaw.
Place the soundproof strip to cover the Gaps in the Bathroom door.
You can choose to do it inside or outside of the door (I recommend inside)
This should significantly reduce all the noise from your toilet or bathroom; this is the cheapest way to do it. However, there are more slightly expensive options you can try should you don't like this one.
2. Sound Dampening Blanket
Soundproofing blankets can do more than you imagined regarding sound insulating the noise. The problem with this approach is it may not be the most attractive method to soundproof a toilet/bathroom door.
This has made our list because it is also one of the not so expensive methods to sound deaden a bathroom door.
I recommend Singer Safety Double Fiber Glass Panel.
And is pretty straightforward to do. Once you bought the blanket simply cover the door with it.
This is effective to sound insulate your door, especially when trying to reduce bathroom noise effectively.
Step 2: Soundproof the Bathroom Floor
Now we are done soundproofing the most important part. We move on to the second essential component.
Remember at school we learned about Pareto Analysis? this also applies here to 20% of the things that make up 80% of the noise.
Soundproofing a floor is simple, and there are a handful of methods to go about it, of cause some ways are cheaper than others and others are more effective, but I selected a few that I think will help with sound deadening your floor.
Sound insulating a floor can be complicated and overwhelming especially if you are not a handy person.
However, that's not what is the guide is for! I try to find the best simple ways that will have maximum benefit for you.
This method recommends using sound-absorbing mats when it comes to your floor because (1) Doesn't Soundproofing need any technical skill which can be costly if you hired someone. (2) It is cost-efficient, most sound absorbing mats are cheap and does work. (3) They! Moreover, will save you tons of time.
If you are looking for the best high quality you can find them at Amazon.com relatively cheap and Incredible.
Steps:
Find the Best Sound Deadening Mat.
Accurately Measure your floor.
Purchase the sound-absorbing using the measurements from step 2.
Some mats are sticky and will stick on your toilet/bathroom floor, but some don't need that.
Purchase a mat Adhesive if you want the mat to be stable, note this may be optional, depending on what you want.
Soundproofing Hardwood Floors vs. Sound Deadening Tile floors
It is essential to understand that sound-insulating a hardwood floor will differ from sound deadening a tile floor if you are interested in a fully comprehensive step by step guide on how to soundproof each (click here)
Step 3: Hang Sound Absorbing Curtains
Instead of hanging the ordinary curtains, you can opt for heavy sound-absorbing curtains, these curtains will not only improve the noise levels but will also reduce echoes which normally exaggerate the noises.
There are many Curtains you can opt for with different styles and designs however the ones I recommend are the Nicetown Full Shading Curtains.
Step 4: Sound dampening a Bathroom Wall
I honestly recommend that you Soundproof a wall After Sound-deadening both the bathroom door and the floor because sometimes you may find that only focusing on these two will make a huge difference in a way you don't see the need to soundproof a wall.
Step 5: Soundproofing a Toilet Bowl
Does your toilet irritate you when you open and close your seat with the noise it makes? Don't worry you can get rid of this unwanted noise really fast and easily.
Follow these simple steps, and you can soundproof your toilet bowl in less than 5 minutes literally.
What you need:
You will only need sticky shoe pads which you can purchase on amazon.com they are not expensive at all and they will do the job.
I would say you need only about 2-4 sticky shoe pads.
How to do it:
Place one or two sticky shoe pads on the front of the tank cover where it makes a connection with the lid.
Place one or two sticky shoe pads at the base of the toilet seat lid.
This should be enough, to get rid of the noise your toilet bowl makes when you open and close a toilet cover.
I am going to embed a Youtube video at the end of this page showing you, how to correctly do it that, Because of We Friends Right?
Step 6: Play White Noise Sounds
Now, if you are looking for a quicker solution, then getting a white noise machine would be ideal, playing white sounds will mask all the bathroom noises and you will get to enjoy soft soothing sounds.
Here is an article I recently wrote about The Best White Noise Machine for Bathroom Privacy.
How Much Does it cost to Sound Dampen a Bathroom?
The average cost to insulate the bathroom for noise is $200 to$7000 range.
The cost of bathroom sound-insulating material you may spend about $150 to $ 400, then $20 to $50 for additional tools required, An optional cost of about $150 to $300 to hire a professional soundproof expert(completely optional).
Please do note that the values may vary depending on what you want, some people generally believe in buying expensive products, and some prefer cheaper methods.
This should serve you as a guideline of how much you should expect to soundproof a bathroom.
Soundproofing Per Square Foot Cost
According to Remodelingexpense.com, the average sound-insulating cost per square is $1.73 for necessary soundproofing, $2.40 for better sound deadening, and $3.13 for the best sound insulation per square foot.
Keep in mind that this may not be that accurate because these are the average expenses. Depending on the quality and where you buy your material costs may vary.
Sound Dampening A Door Cost
This is really a difficult question to answer because there are many ways to go about soundproofing your door and costs differ. If I were to give you a range to do it properly I would merely say $80 to $ 5000.
I know maybe this is not the exact answer you are looking for but check the guides that we provided to get the best ways to soundproof your home, office or car
Sound Insulating A Wall Cost
Sound insulating a wall can cost along with the range of $90 to $ 300 that depends on the size and area to cover. (click here) to get the full guide.
Hiring an Expert
As far as hiring a soundproofing expert it can really be a good thing, in fact, their advantages such as saving time and getting someone who is more experienced to do it properly.
I am sure you know that I don't really believe in hiring someone unless of cause you can afford it, don't have the time or you simply can't really do it yourself.
You can search on google to find the nearest sound-insulating expert based on the experience it should roughly cost you $150 to $350 to insulate the bathroom for noise.
Sound Dampening Tips
Sometimes we are really on a tight budget and we are looking for cheaper alternatives, to save some few bucks here and there, luckily there certain things you can do to sound dampen a bathroom cheaply including:
Use sound-absorbing materials: This is one of the easiest things you can do to drastically reduce the noise in your bathroom. you can rearrange the way the bathroom items are situated, use thick towels and alternatively you can use acoustic foam but that is not good looking.
Make sure every Gap and Crack is sealed: even the thinnest cracks can result in a loud noisy bathroom so I recommend you look for the gaps and seal them.
Noisy bathroom pipes: If the pipes are making the loudest noise, you can stop the rattling by making use of the noise-proof foam pipe wrap.
Conclusion:
I hope you find this information helpful and don't be afraid to check other guides, tips and Sound best reviews on soundproofing.
As promised I have attached a video that will help you soundproof a toilet bowl.